Top 20 Things to Do and See in Yunnan
Yunnan Travel Guide Top 20 Things to Do and See in Yunnan
As a travel destination, Yunnan will never let you down. Different travelers may like different parts of it. The blue sky, warm and sunny weather, lofty mountains, crystal clear lakes, diverse ethnic cultures, all-year-round flowers/fruits and yummy food, all can be good reasons for you to fall in love with the place. Here below are the top 20 best things to do in Yunnan, which can give you some trip ideas of best Yunnan tours.
1. Going up to see the Dragon Gate on West Hill of Kunming
The Dragon Gate is located on West Hill by Dian Lake west of Kunming city. It is a lovely spot to have a panoramic view of the largest lake in Yunnan Province. There are some old Taoist temples on the top. You can choose to take a chairlift up and walk down, which will be easier for most of the travelers. What really amazes the visitors here is the pathway along the cliff, all chiseled out manually by a poor Taoist monk and his followers over 7 decades. For the senior tourists with limited mobility, it is not recommended to come here.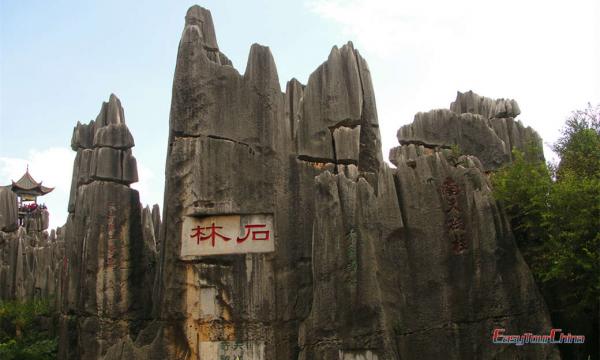 2. Watching the night show of Dynamic Yunnan
One of the best shows to see in Yunnan, "Dynamic Yunnan" show was created by one of the most famous Chinese dancers - Yang Liping. She works as the artistic director/chief choreographer/once the leading dancer in the show. 70% of the dancers participating in the performance are from the various villages of ethnic minorities in Yunnan. The performers' costumes and props are all prototype from ethnic minorities, together with ethereal singing and original dance skills. Lasting for 90 minutes, the whole show is a superb exposition of the rich cultural heritage and diversity of Yunnan Province.
Located in Shilin Yi Autonomous County, the Stone Forest is the most notable scenic spot near Kunming, and one of the best things to do in Yunnan. It takes about 1.5 hours by car to go from Kunming downtown to the place (80km). Covering an area of 350 km², the Stone Forest is made up of thousands of towering limestone pillars (Karst formation), which was inscribed on the list of UNESCO Global Geoparks and World Natural Heritage sites. As a popular travel destination, it is always busy, especially during the tourist season. There are a few paths inside, you may get away with the crowds if you go further, or the guide can take you to the less visited section. Sani people (a branch of Yi nationality) are the native to the land. Every year on the 24th day of the sixth lunar month, it is the Torch Festive of Sani people for the celebration of the harvests and getting rid of evils. Locals participate in traditional dances and activities such as wrestling, bull-fighting, horse racing and bonfire party, etc. BTW, to visit the Stone Forest, please wear a pair of comfortable shoes.
4. Dongchuan Red Land for photographers
250km northeast of Kunming city downtown, Dongchuan Red Land is a new and less known attraction of Yunnan, and a best place to see for photographers. Here is a red clay mountainous region with an altitude of 1800-2600 meters (5900-8500 feet). It used to be a favored spot for photographers, they nicknamed it as "God's Palette".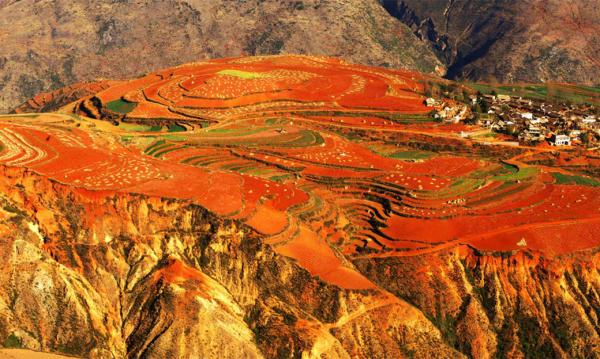 The red soil was formed under the conditions of high temperature and plentiful rain, which contains more oxidized iron, aluminum and other kinds of metallic minerals. Different seasonal crops, ploughed red clay fields, tranquil village, together with the blue sky and white clouds constitute a spectacular view of the red land. It is believed that the soil looks redder after the heavy rain. The best time to visit Dongchuan is in May, June, September to December. The most well known scenic spots here include Damakan (great for sunrise), Luoxiagou (great for sunset), Qicaipo, Yuepuao and Yueliangtian.
★★ 7-day Yunnan Photography Tour to Dongchuan and Yuanyang Rice Terraces
5. Exploring the old town of Lijiang
Also known as Dayan Ancient Town, Lijiang Ancient Town is located under Jade Dragon Snow Mountain, and one of the top attractions in Yunnan. Its construction time can be traced back to the end of the Song Dynasty and the beginning of the Yuan Dynasty, with a history of nearly 800 years. In 1997, it was inscribed on UNESCO World Heritage sites list. The real fun in this town might be to linger along narrow twisting lanes, where lie many delightful surprises like Puxian Buddhist Temple, or a featured coffee shop. Don't forget to walk up to the top of Lion Hill to have a bird's eye view of the old town. In the evening, if no rain, a bonfire party is held at Sifang Street square. Many local Naxi people dance there to entertain themselves. Travelers can join to share the joy of locals.
6. Visit Jade Dragon Snow Mountain and watch Impression Lijiang show
Jade Dragon Snow Mountain is a group of snow mountains located 15km north of Lijiang City with a total length of 75 kilometers, which is believed to be the southernmost snow mountain in the northern hemisphere. Its highest peak called Shanzidou is 5,596 meters above sea level, with snow on it all year round.
Jade Dragon Snow Mountain is called "Olu" in native Naxi language, which means "Heavenly Mountain". Its thirteen snow peaks stretches a long way like a white dragon flying up in the sky, hence, the name "Jade Dragon". Being regarded as the incarnation of the guardian god "Sanduo", it is the sacred mountain of Naxi people. There are quite a few fascinating spots worth a visit: Impression Lijiang show, the Blue-Moon Valley, Glacier Park, Spruce Meadow and Yak Meadow, etc.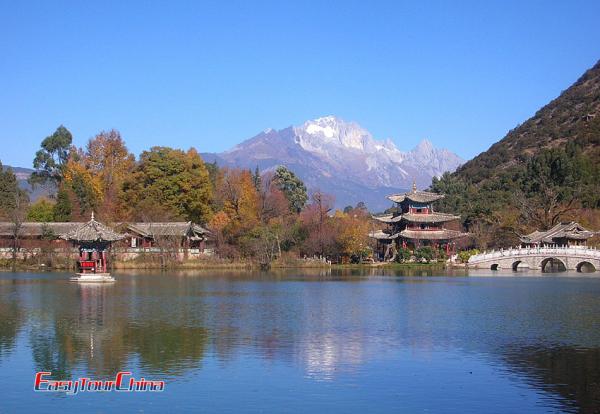 7. Visiting Shuhe old town
Known as "Shaowu" in Naxi language, the ancient town of Shuhe is one of the earliest settlements of the ancestors of Naxi people in Lijiang area, meaning "village under the high peak". It is an important component of Lijiang old town as UNESCO Cultural Heritage site. 4km northwest of Lijiang, Shuhe can be regarded as a reduced version of Lijiang and a hub for reaching the ancient town of Lijiang, Jade Dragon Snow Mountain, Lugu Lake, the First Bay of the Yangtze River and the Three Parallel Rivers Scenic Area.
Shuhe Ancient Town is a well-preserved important market town on the ancient Tea-Horse Road. It is smaller than Lijiang and less visited by tourists. Some people say there is not much to see here. That is right, this is a place for you to stay for a couple of nights to enjoy the slow life and seek the peacefulness in mind in a completely new environment.
Located at the junction of Yunnan Province and Sichuan Province, Lugu Lake is under the administration of the two provinces for two different parts. It takes about 4 hours or longer to drive from Lijiang to the lake (or flights available from Kunming and Chengdu). In the Mosuo language (a branch of Naxi people), "Lugu" Lake means the lake in the valley. It is surrounded by lofty mountains, usually covered with snow for more than 3 months in a year. With dense forest, stunning mountains and clear waters, fresh air and charming scenery, Lugu Lake is considered as the "Mother Lake" by the local Mosuo people.
The lake shoreline is about 44 kilometers long. Covering an area of 50.1 square kilometers, the lake has a maximum transparency of astonishing 12 meters. Besides the natural scenery, what amazes the travelers most is that Mosuo people living by the lake are probably the last matriarchal tribe in China. Some scholar says it is a living fossil to research the marital development history of humankinds. Anyway, this is a perfect place to get away from bustling cities and enjoy a unique journey physically and mentally.
★★ 6-day Splendid Lijiang and Lugu Lake Tour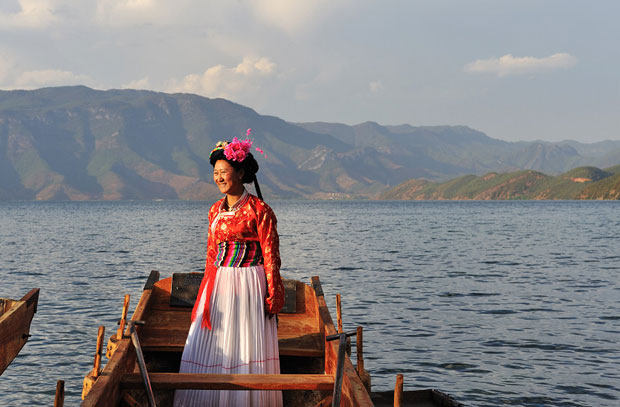 9. Staying overnight at Shaxi town and visiting the local street market
Thousand-year-old Shaxi is located in the southwest of Jianchuan, between Dali and Lijiang. The ancient town was once a prosperous outpost on the Ancient Tea Horse Road, but later it was ignored by the modern society due to the decline and disappearance of Tea Horse Road. Nowadays only the stable stone bridges, ancient Buddhist temple, quiet theater stage and flagstone streets can tell the travelers about its glorious past. It is very interesting to see the local villagers to trade their produce along the street, like what their ancestors did 100 years ago. The famous Shizhongshan Grottoes, one of the best things to see in Yunnan, is near here. It is a lovely walk (2 hrs) from the Grottoes to Shaxi via the mountain trail.
<span style="color: rgb(68, 68, 68); font-family: "Open Sans", sans-serif; font-size: 16px; white-space: normal;">★<span style="color: rgb(68, 68, 68); font-family: "Open Sans", sans-serif; font-size: 16px; white-space: normal;">★ 3-day Relaxing Dali Tour to Shaxi Ancient Town
10. Taking a cable car up to Cangshan Mountain and hike on Mountain trail
Regarded as a perfect backdrop to Dali and Erhai Lake, Cangshan Mountain is a national Geopark of China, stretching nearly 50km from north to south. The best way to explore the mountain is to take a cable car up to the Jade Belt Road, then walk about 4 hours on a mountain path to Zhonghe Temple (about 12km), and take cable car down the mountain. It is a beautiful and easy hike on a paved and smooth surface with excellent views of the lake. Along the way, you will see luxuriant vegetation, splashing waterfalls and some crystal clear pools in the mountain. If you want a more challenging route, then simply walk further ahead for a full day hike.
11. Three Pagodas of Dali
Located 1.5 km northwest of Dali ancient town, the Three Pagodas of Chongsheng Temple is thought to be the symbol of Dali and one of the tops sights in Yunnan. Actually the three pagodas are part of the Buddhist temple, which consists of a big pagoda (69.13 m in height) with other two smaller ones (42.17 in height). And they were built at different times. The big Qianxun Pagoda was finished in 840 AD with a history of 1100+ years, while the smaller ones in 1172 AD. If you have a tour guide, it is a great place to know about the history and stories of Dali. You can also see them from the Reflection Park to get good shots of the pagodas.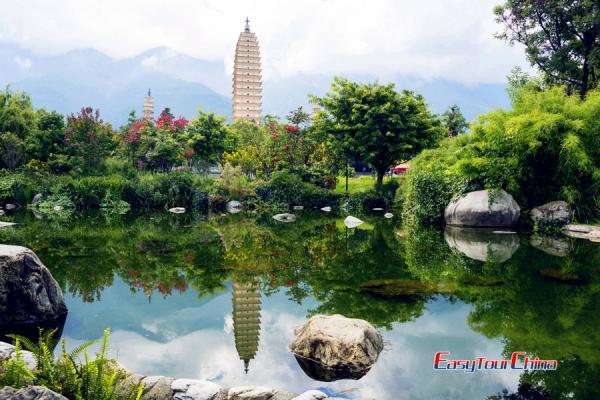 12. Excursion to Weishan old town
50km south of Dali, Weishan old town was the cradle of Nanzhao kingdom (a state established by ethnic Yi people) with a long history of 1300 years. The ancient town has maintained the chessboard pattern when it was built more than 600 years ago. There are some well-preserved ancient building complexes of the Ming and Qing Dynasties. Compared with Dali, Weishan is more original and peaceful. If you like the smaller towns, it might be a good idea to stay here for a couple of night and hang around.
At Weishan old town, locals lead a leisurely life. The atmosphere hasn't greatly been affected by outside modernity. You can walk into a teahouse on the street and pay a small amount of money for a cup of tea, bask in the sun, and enjoy a moment of tranquility. It is common to see the shopkeepers greet their neighbors and talk and laugh casually. Groups of elderly people play chess and chat around the small square table. This is a lovely and non-touristy small town indeed.
★★ 3-day Dali Tour to Weishan Old Town
Tiger Leaping Gorge is one of the deepest canyons in the world. The vertical drop from the top of the snow-capped mountains to the river surface is about 3900 meters. As early as the 1980s, some foreign backpackers began to walk on this route. Now it is a popular hiking trail for adventurous travelers, and of the best things to do in Yunnan.
The total length of Tiger Leaping Gorge is 23 kilometers, which is divided into three sections: the upper, middle and lower sections. The Jinsha River in the canyon works as the boundary of Lijiang and Shangri-la. There are several options to hike along Tiger Leaping Gorge. Usually we recommend our clients to transfer to Tea Horse Guesthouse for an overnight stay, and then hike down from here to Tina's Guesthouse (3-3.5 hrs). This is the easiest way, which can be done by most of the travelers. The best months to visit Tiger Leaping Gorge are from April to June, and September to October.
14. Songzanlin Tibetan Buddhist Temple
Also known as Suntsaling Monastery, Songzanlin Temple is the largest Tibetan Buddhist monastery of typical Tibetan architectural style in Yunnan Province. Dubbed as the "Little Potala Palace", it has a pivotal position in the entire Tibetan area. First built in 1679 on the mountain, the temple looks like an ancient castle, which boasts a large collection of Tibetan art works and handicrafts. It is also considered as a "Tibetan Art Museum". It is definitely a must-see in Shangri-la. If you have a good English speaking guide, he/she will tell you many interesting stories about the monastery. You can even have a chance to see the dorms of the monks.
15. Trekking the Yubeng area for the brave hearts
Located at the foot of the sacred Meili Snow Mountain, Yubeng village used to be an outpost on the way for the pilgrims to pay their visit to the sacred mountain. Even now there is no road available. Only 2 paths are connecting other 2 villages in different directions, only suitable for walking or riding a horse.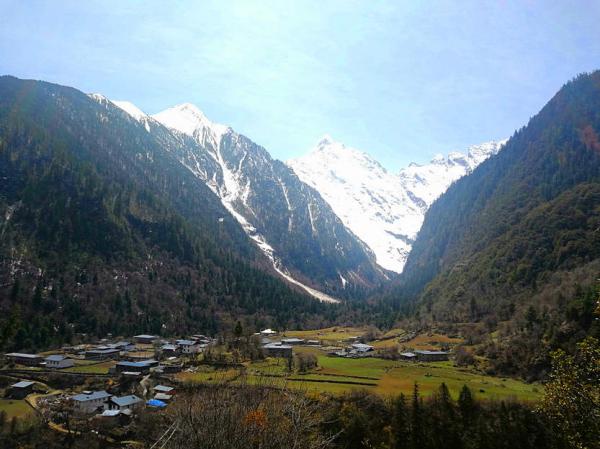 Yubeng village is divided into the upper and lower ones, the distance between the two is about one kilometer. The upper village can lead to Ice Lake and Xiaonong Base Camp, while the lower goes to the sacred waterfall and lake. Apparently this is a very challenging trekking route good for those enthusiastic hikers. The local accommodation is basic, but you will be rewarded with breath-taking scenery and authentic Tibetan culture, that other people can hardly experience in any other places.
★★ 9-day Meili Snow Mountain & Yubeng Village Trek Tour
16. Drinking highland craft beer
The brewery is located on the outskirts of Shangri-La at an altitude of 3,300 meters, surrounded by lofty mountains. The great location allows it to directly use the crystal-pure spring water from the snow-capped mountains, and follow the German beer brewing method to create the unique craft beer. They will give you a bunch of beer options here at a really affordable cost. You will also listen to the interesting stories behind the founder of the brewery.
Top Things to Do in Yuanyang
17. Witnessing the rice terraces in Yuanyang
300km south of Kunming, the rice terraces of Yuanyang is a big draw for travelers and one of the must-see sights in Yunnan. It has been taken 1300 years for the local Hani people to build up the masterpiece of farming. In 2013, the Honghe Hani Terraces was successfully included in the World Heritage List, becoming China's 45th World Heritage site. There are three major spots to see the terraces: Laohuzui, Bada and Duoyishu. Every year numerous photographers are here to get good images, especially during the sunrise and sunset. It is also a lovely experience to visit the local Hani village and market.
★★ 6-day Jianshui & Yuanyang Rice Terraces Tour
Top Things to Do in Jianshui
18. Zhu's Family Garden
Located at the downtown of old Jianshui city, Zhu's Family Garden is actually the family house and ancestral hall built by a local squire in the late Qing Dynasty. Covering an area of more than 20,000 square meters, it has a typical architectural style of Yunnan with 42 patios. Each courtyard showcases elegant architecture, lush flowers/trees and beautiful bonsais. The whole group of buildings are exquisite with carved beams and painted rafters. You may also visit an aged and peaceful village called Tuanshan out of Jianshui town.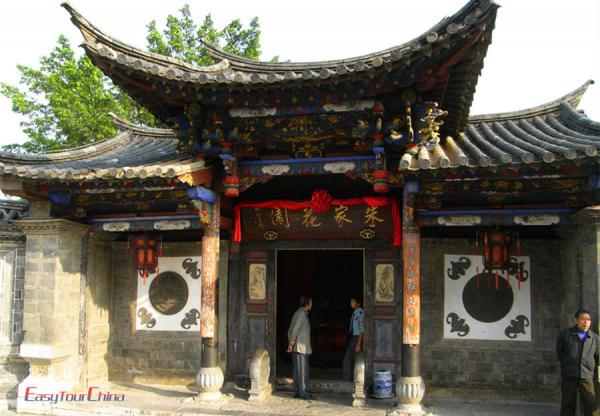 Top Things to Do in Luopin
19. Canola blossom of Luopin
Compared with other destinations, Luoping is less known to the Western travelers. It is famous for the marvelous view of canola (rapeseed) blossom in spring time. Thousands of photographers come here to take photos during the period. From late Feb. to early April, the fields are golden yellow in colour. It is also a wonderful place for photography and sightseeing. You can also visit the Nine Dragon Waterfalls 22 km north of Luoping.
20. Attending one festival of minority people
As a province, Yunnan has the most aboriginal ethnic groups in China, totaling 15 minorities. Many of them still maintain time-honored traditions and custom. For the travelers, it is a great experience to attend their festivals in different parts of the province and share the joys of locals. The most interesting ones include Water Splashing Festival of Dai people in Xishuangbanna, Torch Festival of Yi people in Chuxiong or Shilin, and March Street Festival of Bai people in Dali, etc.
On the whole, the 20 top things to do in Yunnan listed here can't fully showcase all the charms of the province. Different people usually have their own preference, while Yunnan can always have something ready for you. Anyhow, Yunnan is undoubtedly a highly recommended destination for your trip to China.