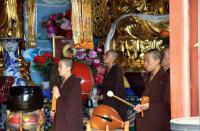 Lanzhou is a hub of the ancient Silk Road, with the Maiji Caves to the east, the Bingling Thousand Buddha Caves to the west, Labrang Monastery to the south and Dunhuang Mogao Caves to the north. Lanzhou travel tips below serve the guidance for your Lanzhou tour.
Best Time to Lanzhou
In Lanzhou, spring and summer are short, while autumn and winter have relatively long period. The best time is usually from May to October when the temperature is most suitable. Moreover, if you'd like to attend the annual "Lanzhou Silk Road Festival", August and September are the right time.
Body Health & Safety
1. Snack stalls are many in Lanzhou and sometimes they are very attractive, but you must beware of their hygiene conditions!
2. Lanzhou has the distinct features of a semi-arid climate, characterized by dryness and abundant sunlight. Other things to carry with you are a bottle of water, and sun protection, especially a lip balm.
3. Visitors coming in the summer time should avoid going outside during a sandstorm. Those that really must go outside should wear protective gear including big sunglasses, long sleeves and pants. Also, bring a sweater to keep warm in the evening since the evenings tend to be quite cold while the daytime it is much warmer.
4. Taking care of all your belongings while you are out especially at night, and locking up carefully of your important things in your hotel room.
Shopping & Recreation
1. Lanzhou has a good selection of handicrafts and local specialties from all parts of Gansu Province, like Jincheng Babao Melon-skin Carving, Pebble carvings, and Tao Ink Stone, etc.
2. Lanzhou would offer tourists memorable nights, with diverse night-snack stands, various bars & nightclubs, romantic cafes, and local traditional Long Ju (Gansu Opera) performance, etc.
Recommended Lanzhou Tours