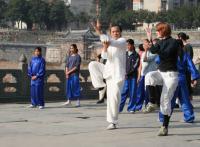 Best Travel Time Wuhan
Wuhan has subtropical and monsoonal climate, with hot and humid summer and severe cold winter. The best travel time to Wuhan is March to April & September to October. Wuhan is renowned for its scorching heat and humid summer and the temperature in winter would be less than ten degrees below zero.
Wuhan Safety Tips
Wuhan is a large city; just watch your belongings when in public transportation since pick-pocketing have been reported.
Watch the both sides when crossing the street
Take heavy overcoat and sweaters if you plan a winter trip in Wuhan; and most hotels or restaurants have not heater in winter.
There are many beggars in the city areas, just keep a distance with them.
Wuhan Shopping Tips
Wuhan is famous around the country for its prosperous commercial industry and whatever you want can be found in the city. There are many big shopping malls, super market, chain store or shopping streets throughout the city.
Eating in Wuhan
Wuhan is located near the well-known rice and freshwater fish production base in China which offer huge food selections for Wuhan cuisine. Dishes in Wuhan feature with unique methods of preparing delicacies from land and sea, freshwater fish and soup. And the representative Wuhan dishes are Steamed Wuchang Fish, Mianyang Three Steamed Dishes, Xiaotaoyuan Soup, Wangji Chicken soup, Hongshan vegetable bolts and Dongpo Pork.
Nightlife / Entertainment in Wuhan
Nightlife in Wuhan is based around the city's west bar and restaurants, night market, pubs, bars and cafes, karaoke at Hankou or around universities are the most-welcomed.
Wuhan Festivals
Wuhan holds a number of annual festivals throughout the year. There is the Plum Blossom Festival in February and March, and the International Tourism Festival and the Wuhan Horse Racing Festival in late September and early October.