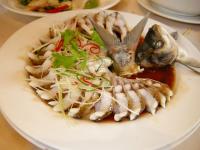 Wuhan strategically stands at the mid reach of Yangtze River, a land of abundance. Its nearby area is the well-know rice and fresh water fish production base in China, which offer huge food selections for Wuhan cuisine. Wuhan cuisine is featured with the fish dishes and all kinds of meat balls. Its most famous dish is called Steam Wuchang Fish.
Steamed Wuchang Fish
Thanks to the Chairman Mao praise in his poem, Wuchang fish became the most famous dish in Wuhan. In fact, the fish itself was originally produced in Liangzi Lake of Ezhou. There are dozens of cooking methods. Steaming is the most popular way. Local cooks often use 1 kg Wuchang Fish steamed together with ham, mushrooms, bamboo shoots and chicken soup.
Doupi
It is also a traditional folk snack. People often grind green beans and rice to proceed to make it into sheets, then wrap with polished glutinous rice and meat in center. Finally, fry it with oil. The Old Tongcheng in Zhongshan Street is famous for it. They prepare it with more care, which make it taste more delicious.
There are other delicious snacks streets in Wuhan, which include Hubu Lane, Qiaokou Road and Jiqing Street. Hubu Lane, 150-meter long, has been well known for the stalls and serves a variety of breakfast and snacks for more than 20 years.