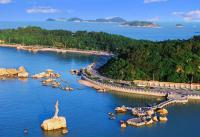 Best Travel Time Zhuhai
Situated at a low latitude area among southern coast of China, Zhuhai enjoys subtropical monsoon climate, enjoying from the sufficient sunlight and rainfall. It's always influenced by the tropical monsoon from south Asia and by thunder storms, with occasionally typhoons in summer. The rainy season in Zhuhai is from May to October so the best time to visit the city is at the half year from November to next April and it is recommended the coldest months January and February.
Zhuhai Safety Tips
Zhuhai is a safe city with local people are friendly there; while there are increasing reports on pick-pocketing, especially at the crowded shopping areas or on public bus. Look out your belongings and don't leave them unattended.
Prostitution is illegal in China and if you are caught with one by the police, that's would cause troubles.
Don't drink tap water or eat undercooked meats
Watch out the traffics from both sides when crossing the street
Zhuhai Shopping Tips
Zhuhai offers local specialties like the big oysters, eels as well as seashell ornaments; but it is not the only things that would attract you. Travelers can find anything they want at Zhuhai, from women's clothes, first class imitation signature goods and accessories to antiques, furniture, artwork and handicrafts and so on.
Recommended places for shopping in Zhuhai: Gongbei Underground Shopping Complex, a large shopping areas with hundreds of shops, targeted at tourists; or check the world brand goods at large scale shopping malls and department stores(mostly on Yingbin Road, Lotus road or Jinshan Road) with shopping and eating chances available.
Eating in Zhuhai
Zhuhai Cuisine is influenced largely by Guangdong cuisine and also combing the characteristics of dish from other part of China. Seafood is abundant and must try things, such as the fresh oyster, green crabs, lobsters, urchins, barnacles and so on. Some restaurants also offer western cuisine, European style dish, and Chinese medicinal cuisine,
See our lists of Zhuhai local restaurants
Zhuhai Nightlife / Entertainment
Located at the seaside, Zhuhai offers many funny and interesting water entertainments like cruise, taking ferryboat to nearby island, diving, sailing and surfing; golf equipments are really cheap in Zhuhai, and there are many players from Hong Kong players come on weekend for fun there.
Zhuhai International Circuit is another exciting place where travelers can enjoy the atmosphere of international auto and motorcycle racing; travelers can even ride on the actual race course with a group of friends by paying some fees.
There are some possibilities for a night cruise on the Pearl River estuary in the surrounding area of Macao; travelers can enjoy the peaceful and unique enchanting view of Zhuhai. Jiuzhou Port has night seeing boats departing at 18:30 to 20:30 every night.
Relax and enjoy the professional services of sauna and massage to get rid of the tiredness of day time; there are large number s of bars, bars, pubs, TV, theaters, café or teahouse available to enrich your nightlife in Zhuhai.