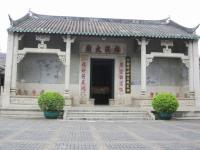 Zhuhai is situated in the southwest of the Pearl River Delta of Guangdong Province. It faces Hong Kong on the east across the Lingding Ocean, Macau on the south, Xinhui and Taishan on the west, and Zhongshan on the north. Zhuhai was one of the original Special Economic Zones established in the 1980s.
It covers a total area of 7,640 square kilometers, among which 1,640 square kilometers are land. There are great varieties of landform such as hills, plains, lakes and sea. It has a long coastline of 731 kilometers. It has altogether 146 islands in the South China Sea with a total area of 236.9 square kilometers. It is thus known as "the city of hundred islands".
Zhuhai has a subtropical monsoon climate and enjoys adequate sunshine and rainfall. The annual average temperature is 22.4 °C. An attractive and clean environment and good deep-port condition are advantages of Zhuhai. Endowed by a long coastline, Zhuhai is the only city on the western Pearl River Delta with natural deep-water ports.
The attractive environment and natural landscapes win Zhuhai the reputation of a garden city and a model city of best living environment. It is also well-known for golf clubs and hot springs where you can take a break from sightseeing. The major tourist attractions in Zhuhai include the New Yuanming Palace, Agricultural Scientific Academy and Meixi Royal Stone Archways tourist area.