The Li River is the connecting waterway from Guilin to Yangshuo, it originates from a mountain northeast of Guilin with 164km in length. Winding among the Karst mountains of Guilin, it is known as "have a tour of the Li River and appreciate a hundred-mile view of gallery". Various charming scenes of Li River can be reflected in different conditions. In sunny day, you can enjoy clear water and reflection of green mountains; you can see fog covered with trees and Karst landscape under the cloud; it's mysterious when raining.
The crystal-clear Li River is sandwiched between sheer cliffs dotted with few cascades. A cruise down the river is one of the highlights of a holiday in China. From Guilin to Yangshuo, it winds its way through 83 km of beautiful countryside, with some extraordinary peaks, bamboo groves lining along the riverbank, leisurely water buffalo and picturesque villages. Sometimes the visitor can see a fishing boat slip by with two or more fishing cormorants on board. The local farmers feed the birds for fish catching. They tie a string around the bird's neck just right enough so that that it cannot swallow the fish it may catch.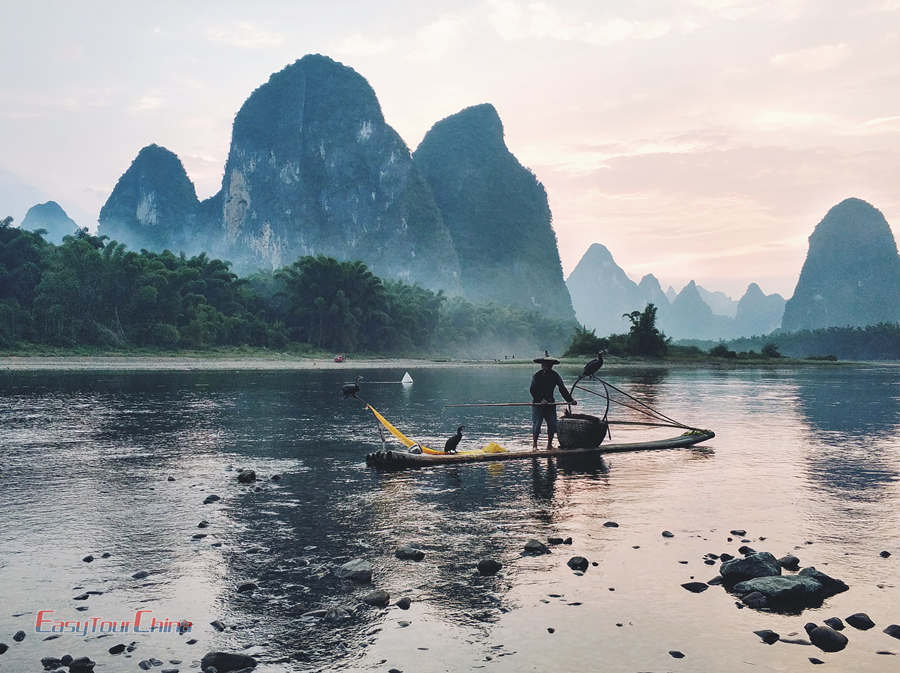 The Li River was an exceptional place to observe the native farmers as they go about their daily routines. There was much people activity all along the river. Farmers tilling land, duck herders watching over their flocks, people washing laundry in the river, fishermen and much more. Another special treat was seeing so many water buffalo. The World Bank-financed project to protect the ecosystem that exists on both sides of the Li River in Guilin, one of the China's most popular tourist attractions, has made significant progress since earlier 2000.
Facts
- In Chinese: 漓江
- Location: from Guilin to Yangshuo
- Opening time: all day
- Best time to visit: Apr - Nov
- Entrance fee: Free
Li River Cruise
Boating or taking a cruise can be the best way to enjoy the view of the river. It is easier and more relaxing, and you can enjoy the scenery of the water and Karst landscape along banks at the same time. A Li River Cruise is always the most popular and unforgettable experience which you can't miss. The cruise starts from Mopanshan/Zhujiang Pier, 1-hour drive from Guilin city, in the morning at 09:00 to - 09:30. You can take a 4-hour trip to appreciate the beauty of Li River and finally reach Longtoushan/Shuidongmen Pier. If you want to visit Xianggongshan Mountain near Xingping Ancient Town to have a bird view of the river, taking a cruise to Xingping will be fine.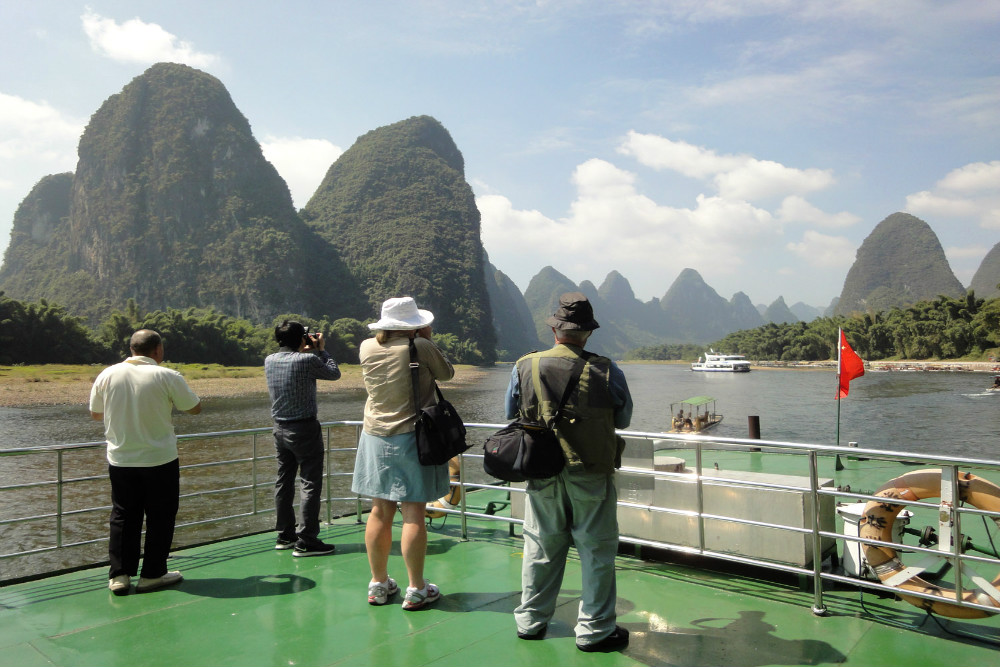 Info of Cruise Boat
There are 2 kinds of boats for your choice: 4-star boat & 3-star boat. The route from Guilin to Yangshuo is the same, if you want to visit Xingping or want to take cruise from Xingping to Guilin, only 4-star boat is available. Other than the routes, though both 3-star and 4-star boats look alike in appearance with three layers, the facilities and condition are also different between them.
4-sart boat: 46 seats and toilets on the lower deck, 20 seats and a VIP Room (including 12 seats) on the upper deck, deck on the third floor. A buffet lunch with fruit, salad, soup, drink and various dishes will be provided at 11:00 – 12:00.
3-star boat: 60 seats and toilets on the lower deck, 36 seats on the upper deck, deck on the third floor. A simple sandwich will be provided at lunch time. (we recommend bringing some food or snacks on your own)
As we can see, 4-star cruise can provide more space and good environment for passengers, to give you a better experience, we usually arrange seats on upper deck of 4-star cruise for our clients to enjoy a better view.
Tips for Li River Cruise
1. Luggage can be taken on the boat if you need to stay in Xingping or Yangshuo.
2. Cruise from Xingping to Guilin starts at 13:30 every day.
3. Generally, no cruise from Yangshuo to Guilin, but only once from Yangshuo to Yangdi every morning at 10:30 with 3-star cruise.
4. After you reach Yangshuo Pier, you need to walk for 40 min or take a battery cart (RMB15 per person) to get to parking lot.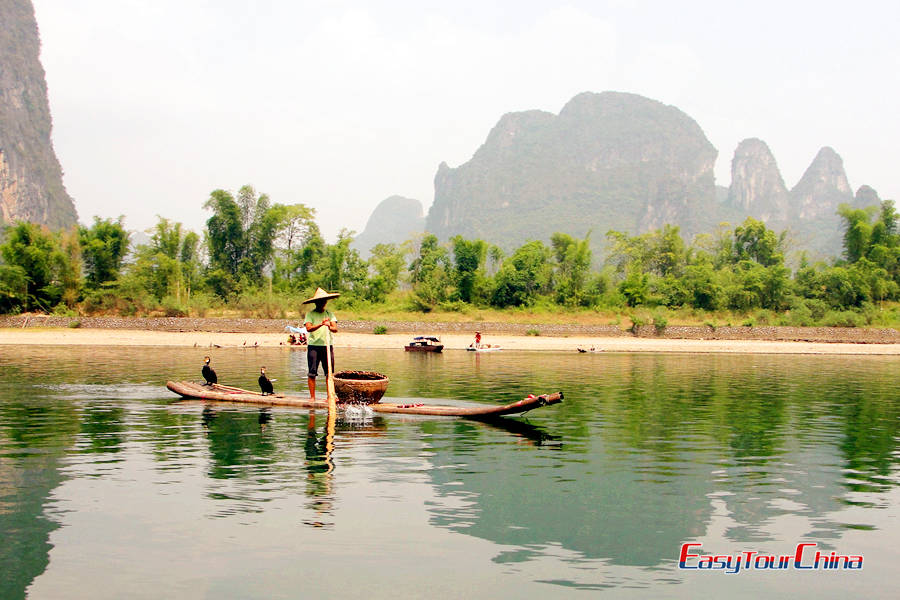 Li River Bamboo Raft
If you have limited time or just want to see the most fabulous period of Li River, taking bamboo raft is a nice choice. On the trip of Li River Bamboo Raft, you can see the scene on RMB20 note, famed Nine Horses Fresco Hill and see the water closely.
Three Routes of Bamboo Raft
1. Yangdi – Nine Horses Fresco Hill – Yangdi.
Drive 1.5 hrs from Guilin to Yangdi and enjoy the rafting for about 1.5 hrs.
RMB128 PP.
2. Yangdi – Nine Horses Fresco Hill – battery cart to Xingping
Drive 1.5 hrs from Guilin to Yangdi and enjoy the rafting for about 45 min. and then, take a 10-minute battery cart to Xingping.
RMB118 PP.
3. Xingping - Nine Horses Fresco Hill – Xingping
Drive 2 hrs from Guilin to Yangdi and enjoy the rafting for about 45 min.
RMB98 PP.
Tips for Li River Bamboo Raft
1. The rafting time depends on water's speed and flow.
2. 4 people a group. If you don't want to share with others, you need to pay for the vacant seats.
3. Bamboo rafting is unavailable for the old over 70 years old, kids under 1.2 meters and those who can't walk easily.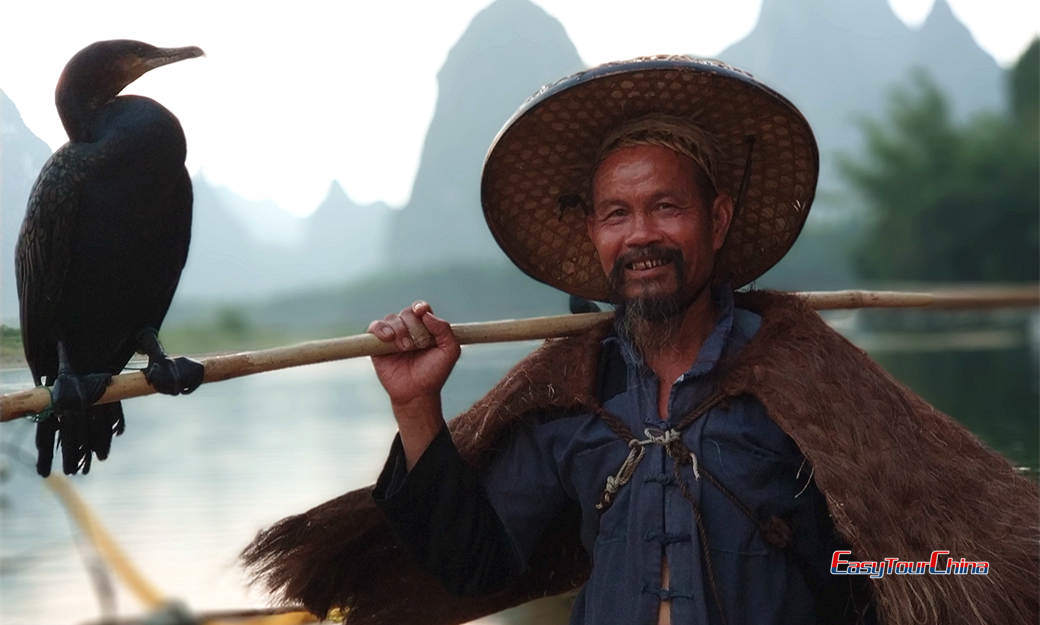 Hike along Li River
A light hiking along Li River is much recommended for those who have enough time and energy and interested in experiencing the water and landscape deeply. We're sure you will have fun in the short walking trip in this China's top 10 popular hiking trials. You can have more time to play the water and take photos, and you have the chance to see local people and their life, explore something others can't do.
The most popular trail is from Quanjiazhou to Xingping, 2.5 hours' walking for 12 km. Take a bus from Guilin Bus Station to Yangdi, and then change a car to Quanjiazhou nearby. Walk along the river, you will pass some villages; when you get to the riverbank of Lenghsui Village, it's the best place to appreciate Nine Horses Mural Hill. After that, you need to take a bamboo raft to get across the river (RMB10 PP). Continue hiking, you will reach Yellow Cloth Reflection and see the back view of RMB20 note. In the end, you'll reach Xingping Old Town.
Tips for Li River Hiking
1. Wear comfortable shoes and bring enough water.
2. Try to hike with a guide or somebody who can speak Chinese. There may be some paths you need to ask for the road.
More Attractions in Guilin
Recommended China Tours Including Guilin Li River Guilin