81 km north of Guilin City, at the elevation of 2142m (7028ft), Mao'er Mountain featuers the highest peak of the Wuling Mountain Ranges, it is the summit of south China and known as the first mountain in the book "Legends of Mountains and Seas". The mountain peak is a granite boulder, shaped like a lying cat, hence the name Cat Mountain.
Mao'er Mountain is located between Huajiang Yao Minority Village of Xing'an County and Zhongfeng Village of Ziyuan County. The mountain is the main headstream of Zijiang River and Li River.
Mao'er Mountain is a famous summer resort in Guilin.
Mao'er Mountain Facts
- In Chinese: 猫儿山
- Location: across Xing'an County and Ziyuan County in Guilin
- Altitude: 2142 meters (7028 feet)
- Area: 17,000 hectares
- Opening time: 08:00 -17:00
- Best time to visit: summer & autumn
- Entrance fee: RMB180 (shuttle bus included)
Note: It's free for children under 1.1 meters (3.6 feet) and RMB100 for children from 1.1 meters to 1.4 meters (4.6feet).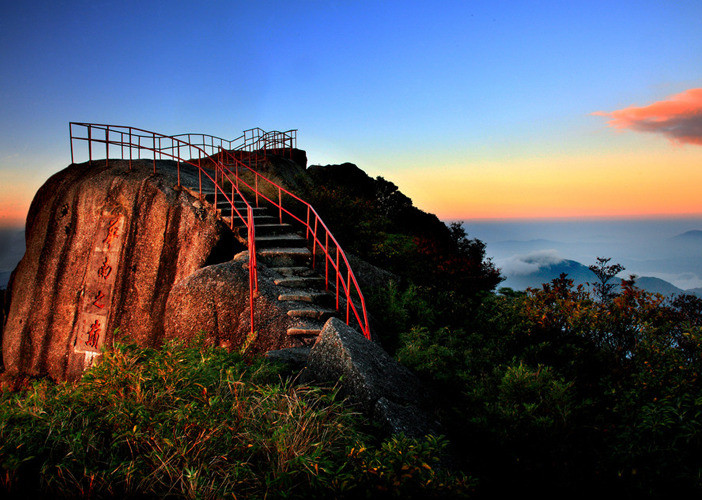 What to See and Conservation Resources
Cat Mountain is a primordial fores, a nature reserve of Guangxi Autonomous Region and belongs to the forest ecosystem type. The main protection objects are typical evergreen broad-leaved forest ecosystem, hemlock and water conservation forest. There are 112 kinds of rare animals and 1436 kinds of wild plants, among which there are 36 kinds of rhododendrons. The famous hemlock tree is a rare species left over from the Ice Age. Together with metasequoia and ginkgo, it is known as the "living fossil" of the plant kingdom.
In the northwest gully of Cat Mountain Nature Reserve, there are also a number of lipuliana, which is a famous Tertiary relic plant and the most representative of the original species of orchidaceae. In addition, there are 20 rare species of the original species of the Family Lardizabalaceae, such as ginger seed of red leaf wood, myrtle of ravenwood, rhododendron longichenae, rose-like lenticellus, and different leaf rustles, which are newly recorded in Guangxi.
When taking a Cat Mountain sightseeing trip, you should not miss the main attractions, including Longevity Ladder, Fairy Tortoise Stone, Thin Strip of Sky, Buddha's Light Machine, The Fairy Column, etc.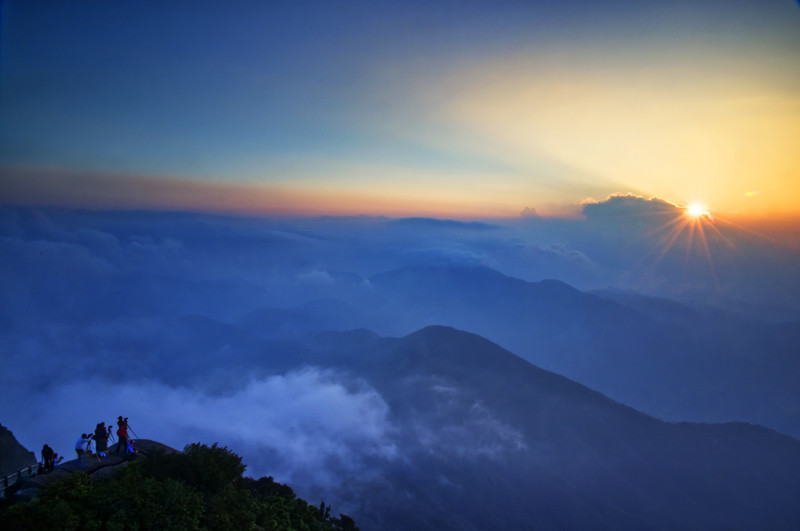 Outdoor Activities – Climbing, Hiking, Camping, Observing Star
With primordial fores, valleys, canyon and beautiful water scenery of waterfall and river, Cat Mountain is an ideal place for outdoor activities. For active travelers, you may hike on the mountain, camp on the peak, watch the sunrise and sunset, and catch the opportunity of star observing.
For those plan to hike Cat Mountain, you're suggested to climb from the mountain entrance to Ladder Ridge, continue walking on the twisting mountain road to get to the mountain top. The hike is more than 20 kilometers, and takes about 8 hours.
Accomodation
On the mountain top: Yunfeng Pavilion Resort, a 4-star rated hotel, priced from RMB400 – 600 yuan
At the foot of the mountain: there are economic hotels and rural resorts with fine facilities and beautiful surrounding, idea for summer holiday.
How to Get to Mao'er Mountain
1. Take Guilin to Xing'an bus or Guilin to Ningyuan bus, get off at Baizhupu, where there are coaches to Gaozhai - the foot of Mao'er Mountain. But you need to negotiate over the price.
2. There are two regular buses departuring from Guilin Bus Station to Gaozhai directly.
3. From Xing'an, there are three regular buses to Gaozhai.
More Attractions in Guilin
Recommended China Tours Including Mao'er Mountain – the Highest Mountain in South China Guilin