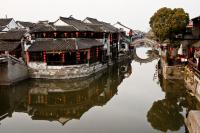 With more than 1000 years of history, Xitang Water Town is one of the six ancient towns south of the lower reaches of the Yangtze River, is in Jiashan County, Zhejiang Province. Covering a total area of only 83 square kilometers with a population of about 60,000, Xitang is one of small typical water towns in China.
Sailing through the liquid street of Xitang Town, you can appreciate its beauty and deep-rooted culture. The town maintains many well-preserved architectural structures from the days of the emperor. Nine rivers run through the town divide it into eight parts, while over 100 bridges connect the water-town into one entity. The streets with the town's shops are built along the river. Much purchasing was done on the boats or banks. Thus, a special structure that linked the river and stores, as well as protected people from the sun and rain, was created-the ceilinged corridor, which was passed down from generation to generation and eventually became a tradition. The ancient town has always been like a changing folk tale of water town images: "houses on the river, bridges on the river, people on the bridges, boats under the bridges, stores on the bridge ends and reflections in water" through the generations.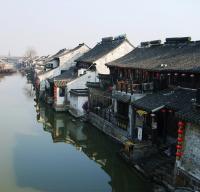 The buildings in Xitang Town were originally constructed during the Qing and Ming Dynasties. Some look like rainbows over the river and others like long flutes. Life for Xitang locals is calm and easy, full of comfort and peace, no difference from the lifestyle of their ancestors in thousands of years ago. The elderly play with their grandchildren on the bridges and in the lanes, and women wash vegetables and clothes in the rivers that run beside their houses. Xitang is also known for its glutinous rice dumplings, in short, just call it Zongzi. The ones here are filled with flavored pork and soy sauce, wrapped with plant leaves. The storeowners make and sell so many of these delicious rice dumplings so quickly that it looks like they could wrap them it in their sleep.
Walking on the street in Xitang Water Town, you can view its cobbled streets, old buildings, arching bridges and rowing boats. All these picturesque, like a graceful poem and a fair-sounding song, will surely captivate any visitor home and abroad.
More Attractions in Hangzhou
Recommended China Tours Including Xitang Water Town Hangzhou