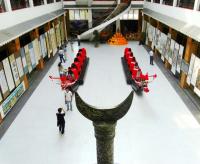 Entitled "the Origin of Chinese Folk Arts", Kaili Nationality Museum is located in the Miao Nationality village at Shanglangde of Leishan County, at the hinterland of Miao Mountain, 27km to the southeast of Kaili. It is also one of the "100 Distinctive Museums of China".
Kaili Nationality Museum is an open-air museum of nationality culture and customs, Kaili Museum and has accommodated over 500 people from about 100 families since its founding in 1987. Suspension houses row upon row extending from the foot to halfway of the hills, a brook named Wangfeng River flowing in front of the village in an S-shape, tens of water mills made of bamboo tube standing along banks, all of which make up a perfect vertical view of the village museum from hills behind is quite spectacular. In this special museum, people can get a glimpse of the culture and history of Miao Mountain from all areas, among which the most characteristic are bronze drum dance, Fengyu Bridge, Baoye Bridge, Beauty Cushion, wine songs, culture of ox, culture of fish, Jiqiao Festival and Chixin Festival of Kaili Miao Village. In addition, the museum owns a collection of over ten thousand items of different ethnic groups.
In this museum, visitors will not only see the minor nationality women doing craft jobs, such as embroidering, plaiting, brocading, spinning, and cross-stitching, but will also receive a very special but grand reception from the villagers: to "obstruct" visitors from entering the village - with wine and Miao songs.
More Attractions in Kaili
Recommended China Tours Including Kaili Nationality Museum Kaili