Surrounded by reefs, Qingdao Underwater World combines the resources of Qingdao Aquarium, taxidermy hall, and fresh water aquarium, with natural sea cliff scenery to create a unique vista of mountain and ocean. The combination of its smart design and its natural features of nearing the mountain and by the river has become special scenery of the golden coast of Qingdao.
With ecological tourism and education of popularization of science embodied in it, the Qingdao Underwater World has filled the gaps of Shandong underwater worlds and has started many firsts in the country. The outside exhibition hall includes the marine mammal hall, sea taxidermy hall, and Qingdao Aquarium, the mainland's first professional aquarium. Inside Dream Jellyfish Hall are thousands of jellyfish of a dozen varieties. While viewing the jellyfish, you can interact and play games with them as well.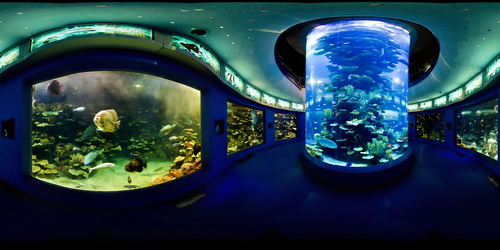 The entrance of Qingdao Underwater World is in the famous Aquarium, which is surrounded by reefs and sand beach, forming beautiful scenery with a sea among the mountains. The special geographical environment, modern methods of showing, concord and complemented with the original Aquarium, Marine Beast Gallery, Marine Organism Specimen Gallery, and Freshwater Organism Gallery, has made it a gallery of marine living things in the whole country.
It owns the world's biggest monomer cylindrical exhibition aquarium and its marine biological specimen center contains the greatest collection in the world. The underwater experience begins with a subterranean tunnel which soon reveals the magical variety of ocean life, which you can view through wide overhead and surrounding windows. You also can view the water world's popular performances within the Qingdao Underwater World, including Dancing with Sharks, the Mermaid Show, the Underwater Adventure, the Underwater Ballet, and the Underwater Wedding. After experiencing the thrilling performances, you can use wireless underwater communication devices to connect with the performers and ask questions.
More Attractions in Qingdao
Recommended China Tours Including Qingdao Underwater World Qingdao