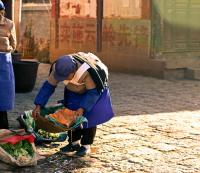 Nestling beneath the lofty Jade Dragon Snow Mountain, 8km away on the north of Lijiang Old Town, Baisha Village is one of the oldest villages in Lijiang City. "Baisha" means "white sand" and it got its name from the natural white sand in the area. Baisha Village is not only the cradle-land of the Tusi Dynasty evolved from the Mu Clan, but also the first Naxi minority ancestor settling stronghold. It is right from this place that the Naxi began to form the idea of building a city with a market square as center and streams as skeletons, and it was also in this place that they began to learn the culture, knowledge and technology of the Han people.
Many ancient constructions built in the Ming Dynasty: the Dabaoji Palace, the Liuli Temple and the Wenchang Palace, the well-known Baisha Frescoes situated in the Dabaoji Palace are well preserved in the village. It has accumulated rich experiences for the later construction of Lijiang Old Town in its wood dwelling architecture, the labyrinth layout and the canal system. The biggest attraction in this village is Baisha murals which are mostly from the Ming Dynasty (1368-1644).
Dabaoji Palace, the backyard of temples built in the Yongle Period of the Ming Dynasty at the end of Baisha Old Street, is where the 28 fresco groups housed, Among all the murals in the palace, the painting about the Sakyamuni explaining the sutra passages to his disciples is the most famous and valuable one. Another famous attraction in this village is a living person--Dr. Ho Shixiu, an old Chinese herbal doctor that has been featured by BBC, National Geographic and some serious magazines for his herbal cures.
More Attractions in Lijiang
Recommended China Tours Including Baisha Village Lijiang