Situated at the foot of Bai Ta Mountain and in front of Jin Cheng Pass in Lanzhou city, Yellow River Iron Bridge, also known as Zhongshan Bridge, is the first bridge over the Yellow River.
The Yellow River Iron Bridge was first established as a pontoon bridge in 1372, the fifth year of Hongwu Period in the Ming Dynasty. At that time, floods destroyed the bridge or even killed people almost every year. In 1907, the 33rd year of Emperor Guangxu's reign of the Qing Dynasty, the Government began the construction of the first iron bridge over the northern side of the Yellow River, with the help of a German businessman. All materials including the rivets were transported from Germany to China by ships, trains, carts and other means possible. Two years later, the bridge was completed and given the name'Lanzhou Iron Bridge over the Yellow River'. In memory of the great Chinese democratic revolutionist Sun Zhongshan (also named Sun Yat-sen), the bridge was renamed Zhongshan Bridge by Sun's given name in 1942.
The Yellow River Iron Bridge, with a handsome structure and majestic appearance, is 233.5-meter-long and 8.36-meter-wide, with the carriageway being six meters wide and two sidewalks each being one meter wide. The service life of the Zhongshan Bridge expired in 1989, since then about 10 bridges had been built across the river. However, none of these bridges could replace its great value in history and its work even after 80 years. Now it is one of the symbolic architectures in Lanzhou City and remembered forever as a piece of history and a cultural relic.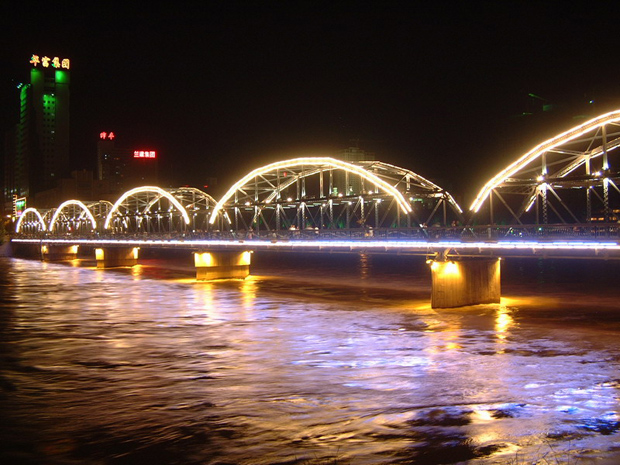 More Attractions in Lanzhou
Recommended China Tours Including Yellow River Iron Bridge Lanzhou