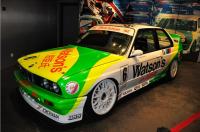 The Grand Prix Museum is a motor racing museum in Macau. The objective of the museum is not only to remember and to document the great moments in Grand Prix history, but also to build a stronger and closer relationship between the local population and this social and sports event. Built in 1933 in memory of the 40th Macau Grand Prix, the museum is located on Rua Luis Gonzaga Gomes.
Macau's racing history dates back to 1954. The past more than forty-five years of racing in Macau are highlighted by many excellent exhibits. The museum aims to enable foreign visitors to be knowledgeable of this event which is of great tourist importance for Macau. It pays tribute to individuals who contributed extensively to the success of the Grand Prix. The exhibition hall of the Grand Prix Museum is packed with racing cars and motorcycles that have competed in the race through the years. These are the exact same cars that competed in the races. In the museum, videos, photos, champion records, racing cups, articles and more are properly displayed.
The museum with its many items focusing on the competition has become a must-see place for the race enthusiasts. More than twenty formula cars and motorcycles once driven by world-renowned drivers are on exhibition. The most eye-catching one is the racing car placed in the center of the hall. It was once driven by Aryton Senna, a famous formula car driver who died at the 1994 San Marino GP. Macau Grand Prix Museum isn't only for the racing sport enthusiasts. This can be a very interesting place for those who aren't a big fan of Formula 1 or 3. The Macau Grand Prix Museum celebrates one of the most awaited and celebrated events in Macau every year in November. To date, the Grand Prix is one of the biggest Macau attractions in the city for race fans.
More Attractions in Macau
Recommended China Tours Including Grand Prix Museum Macau