Victoria Park is one of the biggest patches of green grass on the northern side of Hong Kong Island. It is one of the territory's most popular parks.
This expansive parkland in the heart of Causeway Bay contains many facilities such as swimming pools, jogging tracks and tennis courts. Early risers gather here to practice tai chi. And tens of thousands of people gather on special occasions such as Chinese New Year and the Mid-Autumn Festival. During weekends, the park is full of people exercising, relaxing and simply enjoying the sunshine.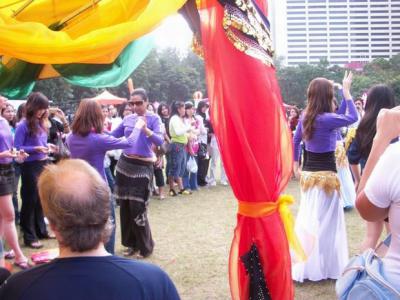 The Peak has long been the most expensive and exclusive area of Hong Kong. Before the arrival of the Peak tram in 1888, the wealthy were carried up the mountain in sedan chairs. In colonial times too, this was the most prestigious district and many governors and businessmen bought extortionately priced houses up here, away from the smog and heat below. Today, nothing much has changed and this remains the place where the fashionable and rich make their homes-snapping up houses at prices which are among the most expensive for real estate anywhere in the world.
It is not hard to see why this area is so popular when you reach the top. The views from the Peak Tower are truly spectacular and this is also a great place to get your bearings of Hong Kong and Kowloon. The Peak Tower stands at 400 m above sea level and was built to withstand all typhoons. This is where the Peak Tram terminates and the Tower contains various entertainment facilities (most are great fun for kids), shops and a few cafes.
More Attractions in Hong Kong
Recommended China Tours Including Victoria Park Hong Kong