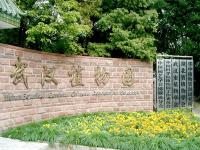 Founded in 1956, Wuhan Botanical Garden (WBG) is one of the earliest national botanical gardens established after foundation of the P. R. China in 1949. It WBG located at the bank of the East Lake, and at the southern foot of Moshan Hill, covering an area of 70 hectares. Boasting for a collection of more than 8000 species of flora from home and abroad, WBG ranks as the largest biodiversity protection base of Central China, and a base for north subtropical flora in entire China.
In WBG visitors can see various interesting, strange and rare species growing vigorously in the large greenhouse, also a pleasure green overflowing around the Center Lawn. The main gardens in WBG are: Kiwifruit Garden, with the largest number of species in the world; Aquatic Plant Garden——the largest in East Asia, Garden of Genetic Resources of Special Wild Fruit Trees——the biggest in Central China;theme gardens such as Central China Relict, Rare and Endangered Plant Garden and Central China Medicinal Herb Garden, etc. During spring and autumn, some magnificent exhibitions of famous flowers would be regularly held in the garden.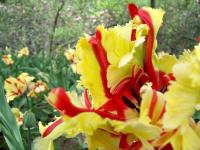 WBG has established close relationship of technique cooperation and seed exchange with famous universities and research institutes in 44 countries and regions. It maintains strong research programs in the following fields: Plant Conservation Enetics & Sustainable Use of Genetic Resources, Aquatic Plant Biology & Environmental Health of Inland Water, Watershed Ecology & Ecological Security of Large Projects, and Resource Botany & Natural Products. The Third International Conference of Botanical Gardens was successfully held in WBG in 2007.
More Attractions in Wuhan
Recommended China Tours Including Wuhan Botanical Garden Wuhan