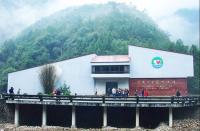 Wuyishan Natural Museum is located in the Wuyishan nature reserve. Covering a building area of 1,673 square meters, Wuyishan Natural Museum is invested by the state department of forestry and provincial forestry department of Fujian province in 1987. The exhibition design and construction began in February 1990. In the same year of December 18, the Wuyishan Natural Museum opened officially to the public with the exhibition area of 1,300 square meters.
With "concentration, reproduce the Wuyshan nature reserve of natural appearance" as the objective and "forest ecological system" as the axis, Wuyishan Natural Museum was divided into three exhibition halls with several technique of expressions, including the satellite image, anaglyph, three-dimensional panorama, etc.
The first exhibition hall is the Natural Environment Hall. Combined satellite images, anaglyph, light color photos, physical specimens with the chart, it shows the Wuyishan reserve's general situation, such as the historical evolution, geology, topography, hydrology, meteorology and vegetation. The second hall is the Ecological Landscape Hall. Using the expression of panorama and stereo, it condenses and reproduces the typical ecological landscape of forest ecological system in the central Asian`s tropical area. Showing the different features at all seasons in Wuyishan, the Ecological Landscape Hall presents the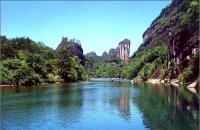 pre-recorded insect sound and cicadas to make you experience the feeling personally. As the Species Treasure Hall, the third hall breaks the way of old display. It highlights the quantity, the quality and the postures of the specimens, matching with the abstract frame.
It the time of 15 anniversary of Wuyishan nature reserve in July 1994, the Achievement Hall was added. It shows the achievements Wuyishan reserve has got in the past 15 years. In December 1998, the Plant Hall was added. It shows the rare species of Wuyishan nature reserve.
More Attractions in Wuyishan
Recommended China Tours Including Wuyishan Natural Museum Wuyishan