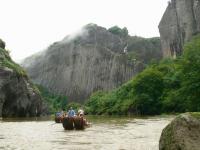 Best Travel Time Wuyishan
Mountain Wuyi is located at the southern slop of Wuyi Mountain Range, enjoying subtropical Monsoon climate with plentiful rainwater and fogs; the best travel time to Mt.Wuyi is from June to September, mostly of cozy sunny days.
Wuyishan Safety Tips
Drink boiled water instead of drink water directly from river or streams;
Follow your tour guide and not take the off-beaten track in mountain areas.
When taking a bamboo rafting, don't stand or walk on the raft without agree
Wear some waterproof shoes or shoes or climbing mountains when you plan a trip in mountain Wuyi
Prepared a warm coat in mountain areas;
Take an umbrella or raincoat when traveling in Wuyishan
Wuyishan Shopping Tips
Wuyishan is home to many local and famed products, like tea (Wuyanshan rock tea, green tea and Wuyishan Dahongpao), bamboo shoot, mushroom Millets and Chestnuts.
Keep bargain if you want to buy something in scenic areas.
Keep away from commodities if you are not going to buy them; don't touch or comment on items randomly.
Eating in Wuyishan
Wuyishan has its unique culinary culture based on the long history and rich natural resources. After years of development, the local Chong'an Cuisine gradually came into being, which is featured with the wild game and produce from the mountains.
There are 3 famous banquets in Wuyishan area, namely, manting, bagua, and Snake Banquets.
Nightlife / Entertainment in Mt.Wuyi
Wuyishan has charming and peaceful night and it is a nice place to escaping from the chaotic of cities. Drinking coffee, watching performance at theatre, stroll along the night market in scenic areas…but these are some places for the young generations, like bars, internet bar, and karaoke and so on.
Recommended Wuyishan Tours