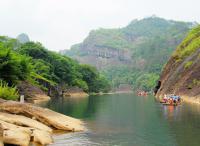 Located in the far northwest corner of Fujian Province, Wuyishan is an attractive region with natural and cultural treasures considered by most Chinese people. It is a county-level city under the administration of Nanping City. Wuyishan became s a famous tourist city in China sine late 1990's. The mountain scenic area is 16km south of the City.
Since 1999 the Wuyi Mountains has been recognized by UNESCO as part of the world's natural and cultural heritage. Tourism gradually became the core industry of the city, The booming of tourist accelerates the development of different fields on Wuyishan, especially transportation. It has one airport with daily flights connecting the major cities like Beijing, Shanghai, Guangzhou and Xiamen. Tourists can also choose to take train from/to Shanghai and Xiamen by train. Another important product here is tea. Wuyishan has long been regarded at the birth place of Chinese Oolong tea and Red (black) tea. Every year a tea fair is held here. Countless tea dealers get together to buy and sell the tea products.
The Wuyi Mountains act as a protective barrier against the inflow of cold air from the northwest and retain warm moist air originating from the sea. As a result, the area has a humid climate (humidity 80 to 85%) with plentiful rainfall (annual average 2,200 mm in the south-west and 3,200 mm in the north) and common fogs. Lower altitudes experience annual temperatures in the range from 12 to 18 degree Celsius.
The major attractions of Wuyishan city include Wuyishan Scenic Area, Wuyishan Nature Reserve and Xiamei village.
Recommended Wuyishan Tours