By Air
The easiest and quickest way to get to zhangjiajie is taking an airplane. Right now there are scheduled flights from over 20 cities like Beijing, Shanghai, Guangzhou, Xian, Guilin and Chengdu to Zhangjiajie Hehua (Lotus Flower) Airport – the only airport in Zhangjiajie, and locates in Yongding District, 4 kilometers from the city center.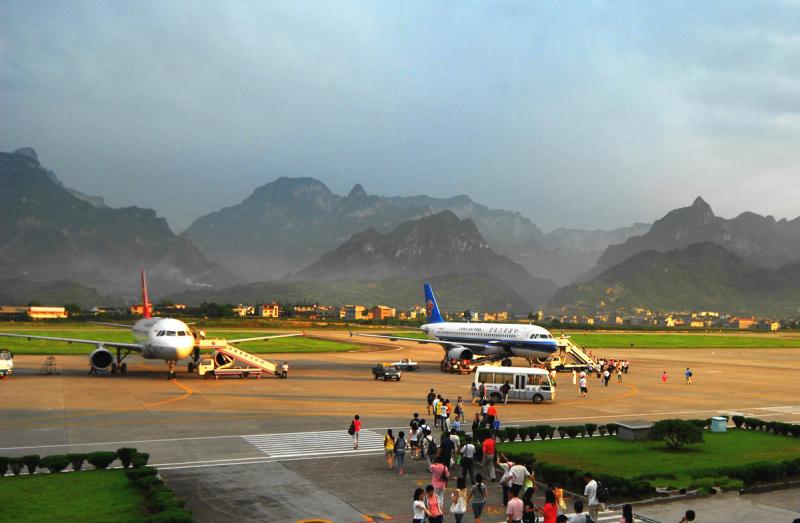 Zhangjiajie airport transportation:
A. Airport shuttle bus – the bus runs between the airport and the Airport Hotel (No.1 Daqiao Road) in downtown Zhangjiajie, pricing at 5 RMB. It departs every 20-30 minutes, with about a 15-minute drive.
B. Bus No.4 starts from the airport and stops at the Airport Hotel, Zhangjiajie Railway Station, Zhangjiajie Passenger Station , Zhangjiajie Department Store and others, pricing at CNY1.
C. Taxis usually charge CNY 15 -20 for one-way service to the city center, but charge much more to the scenic spot, like Zhangjiajie National Park.
By Railway
Zhangjiajie can be reached by rail directly from Changsha, Beijing, Xian, Shanghai, Guangzhou, Guiyang and Nanning, and via Changsha, from most cities in China, including Chengdu, Guilin, etc. There are also trains from Zhangjiajie to Fenghuang Old Town (remember to get off at Jishou Station).
Zhangjiajie Railway Station is located in Yongding District. From the city center, you can take bus No.1, 2, 6 and 7 to the train station, with a about 10-minute drive, priced at 1 RMB per person.

By Bus
The Zhangjiajie Long-distance Bus Station is located next to Zhangjiajie Railway Station and the entrance of Tianmen Mountain cableway, and linked by bus No. 1, 2, 3, 4 and 5.
There are regular buses to cities such as Jishou, Changsha, Zhuzhou, Shanghai, Wuhan and Zhuhai, and to the nearby scenic areas and sights like Fenghuang Old Town, Furong Old Town, Yangjiajie, Wulingyuan and Zhangjiajie National Forest Park.
Have a clear understanding on Zhangjiajie Transportation (from Beijing, Shanghai, Chengdu, Guilin, and Changsha) with the maps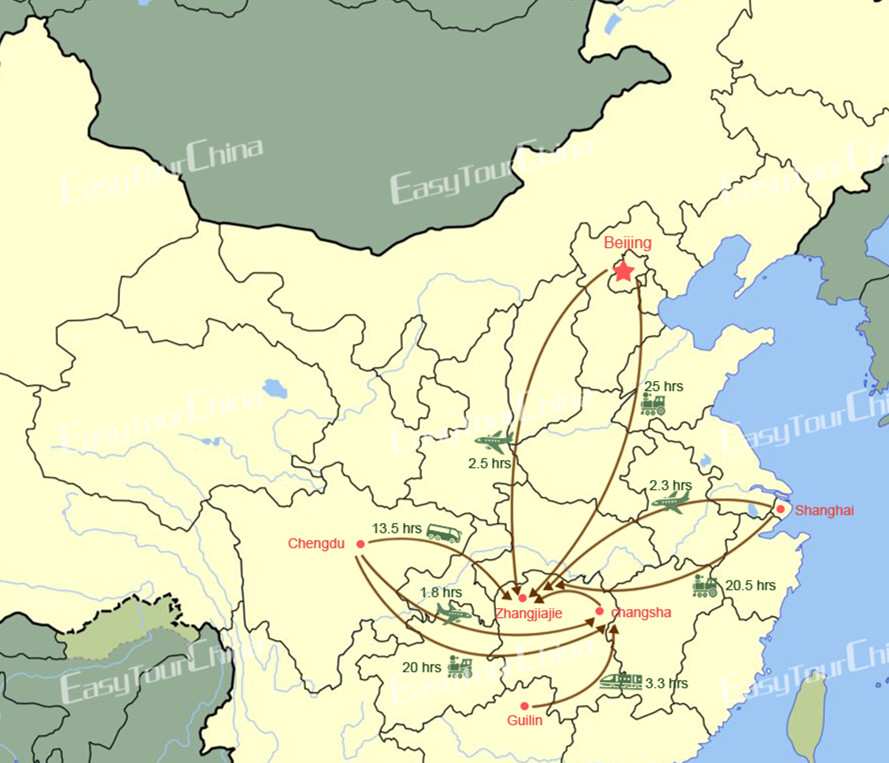 Taxi in Zhangjiajie
Travelling around Zhangjiajie by taxi is inexpensive - the starting price is 3 to 5 RMB. If you take a taxi to the railway station or the airport, 15 RMB is enough from most places in the city center, to Zhangjiajie National Forest Park or Wulingyuan Scenic Area, 100 RMB is needed from the downtown or Airport.
Zhangjiajie city center – Zhangjiajie National Forest Park
From the Hehua Airport: take bus No. 4 to Zhangjiajie Bus Station (1 yuan, 08:00 – 18:00), where there are tourist shuttle buses to Zhangjiajie National Forest Park, departing every 10 minutes. It takes 35–40 minutes and costs about 10 yuan.
From the Railway Station: walk to the bus station, which is on the left of the railway station exit, then take a tourist bus (see above).
Recommended Zhangjiajie Tours