Beijing is the capital city of China. Your China tour with seniors will not be complete without visiting Beijing. As the political and cultural center of this country, Beijing has so much to offer you to see. There is a good blend of historical imperial buildings with futuristic architecture, avant garde fashions with traditional lifestyle at Hutong alleys. The city and its people have a broad enough mind to embrace the differences, which has made the city so inclusive and unique. Up to now, it has became the only city hosting both the summer and winter Olympic Games in the world.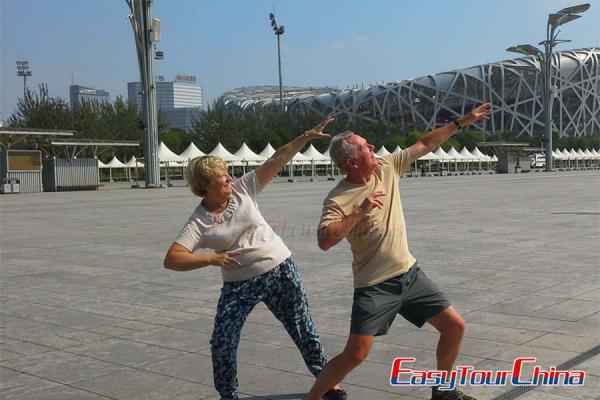 Must-knows and travel tips for the senior travelers to Beijing:

1.Beijing climate

Beijing has a continental monsoon climate with 4 distinct seasons. Roughly speaking, in spring, autumn and winter, it is quite dry with considerable temperature difference between day and night. So for the senior travelers, it is recommended to bring your skin care products to keep moisture in your skin, especially for those who have a dry and sensitive skin. During the excursions, you can drink relatively more water if possible. In the early mornings of spring and autumn, the temperature can be quite low, even it is a sunny day. It is important to keep warm and avoid catching a cold during your trip.

2.Beijing food

In modern times, more and more people pay attention to their health, and try to eat less salty and greasy food. Traditionally the people in North China tended to eat more fatty food with strong flavors to fight against the harsh environment, especially in winter. If travelers have a chance to dine at a local restaurant, please carefully pick the dishes with less oil and salt, and try not to taste the street food as some seniors have a weak stomach.



3.Beijing air pollution

In the past 15 years, great efforts have been made in reducing the air pollution of Beijing. We can see the improvement of air quality in the city with a population of nearly 22 million. While in the spring and early summer, later autumn and winter, there are still some smoggy days. During the days of poor air quality, for those who have a sensitive respiratory system, please wear masks, and avoid staying outdoors for long.

4.Beijing transportation

Beijing is an enormous mega city beyond your imagination. Many measures like license-plate lottery, odd-even car ban, building flyovers and ring roads have been taken to ease the traffic of the city. The traffic jams still happen quite often during the peak hours. To visit the attractions out of town like the Great Wall, you may have to spend 2 hours or longer on the way. The subway and public buses are also not recommended during the busy times (7-9am and 5-7pm)

5.Admission tickets reservation

Since the year of 2017, the famous attractions like the Forbidden City announced the online ticket booking. Without the reservation in advance, you may not get the admission tickets upon your arrival at the entrance. If you book a tour with a travel company, they will handle this for you. If you travel independently, then you need to search online to find a ticket agent to obtain the tickets.

6.Medications

It is so important to bring your daily medicines with you when you are on vacation. Before you depart, please prepare a list of prescriptions and dosages of your medication. Put you medicines in carry-on bag for safety in case of urgent use, and it won't be transferred to another airport mistakenly with the checked baggage. If you have an implanted pacemaker or other medical device, which is not suitable to go through metal detectors, then please bring the certificate (pacemaker identification card), so you will be allowed to go through security check at the airport and train station smoothly. Please note that at the smaller airports or train stations, the security check staff may not speak English, and understand your physical condition. To avoid the misunderstandings, you may ask a Chinese people to write down your request in Chinese if you travel independently in China.



7.Toilet Issue

15-20 years ago, the use of toilet could always be a concern to international travelers in China. Traditionally Chinese people prefer to use the squat toilet, especially at those public restrooms. After several rounds of "Toilet Revolution" in the country, more and more western sit-down toilets are available at the tourist spots and in cities. If traveling to some remote areas less visited by overseas travelers, you still have to face the challenge. Besides, please don't forget to prepare your own paper as most of the public toilets don't offer free paper to users.

8.Pack Light

China is a large country, as big as the United States. If you are going to take a long trip more than 2 weeks, this means you need a bigger suitcase. We suggest you may use those with wheels, so you don't have to carry them all the time. We don't recommend travelers to use the heavy and extra-large suitcases, as this may cause a burden for you on the way. Some airports and train stations in China are enormous. Please also understand that the checked luggage allowance for domestic flight passengers at economy class is only 20kg per person. If you don't want to pay the excess baggage fees, then pack light and smart.

9.Your requirements

For senior travelers with food allergies, as well as other taboos, please tell your travel specialist who is planning the China trip for you. Therefore, the local tour company and tour guide can arrange accordingly.

10.Language barrier

In China, English is not a widely used language. The language barrier is always an issue for international travelers. To avoid the hassles during your trip, we do recommend the seniors to book a package tour to China with a professional tour company. An experienced local guide can not only tell you the information about your travel destination, but bring you a lot of convenience, which will be definitely worthwhile.
Top things to do and best places to visit in Beijing for senior travelers:

When in Beijing, the Great Wall and the Forbidden City are must-sees in the city. Based on your physical condition, you may discuss with your trip planner about the section, route or time that suit your best.

Generally speaking, we usually recommend out clients to go to the Mutianyu Great Wall, as there are less visitors, and seniors can take the cable car/chairlift up and down to save energy. For those who can't walk long or sit on a wheel chair, they can also go to the Juyongguan Great Wall, if they can't climb on the wall, then they can easily take some photos at the foot of the mountain with the man made wonder.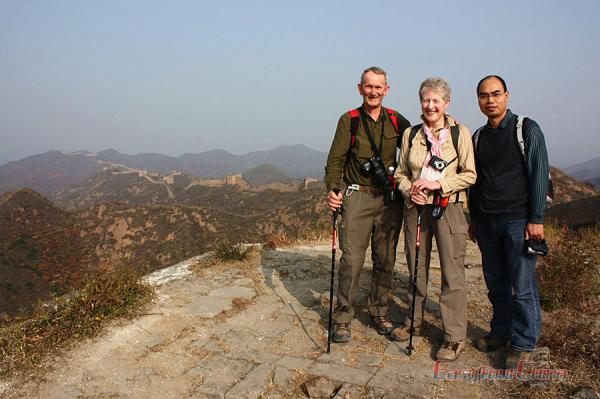 For those who plan to visit the Forbidden City, please reserve the tickets online in advance. During the peak season, the tickets for certain days can possibly be sold out without reservation. If the clients have limited mobility, it is a little tough to walk through the Tiananmen Square to enter the Forbidden City, they can walk to the entrance from Donghua or Xihua Gates to save time and strength. You can discuss with your local guide to find out an ideal way to explore the largest imperial palace in the world.
The 600-year-old Temple of Heaven used to be a religious complex of imperial families in Beijing. The name literally means an altar to worship the heaven. In Ming and Qing Dynasties, the Emperors would visit here at a specific time for annual ceremonies of prayer to Heaven for good harvest. For the elder travelers, this is a lovely place to visit in Beijing. In the morning, many local people including the elderly come here for morning exercises and social activities. As there are very few stairs in this park, visitors can stroll inside without any difficulties. Compared with the Forbidden City, it is much greener with more old trees planted inside.

Also known as Lama Temple, the Tibetan Buddhist monastery used to be the mansion of Prince Yong in Qing Dynasty. Later he became the Emperor of Yongzheng. After his death, his original mansion was turned into a Tibetan Buddhist Temple by the successive Qianlong Emperor, the son of Yongzheng. This temple has beautiful grounds, amazing architecture, stunning sandalwood Buddha sculptures and practicing monks. It can be a good destination for elderly tourists to wander around for a couple of hours.

Hutongs are small lanes or alleys formed by lines of siheyuans (a traditional type of courtyard residences) with elegance and primitive simplicity, where old Beijing residents live. As time goes by, the distinctive Hutong culture has been gradually formed. So we can say that Hutongs are witnesses of the vicissitude of the city and the development of local culture. It is not a bad idea for the senior travelers to take the man-powered rickshaw to explore the old quarters of Beijing and have a close contact with the traditional life of Beijingers.