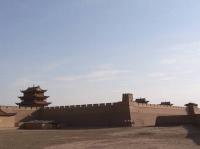 Jiaoyuguan City, with a history of 600 years, marks one of the defining points of the ancient Silk Road, and the symbolic end of the Great Wall. The historical background provides Jiayuguan city rich tourism resources, like Jiayuguan Fort, Wei-Jin Art Gallery, and Overhanging Great Wall, etc.
Best Time to Jiayuguan City
The best time to visit Jiayuguan City is from May to October. The temperature difference within a year is great. The coldest month is January and the lowest record of temperature is -28.6℃; the hottest month is July with the highest temperature record 38℃.
Transportation
1. As a small city, there are no taxi stands in Jiayuguan. People just hail a taxi anywhere they think it is safe enough.
2. Using a meter instead of bargaining with the cab driver; determine the charge with the driver for a long-distance drive
3. Bikes are excellent for getting to some of the surrounding attractions.
Body Health & Safety
1. Jiayuguan City has a very dry climate for the direct sunshine. So it is necessary to take a pair of sunglasses, sun-block creams and lipsticks with you.
2. Protect the historical and culture relics in the scenic spots and don't doodle on the rocks and the walls when getting there.
Shopping & Recreation
1. There is really not much in the way of entertainment in Jiayuguan. The best that you can do is to head to the larger hotels in town, where, in most cases, you will find at least a bar and perhaps a disco.
2. Compared with its lackluster entertainment, shopping in Jiayuguan is more exciting. Best of the specialties include the "Self-Illuminating" cup, rubbings of Wei & Jin tomb murals, stone carvings and assorted carpets.
Recommended Jiayuguan Tours