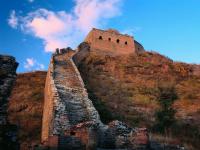 Located in the middle of Hexi Corridor (west of Yellow River and between Qilian Mountain and North Mountain) in Gansu province, Jiayuguan city is 776 km away from Lanzhou, the capital of Gansu. With an elevation of 1462 meters, the city stands at the narrowest point of Hexi Corridor, covering 1298 square km. The west part of the city is mostly Gobi desert, and there are some pieces of oasis dotted in the northeastern and southeastern Jiayuguan, where is the agricultural zone of the town.
In history, Jiayuguan city found its position on the ancient Silk Road. It is also the starting point in the west of Great Wall of Ming Dynasty. The historical background provides Jiayuguan city rich tourism resources like Jiayuguan Fort, Wei-Jin Art Gallery, Overhanging Great Wall, and The First Beacon Tower of the Great Wall and so on.
Climate in Jiayuguan city is characterized by dry season all year round. The average temperature is 4-14 ℃, January being the coldest and August being the hottest. The better time to visit here is May to October.
Recommended Jiayuguan Tours