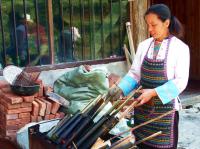 Longsheng County, 100 km (2 hours drive) away from Guilin, get its fame for the spectacular rice terraced fields and ethnic villages in mountainous areas. Some useful and practical travel tips are listed below for your Longsheng tour.
Best Time to Longsheng
Longji Rice Terraces, with seasonal beauty, are a wonderful sight for most of the year. The best time to visit is from May to October. May is the time when irrigation starts, and the fields are filled with water and thus reflect the green paddies and blue sky. And after the summer rains, paddy terraces leave themselves glistening with reflections. In October, just before harvesting, the view of rolling blades of gold is breathtaking.
Body Health & Safety
1. When travel to Longsheng, it is advisable to pack following items with you: a pair of trekking boots (or strong and comfortable shoes), umbrella or raincoat, comfortable clothes, camera, first-aid medicines, and compass.
2. Longsheng is a place where ethnic minorities reside. Travelers have to respect the customs of local minorities in order to avoid any unnecessary trouble and misunderstanding.
Shopping
1. Longsheng boasts rich local specialties: Longji tea, watery wine, soapstone wares, and bamboo wares. Besides, various handicraft products are very popular, such as Yao embroidered items, Dong & Zhuang brocade, Dong blankets, and Dong kerchiefs, etc. Even you can watch the creative processes; if you like, try it by yourself.
3. In Longsheng, tourists can not find the department stores or the supermarkets, for the protection of traditional pristine atmosphere. But in scenic area and Longsheng Town, there are appointed shopping locations which offer high-quality merchandise for tourists.