Best travel time Xining
About 2275 meters above sea level, Xining has a continental climate with rich sunshine and limited rainfall. The average annual temperature is about 6 degree Celsius. In the coldest month the temperature may drop to -9 degree Celsius, and in the summer it is always less than 20 degree Celsius, a perfect place to escape the heat waves in the plain areas.
The best time to travel Xining is from May to September and don't forget to prepare high factor sun block.
Xining Safety Tips
Take some warm clothes even you plan a summer tours to Xining, since at night, the temperature will falls below 10℃.
Take high factor sun block lotion as well as sunglass
Eat some fruits and vegetables in Xining, and less meat; due to the lack of vegetable in Xining, do recommend travelers take some vitamins
Xining Shopping Tips
There are many unique products one can found in Xining, like the Dongchong Xiacao(Chinese Caterpillar Fungus) is a traditional and precious medicine which is used to increase the body's natural resistance to disease. Other rare herb medicine is snow lotus and pilose antler.
Don't forget the local yak beef jerky which made of fresh yak meat, rich in protein and low in fat, is a must taste Xining snack.
The craftworks in Xining are influenced by that style of Tibet, with clasp knife, embroidery and butter sculpture of Tibetan styles.
Eating in Xining
Xining's cuisine is distinct from other varieties of Chinese cities characteristic with "Plateau flavor" by using mostly food produced locally. So when traveling to Xining, one can taste the delicious local flavors and snacks at cheap prices. Famous snacks in Xining are Liangfen(bean jelly), Niangpi, Zasui Tang, Muslim Yoghurt and Terrine; and the must dry dishes are Feng'er Liji (a round lamb tenderloin), Danbai Chongcao Ji (a medicine cuisine made of chicken, Chinese caterpillar fungus and eggs), Jinyu Facai (pork wrapped in flabelliform nostoc and shaped as a goldfish) and so on.
Where to Eat at Xining? Check the Xining local restaurants page.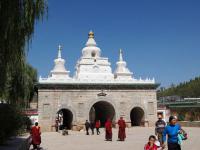 Xining Nightlife / Entertainment
Even being an inland city, Xining homes to some great entertainment venues for your night activities, cafes, cinemas, clubs, and pubs and so on.
Xining Festivals / Events
The Major Four religious assemblies are held in the Ta'er Monastery Xining in Jan, April, June and September of Chinese Lunar Calendar. The first - prayer meeting is always comes from 8th to 18th of lunar January, with religious activities held like devil dance, Buddha bathing and large scale butter sculpture exhibition. The second assembly is held from 8th to 15th day of Lunar April to commemorate the birth of Sakyamuni. The last two assemblies are respectively conducted on 3rd – 9th day of lunar June and 20th to 26th day of lunar September. The religious dances, praying to Buddha, moving in circle around the monastery and chanting sutras are all inevitable activities to the religious event.
Other local festivals and events are the Hua'er meeting (sixth day of the sixth lunar month), Qinghai Tulip Festival (May day).