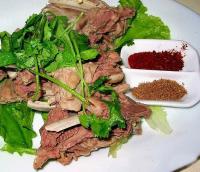 Strongly influenced by the Islamic culture and other ethic groups, Xining has a unique culinary style which is very different from those in East China. Wheat is still the staple food for the local people. They love noodles, mutton and beef. The best place to try the local food is at Mojiajie Street, where hundreds of food stands serve all kinds for tasty local flavors and snacks. Don't forget to try the Muslim yogurt, it is very delicious and healthy food.
A unique feature of snacks in Xining is that they are given names after the surname of their initiator. In Xining, some fancier restaurants serve varieties of 'plateau flavor', such as Feng'er Liji (a round lamb tenderloin), Danbai Chongcao Ji (a medicine cuisine made of chicken, Chinese caterpillar fungus and eggs), Jinyu Facai (pork wrapped in flabelliform nostoc and shaped as a goldfish) among others.
Recommended local restaurants: Muslim Da Ximen Restaurant Specialties (120 Changjiang Lu), Zhongfayuan Restaurant (1 Shulin Xian, Dongguan Dajie) and Xiao Yuanmen Restaurant (190 Dongguan Dajie).