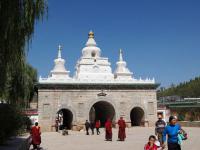 As the capital city of Qinghai Province, Xining is the provincial center of politics, economy, culture, education, technology, transportation and commerce. Xining lies in the eastern part of Qinghai-Tibet plateau, and the upper reaches of Shuang Shui River. The average altitude of the urban area is 2275 meters. It is not very cold in winter and not very hot in summer, belonging to the typical continental climate with highland features. The average annual temperature is 7.7 degree Celsius, and the annual rainfall is 425 millimeter.
Xining has a history of over 2100 years. It is composed of four districts (East, West, South & North), three counties (Da Tong, Huang Zhong, Huang Yuan), one Economic &Tech Development Zone which is under construction, and one Cheng Nan New District. With a total area of 7,665 square kilometers, it has a total population of 2.1 million and an urban coverage of 350 square kilometers and 1.03 million urban populations. Xining is a multinational and multi-religion city, consisting of 36 nationalities such as Han, Hui, Tu, Tibetan, Mongolian, Manchu and Salar etc, which constitute 25% of the total population.
The City of Xining acts as one of the major gateways to the Tibetan Plateau. It is an ancient highland city on the Yellow River which offers many scenic spots and historical sites. Although the city itself has a strong Islamic flavor, as it is home to many Hui people, you will start getting a more Tibetan feel as you move away from the city.
Xining is also called the Summer Resort Capital of China for its cool summer. There are some nice places to explore in the summer/autumn season. 150 km from Xining, Qinghai Lake provides an escape from fervent cities and allows you to experience beautiful natural sceneries. The Birds Island at Qinghai Lake can offer you a perfect chance to see flocks of different birds. To the southwest of Xining, is Ta'er Monastery - the birthplace of Tsongkhapa (the founder of Gelugpa Sect). To the north of Xining is the Beichan Temple. Tourists will be rewarded with a panoramic view of the city from the mountaintop. Another site at city downtown not to be missed is the Dongguan Mosque, one of the biggest mosques in northern China.