Chengdu is well known for its Sichuan cuisine and has been celebrated as a gastronomic capital in China. Chengdu food is normally hot and spicy, and rich in nutrition. Chengdu people love to try new food in vogue. They can travel a long way to taste a newborn dish in the city-outskirt eatery, and local restaurants make efforts to work out an endless supply of exotic dishes to entice new customers. Once a new dish comes into vogue, diners swarm to try it, and it is soon available in almost every restaurant in Chengdu.
Chengdu Food Culture
Chengdu food is famous all over the world. When we think of Chengdu food culture, we think Sichuan cuisine. As one of the four traditional Chinese cuisines, it is characterized by a long history (of over 2000 years), a wide range of ingredients, and an equal emphasis on flavor, freshness, and spiciness.
>> You may also be interested in Eight Famous Cuisines in China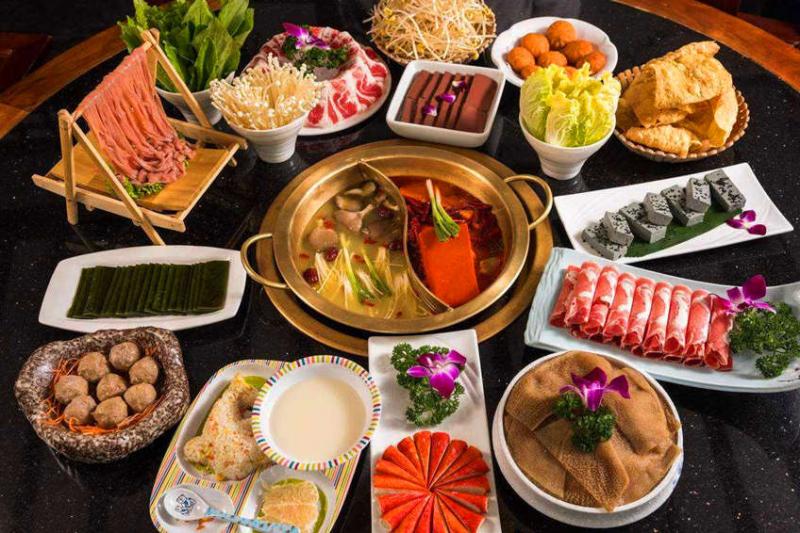 Chengdu has experienced six times of national migration and large-scale immigration in history. The integration of various famous and common cultures has brought a variety of food materials and production methods, making Chengdu food culture rich and prosperous in exchange and innovation. Chengdu food has absorbed and digested the food culture of the court, the government, the ethnic groups, the folk dishes, and the dishes of the religious temples.
Today, there are excellent chefs, the best restaurants and a large number of food critics from all over the country gathered here. The convergence of food and the collision of culture have promoted the development of Chengdu food culture.
City of gastronomy, Chengdu food is most famous for its wide variety of snacks and unique flavor. According to incomplete statistics, there are thousands of kinds of snacks in Chengdu, and hundreds of common varieties.
Chengdu Famous Traditional Foods
Rice and flour grains, fruits and vegetables, meat and potatoes can be used for its steaming, boiling, frying, frying, as well as the preparation of soup, with different techniques.
Famous steamed foods of Chengdu include fagao (发糕), shaomai (烧麦), steamed beef powder (粉蒸牛肉), stuffed lotus root (酿藕);
Famous fried foods of Chengdu include layer of crispy (层层酥), crispy fried dumplings (三鲜酥饺), leek box (韭菜盒子), wave silk oil cake (波丝油糕);
Famous Chengdu soups include oil tea (油茶), chicken bean flower (仔鸡豆花), yellow glutinous rice (黄醪糟);
Famous Chengdu rice foods include Ye'er Cake (叶儿耙), Lai Tang Yuan (赖汤圆), Pearl Yuan (珍珠元子), steamed cake (蒸蒸糕), glass shaomai (玻璃烧麦);
Famous meat food in Chegnd mapo tofu (麻婆豆腐), sliced beef and ox tongue in chili sauce (夫妻肺片), Bang Bang chicken (棒棒鸡), red oil diced rabbit (红油兔丁), Shuangliu rabbit (双流兔头).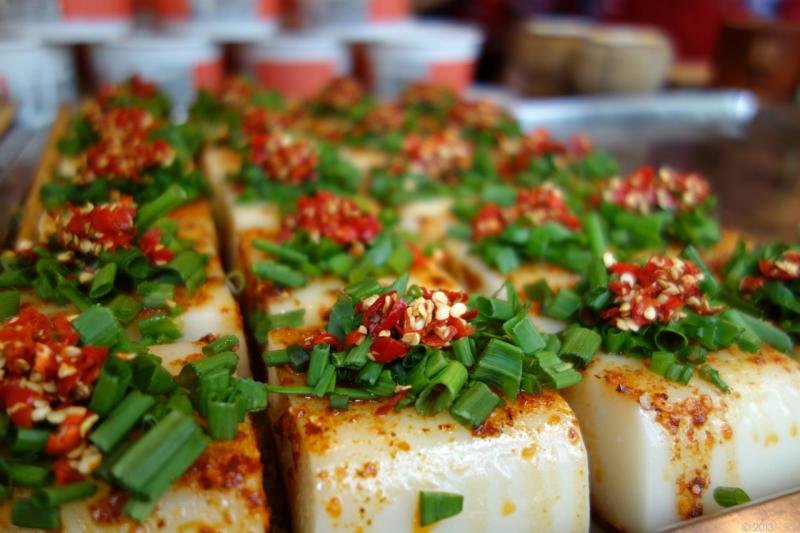 9 Must-eat Foods in Chengdu
Among the hundreds of new-created and traditional local dishes in Chengdu, the following 7 dishes are considered the most popular and must-eat for Chengdu tour. Never miss them during your trip in Chengdu, especially if you are crazy about spicy foods.
Mapo Toufu (Bean curd with mince and chili oil, 麻婆豆腐, má pó dòu fǔ): a most popular Chengdu food, it is a great food of tender and white bean curd, minced beef, hot pepper, tasty bean sauce and green spring onion.
Kungbao Chicken (Spicy diced chicken with peanuts, 宫保鸡丁, gōng bǎo jī dīng): a classic dish in Sichuan Cuisine, Shandong Cuisine and Guizhou Cuisine, it is a stir-fried dish consists of small slices of chicken block, dried chilies and peanuts.
Twice Cooked Pork (回锅肉, huí guō ròu): Pork belly steak chunks boiled in hot water with sliced ginger and salt, and then cut into thin slices, fried in moderately spicy oil. It is a very popular traditional Sichuan dish with a long history.
Hot Pot (火锅, huǒ guō): The hot and spicy Sichuan hot pot is popuar throughout the country. Whatever can be boiled, can be thrown into the hot pot to augment the basic chili pepper oil foundation. Materials served include slices of raw pork, beef, fish, lamb, beef book-tripe, cattle guts, cattle waists, tofu, veggies and chili peppers.

>> You may also be interested in Top 10 Most Popular Chinese Hot Pot
Sliced Pork/Beef/Fish with Hot & Spicy Sauce (麻辣肉片, 麻辣牛肉片, 麻辣鱼片, má là ròu piàn, má là niú ròu piàn, má làyú piàn): Raw meat or fish poached in water; the meat is then drained and put in the dish with vegetables. Dried chili, sichuan pepper, minced garlic, and other seasonings are spread over the meat. This dish is usually spicy.
Dan Dan Noodles (Sichuan noodles with peppery sauce, 担担面, dàn dàn miàn): The most famous noodles in Chengdu, the noodles are handmade and rolled, added with dishes made of pork minced. It tastes fragrant and delicious, and now has become a national favorite in China.
Long Chao Shou (龙抄手, lóng chāo shǒu): A Chengdu style wonton, Long Chao Shou is characterized by its very thin wrappers and fresh meat soup.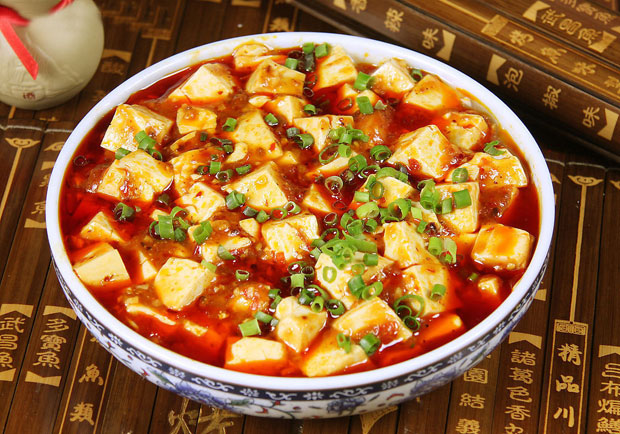 Poached sliced beef in hot chili oil (水煮牛肉, shuǐ zhǔ niú ròu): This dish was created by Fan Jian, a famous chef from Zigong, Sichuan Province, who are good at innovation. It has the common features of Sichuan hot pot, and tastes hot and spicy.
Bon bon chicken (棒棒鸡, bàng bàng jī): A new-created food, bon bon children is popular among the young people in Chengdu. The dish uses the Hanyang chicken. After the children is cooked, loose it with a wooden stick before it is prepared. It tastes hot, spicy, sour, sweet, fresh, salty, and fragrant.
Famous restaurants for Chengdu local food
Chengdu food is hot, spicy, succulent, and crisp. On Wangping Street, Meiling Road and Yangxixian Street, there are numerous restaurants serving hot-pot and authentic Chengdu dishes. Among them, the three run by scholars are most distinctive.
Xin Huizhanzhongxin ShiJi Cheng JiaRi Hotel Hei LongTan Da YuTou Hotpot (成都世纪城假日酒店东楼)
Tel: +86 28 8534 8888
Add: No. 198 Shijicheng Road, Gaoxin District, Chengdu
Long Xuan Chinese Restaurant (InterContinental Century City Hotel Chengdu) (成都世纪城天堂洲际大饭店)
Tel: +86 28 8534 9999
Add: No.88 Century City Road, Wuhou District InterContinental Century City Hotel Chengdu
Chuandong Laojia Restaurant (Eastern Sichuan Hometown, 川东人家) was founded by Er Mao, a poet of the Miao ethnic minority. Having inherited his mother's cooking skills, he developed a series of new dishes that blend the flavor of Sichuan and Miao ethnic food.
Tel: +86 28 8558 0158
Add: Chenguang Hotel, 30 South Fourth Section, Renmin South Road, Wuhou District , Chengdu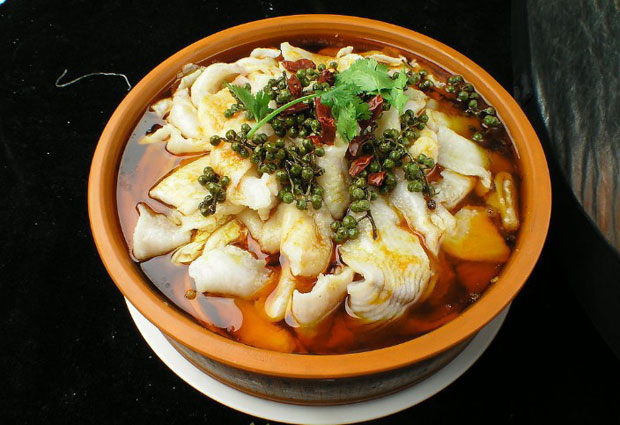 The Xiangjichu Restaurant, which was established by another poet, Li Yawei, enjoys brisk business for its savory dishes and rustic-style service, and He Nong, a man of letters, is an exponent of home cooking, and has created the trademark of new-style Sichuan dishes - Baguo Buyi Restaurant (Sichuan Commoner).
Tel: +86 28 8669 6153
Add: 18 Kuanxiangzi, Kuan Alley and Zhai Alley Commercial Street, Qingyang District, Chengdu
Drinking tea in Chengdu
Drinking tea at the local teahouse is an indispensable feature in the life of Chengdu people. As cafes and bars supersede teahouses in other Chinese cities advancing towards modern metropolis status, most of the traditional teahouses still make good deals here, the most well-known should be the one inside the Great Mercy Temple. Waiters serve tea in a particularly skillful manner: from a distance with a long-spouted brass teapot, from which a narrow arc of hot water pours directly into the cup without spilling a drop…
Sichuan Cuisine Museum in Chengdu
The only food museum in Chengdu and beyond, Sichuan Cuisine Museum, It is the world's only living cuisine themed museum with cuisine culture and local folk culture as the display content, including Sichuan cuisine, Sichuan wine, Sichuan tea, Sichuan opera, Sichuan school architecture, Sichuan style garden... The scenic spot covers an area of about 40 mu and has a collection of more than 6000 pieces. Visitors can watch chefs demonstrate Sichuan cuisine cooking skills, taste authentic Sichuan cuisine, and even learn to cook some famous dishes of Sichuan Cuisine themselves.
Add: No. 8, Ronghua North Lane, Pixian Gucheng Town, Chengdu City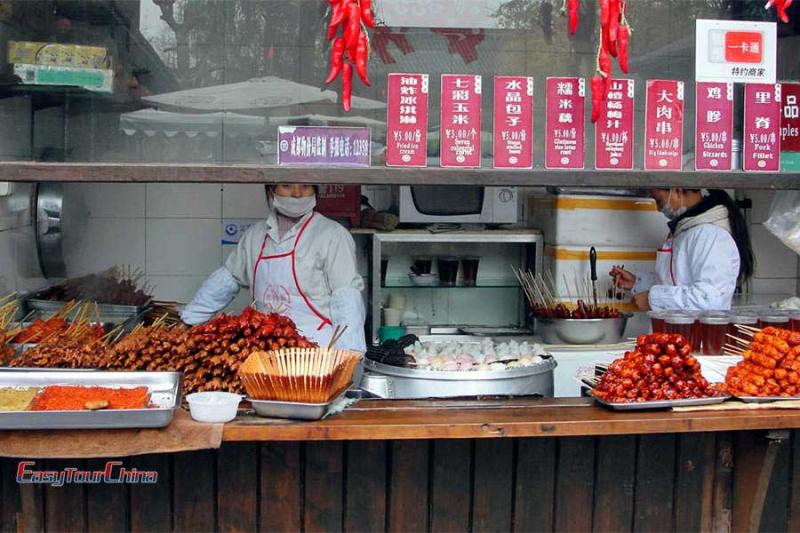 Top 5 famous food streets/markets in Chengdu
Jinli Old Street(锦里老街)- With the most various traditional foods in Chengdu, Jinli has almost all the special snacks of Chengdu: sweet water surface, stinky tofu, bucknoodles, three canons, beef caramelized cake, glutinous rice glutinous rice, sugar and oil fruit, etc.
Wide and Narrow Alleys (宽窄巷子) - Kuanzhai Alley is artistic, with a lot of local snacks, in addition to many high-end restaurants, cafes and bars. It is a good choice for foodies' tour in Chengdu if you want to taste all the traditional Chengdu foods while enjoying Chengdu folklore culture.
Auspicious street (Jixiang Street, 吉祥街) - Its advantage lies in its proximity to Wide and Narrow Alleys. But very few people know it. Jixiang Street is less than a kilometer, but there are more than 20 restaurants, from hot pot restaurants, noodle restaurants, and all kinds of street snacks stalls.
Huaxing Street (华兴街) – It is considered by local people as one of the most popular food streets in Chengdu, but it looks really shabby, without any ornate decoration, not even a memorial arch and signboard. Nevertheless, there are delicious authentic local foods and restaurants to be found: the famous fried egg noodles, Long Chao Shou, Lai Tang Yuan, Yuelai Drama Garden (now Yuelai Teahouse悦来茶楼), Pan Chengli Market, and Yutian Sichuan Cuisine (雨田川菜), one of the most popular restaurants in Chengdu recommended by locals.
Yulin Life Square (玉林生活广场) – A popular place to enjoy Chengdu night life, It is the traditional south town rich area with street food, bars, barbecue, hot pot, skein, crayfish, etc.
Recommended China food tours to Chegndu and learn to cook at Sichuan Cuisine Museum:
Recommended Chengdu Tours