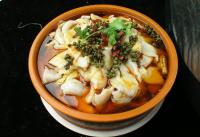 Chengdu is well known for its Sichuan cuisine. Chengdu people love to try new food in vogue. They can travel a long way to taste a newborn dish in the city-outskirt eatery, and local restaurants make efforts to work out an endless supply of exotic dishes to entice new customers. Once a new dish comes into vogue, diners swarm to try it, and it is soon available in almost every restaurant in the city.
Famous Chuan Cuisine:
Mapo Toufu (Bean curd with mince and chili oil)
: It is a great food of tender and white bean curd, minced beef, hot pepper, tasty bean sauce and green spring onion.
Kungbao Chicken (Spicy diced chicken with peanuts)
: stir-fried dish consists of small slices of chicken block, dried chilies and peanuts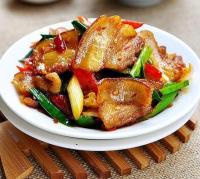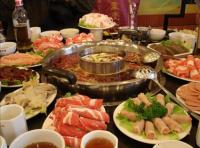 Twice Cooked Pork
: Pork belly steak chunks boiled in hot water with sliced ginger and salt, and then cut into thin slices, fried in moderately spicy oil. It is a very popular traditional Sichuan dish with a long history.
Hot Pot:
Whatever can be boiled, can be thrown into the hot pot to augment the basic chili pepper oil foundation. Materials served include slices of raw pork, beef, fish, lamb, beef book-tripe, cattle guts, cattle waists, tofu, veggies and chili peppers.
Sliced Pork/Beef/Fish with Hot & Spicy Sauce:
Raw meat or fish poached in water; the meat is then drained and put in the dish with vegetables. Dried chili, sichuan pepper, minced garlic, and other seasonings are spread over the meat. This dish is usually spicy.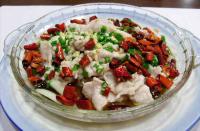 Chengdu food is hot, spicy, succulent, and crisp. On Wangping Street, Meiling Road and Yangxixian Street, are numerous restaurants serving hot-pot and original Chengdu dishes. Among them, the three run by scholars are most distinctive. Chuandong Laojia Restaurant (Eastern Sichuan Hometown) was founded by Er Mao, a poet of the Miao ethnic minority. Having inherited his mother's cooking skills, he developed a series of new dishes that blend the flavor of Sichuan and Miao ethnic food. The Xiangjichu Restaurant, which was established by another poet, Li Yawei, enjoys brisk business for its savory dishes and rustic-style service, and He Nong, a man of letters, is an exponent of home cooking, and has created the trademark of new-style Sichuan dishes - Baguo Buyi Restaurant (Sichuan Commoner).
Drinking tea at the local teahouse is an indispensable feature in the life of Chengdu people. As cafes and bars supersede teahouses in other Chinese cities advancing towards modern metropolis status, most of the traditional teahouses still make good deals here, the most well-known should be the one inside the Great Mercy Temple. Waiters serve tea in a particularly skillful manner: from a distance with a long-spouted brass teapot, from which a narrow arc of hot water pours directly into the cup without spilling a drop…
Recommended Chengdu Tours