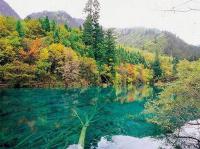 Best Travel Time Chengdu
Chengdu, located in the Sichuan basin, influenced by the subtropical monsoon climate with annual temperature around 16 C (61 F), with distinctive characters of humidity with clouds and mist. Summer is sultry with low temperature morning and evening while a burning after noon; winter is cold and humid, with occasional snow. July and August is the hottest month and Jan the coldest one and the best time to visit Chengdu is in Spring(March to June) and Autumn (September to November).
Chengdu Safety Tips
Watch out when crossing streets since traffic are hectic in Chengdu, even the walk sign is green; make sure there's no traffic at your both sides.
Be careful around train station as well as crowed areas in city, thieves would use zazors to cut open pockets and bags.
Chengdu Shopping Tips
Popular souvenir on Chengdu tours are Sichuan embroidery, vases, coffee sets, flowers sets of procelain body woven by bamboo, silver filament handiwork, Quanxiang Distilled Liquor and thick broad-bean sauce. Those specialties are available in South Huanhua Road, Huazhaocun Road, Shaanxi Street and Zhulinxiang Road.
Chunxi Road is the main shopping area in Chengdu, with more than 700 shops and malls, department stores, boutiques and street stalls available; Songxian Qiao Antique Market fills of communist relics, old porcelain dishes, jewelry, calligraphy equipment and some Tibetan stuff. Bargain is available; Lotus Wholesale Market is a huge market place for local people, with kinds of local stuff from clothes to home decoration to toys; Wuhou Tibetan Area selling kinds of clothing, textiles, jewelry and Tibetan stuff; Near the Panda base there are some pretty stalls or shops selling kinds of panda toys.
Eating / Drinking in Chengdu
Sichuan cuisine in Chengdu is delicious, fiery as well as spicy, with heavy use of Sichuan pepper which causes your mouth to become a little numb. You may also find the local food too oily or too salty for your taste, and may want to advise your server accordingly. Try the authentic Sichuan dishes with Sichuan pepper is a great experience and use a bottle of milk or something sweet would much better than water.
Hotpot is the most special food in Chengdu, comes with a big pot of soup and spices simmering in a hole in the middle of your table and add-ins like lamb, mushroom, beef, tofu and kinds of vegetables; the served soup in hot pot is spicy or non-spicy available;other reprehensive Chengdu dishes are Tea smoked duck, Twice cooked pork, Mapo dofu, Sichuan hotpot, Fuqi Feipian, Spicy deep-fried chicken, Shuizhu, or literally "Water cooked", dishes, Dan dan noodles, Bon bon chicken.
Where to eat local cuisines and food in Chengdu; please come to Chengdu Food and Restaurants page
Nightlife / Entertainment in Chengdu
Chengdu is famous for its relaxed and laid back lifestyle, from traditional teahouse to modern pubs, cafe, theaters, you will find many place for night activities.
Jinli Old Street is an relaxing area with ancient Chinese style houses, and a great place for night stroll, shopping and eating; if you want to have a drink, go to the bar street located by the river. There are around 30 bars together. Another recommended activities for visitors in Chengdu is enjoying the Sichuan Opera, see their unique technique of changing masks in unbelievable speed and camera shots are forbidden during the performance.
Recommended Chengdu Tours