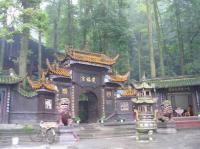 Located in the west of Sichuan Basin and in the center of Chengdu Plain, Chengdu covers a total area of 12.39 thousand square kilometers (4,749 square miles) with a population of over 11 million.
Chengdu is the capital of Sichuan Province, renowned for its fertile land and agricultural wealth, which have earned the city the nickname "Storehouse of Heaven". It is a well-known city with a longstanding history and civilization, also named as City of Brocade and City of Hibiscus. The hot-spicy cuisine and authentic teahouse culture have become the integrated part of local people's life.
Chengdu is the gateway to scenic Jiuzhaigou, Taoist Qingcheng Mount and famous Dujiangyan Irrigation Project used for more than 2,200 years (World Cultural Heritage by UNESCO), the Buddhist mountains of Emei Shan and Le Shan (World Cultural Heritage by UNESCO), and one of the most important panda breeding centers. It's also a traveler's haven to see local people's leisure life of drinking tea, playing Mahjong and a place to gather the relevant travel info. People are friendly and the pace unrushed. And because Chengdu is one of the few cities with daily flights to Lhasa, many travelers come here to arrange transportation to Tibet.
Recommended Chengdu Tours