Zhangjiajie Grand Canyon (Zhangjiajie Glass Bridge)
Zhangjiajie Grand Canyon (Zhangjiajie Glass Bridge)
Located in Cili county of Zhangjiajie city in middle China's Hunan Province, Zhangjiajie Grand Canyon is in close vicinity to the World Natural Heritage, World Geo Park wulingyuan scenic area. Legend has that there were a number of rotten ship planks flowing out of the spring, but no one knew where they had been come from, thus it was originally named Luanchuan Canyon (烂船峡, làn chuán xiá, literally rotten ship planks canyon). It was also called Luanquan Canyon (乱泉峡,literally multitudinous springs canyon), as it is dotted with masses of springs, streams and waterfalls on the mountain cliffs of the canyon.
Zhangjiajie Grand Canyon is a must-visit site on Zhangjiajie tours, and much favored by explorers and lovers of great outdoor from home and abroad, by featuring typical Zhangjiajie landform, breathtaking cliffs, lush forests, ancient caves, colorful ponds, and a river running through the canyon. What's more, visitors can expect all sorts of sceneries of the north temperate zone here. Therefore the canyon is ideal for exciting adventures by hiking, boating, challenging the strop sliding, and walking on the world's highest, longest glass bridge.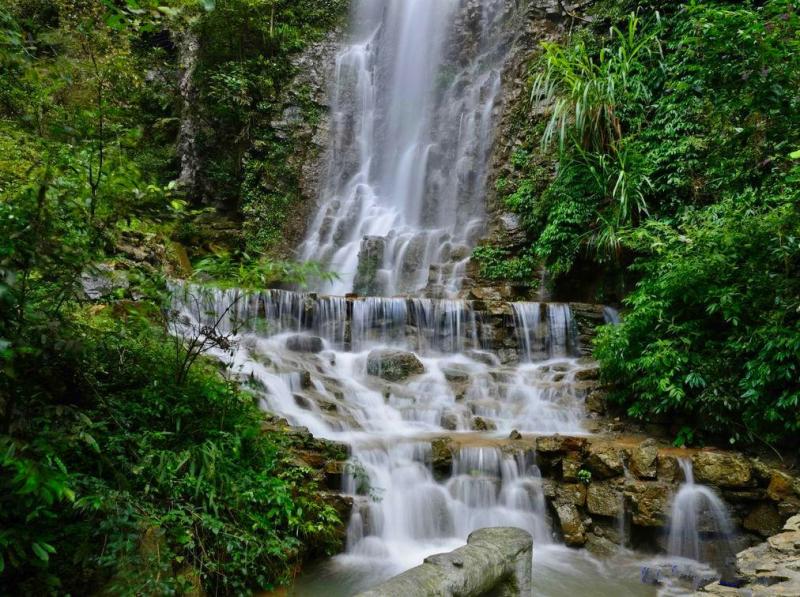 Zhangjiajie Grand Canyon Facts
Chinese Name: 张家界大峡谷风景区
Location: Sanguansi Village, Cili County, Zhangjiajie city, Hunan Province, China.
Opening hours: 8:00-18:00
How far from Zhangjiajie city center: 60 km, 1.5 hours driving
Ticket price: RMB94 ( including the entrance fee and cruise).
Zhangjiajie Glass Bridge ticket: RMB128
Time needed: 3–4 hours
A Strip of Sky & Sky Ladder Plank Road
They are the main attractions in Zhangjiajie Grand Canyon. A Strip of Sky is a natural spectacle and 5 kilometers long, with a stream of more than 3,000 meters long and has a vertical depth of nearly 200 meters. It is a cliff crevices formed by running water for hundreds of millions of years in Zhaojiya reservoir area. The narrowest part of the two cliffs is only one meter wide. Visitors can enjoy steep mountains, flying waterfalls, gurgling spring, fresh air and original ecology here. The Sky Ladder Plank Road is connected with A Strip of Sky, narrow and steep. When walking on it, visitors feel like walking on the road to the sky.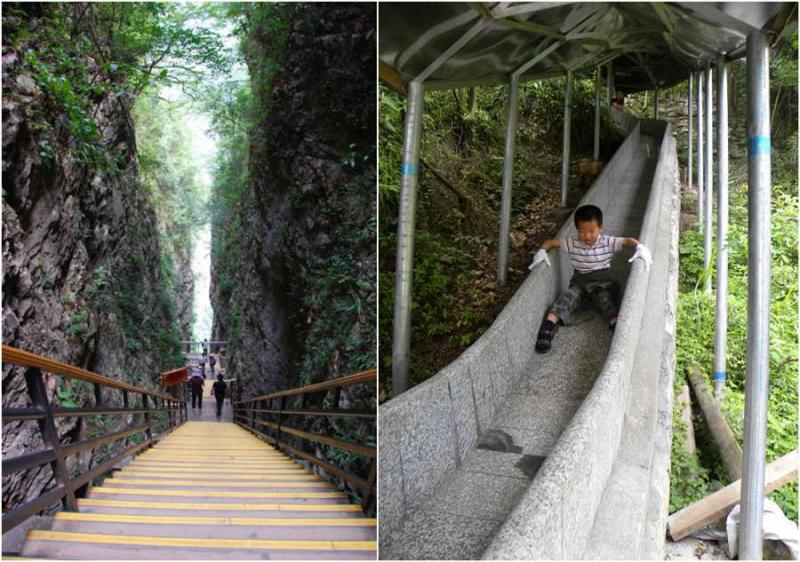 Zhangjiajie Grand Canyon Hiking Route
The Zhangjiajie Grand Canyon hiking takes 3 - 4 hours, and begins with a long and narrow vertical gap between two mountain cliffs known as a gleam of the sky (一线天), with the sun light shining through the gap. A 700-meter-long trail of steep stairs lined with the iron railings leads down the Canyon. The elevation difference between the gap on the top and the canyon on the bottom is over 300 meters. As you descend, some stairs are so steep that they look nearly vertical. However, you will find it is most rewarding when passing through the beautiful, tranquil sceneries, despite the wobbly legs.
Halfway down, there is a 600-meter-long marble slide, winding its way down to the bottom of the valley (it is optional, you can also choose to hike down). Visitors are given a thick canvas to tie around the waist and a pair of gloves to protect the hands (cost 20 RMB in total). You will learn how to control the speed of sliding down and have a lot of fun. After another one hour walking, you will be taken by a boat down a river towards the exit. Just enjoy the relaxed time on boat!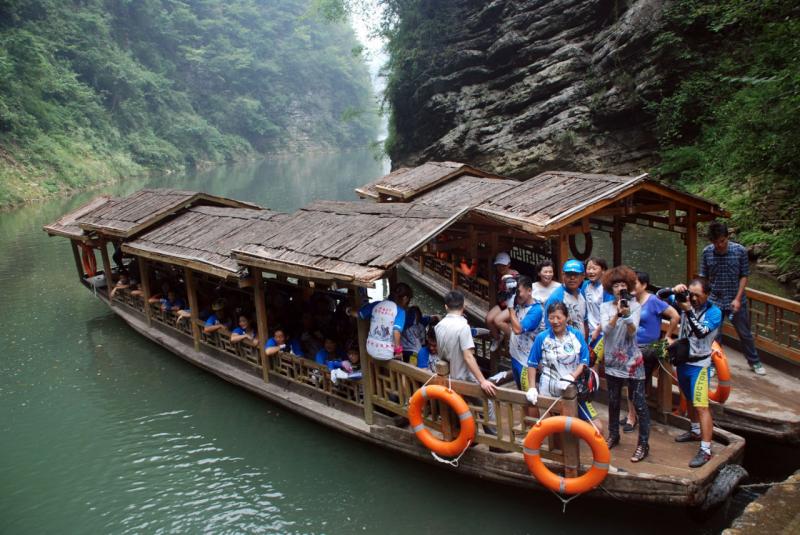 The Glass Bridge of Zhangjiajie Grand Canyon
Zhangjiajie Glass Bridge is known as the world's highest, longest glass bridge connecting Lishuya and Wuwang slopes, being 430meters long and 300 meters high above the valley floor. The thrilling bridge is an architecture wonder designed by Haim Dotan and made up of transparent glass with a bungee jump platform at the bridge center, where you can try the highest bungee jumping in the world, while at the same time having a panoramic view of the majestic Zhangjiajie Grand Canyon.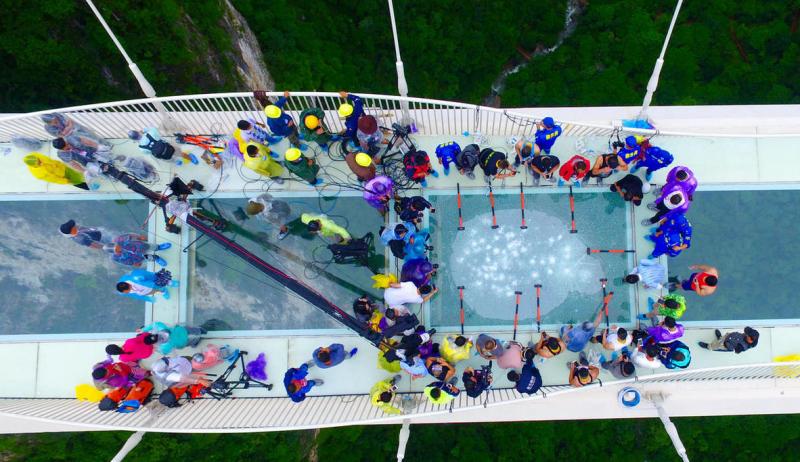 The High Altitude Strop Sliding (Optional)
The strop sliding links the Glass Bridge and Yilianyoumeng scenic spot (一帘幽梦景区), 190 meters long. With four unidirectional tracks, this strop sliding project works according to the weight power traction technology on the basis of two cable-stayed wire ropes. Visitors use their own weight to swing from one mountain to another quickly by sitting on a chair with a safety jacket. The program belongs to the low carbon project, without using any power or energy.
The strop sliding is breathtaking and exciting, which does not only shorten the distance to go downhill, but also offer a chance to admire the Laroukeng and Yanzi Cave scenic spots of the grand canyon from the air.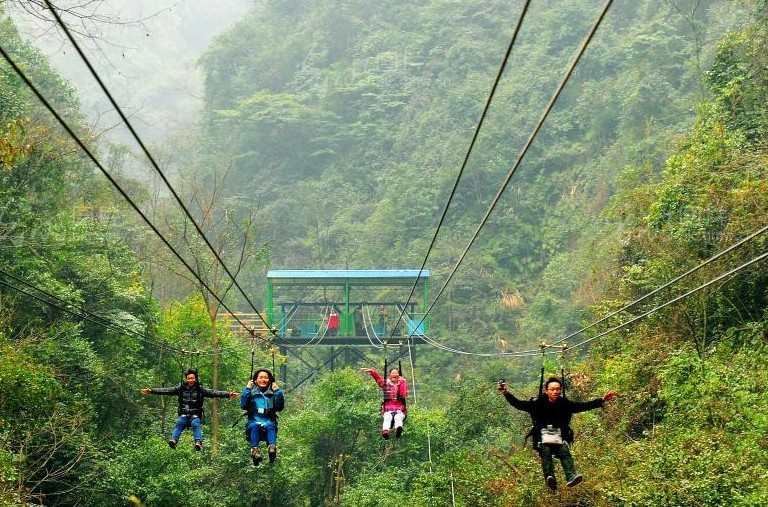 How to get to Zhangjiajie Grand Canyon by public transport
1. From Zhangjiajie city center: take bus from Central Bus Station to Jiangya Hot Spring (usually depart every one hour), arrive at the parking lot at the exit of Zhangjiajie Grand Canyon, and then change for the shuttle bus (free of charge) to the ticket office.
2. From Wulingyuan Scenic Area: there are regular tourist buses running from Wulingyuan Bus Station to Zhangjiajie Grand Canyon. It takes 30 to 40 minutes.
More Attractions in Zhangjiajie
Recommended China Tours Including Zhangjiajie Grand Canyon (Zhangjiajie Glass Bridge) Zhangjiajie