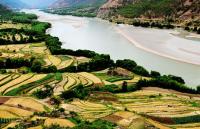 The longest river in China, the Yangtze River, runs from the roof of the world, the- Qinghai-Tibet Plateau, and then into Yunnan Province, converging with the Lancang River and the Nu River in the mountain ranges. The First Bend of Yangtze River is the Jinshajiang section of the Yangtze River, with an elevation of over 1800 meters. It is located in the Stone Drum Town of the Yulong Naxi Autonomous County, Lijiang City, and 130 kilometers away from Shangri La County. This attraction is a scenic and hiking area which is situated 1,850 meters above sea level.
The most famous attraction of The First Bend of Yangtze River is the Tiger Leaping Gorge. When coming to the Stone Drum in Yulong County, the river suddenly topped by Hailou Mountain Cliff and takes a sudden 100 degree turn to the northeast in the Shangri-la County, therefore the peculiar 'V' shape valley appears, and the world famous Tiger Leaping Gorge was created. The water of the First Bend of Yangtze and the Tiger Leaping Gorge is so treacherous, fast and deep that only few ferries can be used to cross the river, it is called the wondrous spectacle.
There are two best places offering the best view of the First Bend of the Yangtze. One is in Shigu Village and another is on the way from Lijiang to Shigu Village (about 34 kilometers after leaving Lijiang for the village), the awesome landscapes can be seen along the No.308 provincial road, and a special viewing deck is built there and helps guest to enjoy the grand scene of the Yangtze River. The best visiting time is May and early fall, in order to avoid the rainy season extending from June to September.
More Attractions in Lijiang
Recommended China Tours Including The First Bend of Yangtze River Lijiang