Dry Sea used to be a beautiful highland glacial lake, but over countless years the water in it decreased and finally disappeared. That's why people call it Dry Sea. Nowadays it has become a beautiful meadow surrounded by mountains on three sides. Dry Sea Meadow is located at the east foot of Yulongxueshan (Jade Dragon Snow Mountain) about 25 kilometers from Lijiang Old Town at an altitude of 3100 meters above sea level. It is the best destination to witness the panoramic view of Jade Dragon Snow Mountain.
Standing on the meadow, you can see the thirteen peaks of the snow mountain looking like a jade dragon in white color that flying and playing leisurely in the sapphire sky. They are covered by the undefiled white snow that lines from the north of the south. Shanzidou (Fan Peak), the highest peak of Jade Dragon Snow Mountain, looking like a gigantic unfolded fan cutting in the clouds from one angle of view.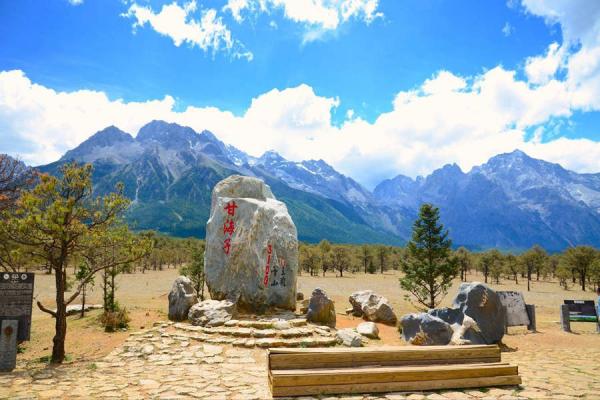 Dry Sea Meadow Facts
-Chinese name: 甘海子
-Location: Inside Jade Dragon Mountain Scenic Area
-Time needed: 1 hour
-Entrance fee: CNY130 for entering the Jade Dragon Snow Mountain Scenic Area, it also covers the entrance fee of Dry Sea Meadow
-Opening Hours: 07:00-17:00
-Best Time: April, May, October, November
What to See at Dry Sea Meadow
The quiet and serene Dry Sea Meadow offers visitors an extreme vast vision. The big and comfortable green grassland looks like a blanket, stretching itself into the great distance. The whole meadow is about 4 km long and 1.5 km wide, covered with lush grass and stunted brush. Spring is undoubtedly the best season for visiting as the meadow will burst into colorful blooms during the most energetic period throughout the year. Dry Sea is an abundant pasture and views of local herders who intersperse their groups of grazing livestock, including the cattle, the goats, the sheep and the domesticated yaks, which are easy to be seen. Cable car service is available for the convenience of visitors to reach the glacial plain to witness the picturesque snowy scenery and take part in skiing activity nowadays.
Dry See Meadow has the highest performance theater in the world. Tourists can watch the large-scale live performance " Impression Lijiang Show", which demonstrates the traditions and lifestyle of local Naxi, Yi and Bai ethnics of the area. It is the second outdoor production (after Impression Liu Sanjie in Yangshuo, Guilin) of famous Chinese film director Zhang Yimou, who co-directed the opening ceremony of the Beijing Olympic Games in 2008.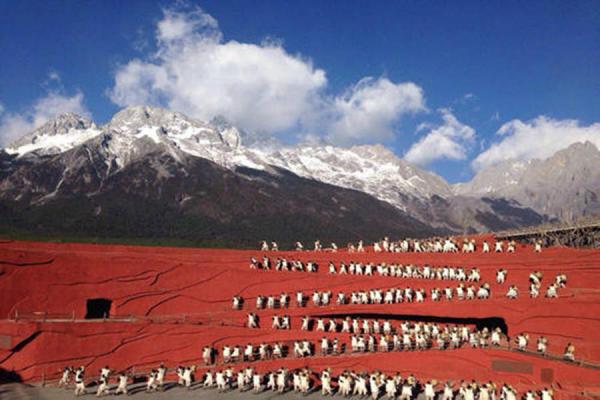 Jade Dragon Snow Mountain Golf Club is located at Ganghaizi as well. The course is located on the plateau of 3100 meters above sea level, designed by the famous course designer Neil Haworth. It is the only snow mountain course in the northern hemisphere and one of the highest in the world. Due to it high altitude, thin air and low gravity, it was specially designed 18 holes 72 pars 8415 yards fairway length has been officially confirmed as a world record by Guinness World Records.
How to Get to Dry Sea Meadow
Bus: From Lijiang to Dry Sea Meadow, visitors can take a bus from Yuhe Parking Lot, Southern Gate Parking Lot, or at the Gate of Shuhe Old Town. The bus leaves for the Snow Mountain at 9:00 am and returns at 17:00. The bus ticket costs is CNY40 per person.
Private car: Visitors can take taxi or minivan to Snow Mountain, the cost is around CNY200-300 for a round trip. Upon arrival, you can walk to Dry Sea Meadow. In addition, Easy Tour China can arrange private Lijiang trip to Jade Dragon Snow Mountain which will be more comfortable and convenient.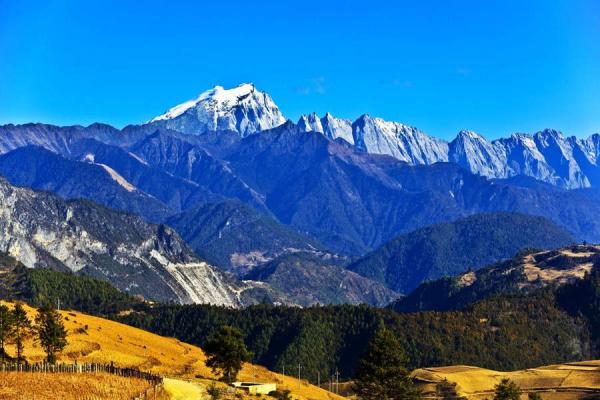 Travel Tips
1. Dry Sea Meadow is located at a high altitude area, so please avoid walking fast during the journey. When you have symptoms such as lack of oxygen, shortness of breath, dizziness, etc, you should immediately stop to have a rest.
2. The sun ultraviolet rays are very strong here, please avoid direct sunlight during your Lijiang tour. When you stay in outdoors, please take your sunscreen products, such as sun hat, sunglasses, sun cream. Don't wear high heels shoes.
More Attractions in Lijiang
Recommended China Tours Including Dry Sea Meadow Lijiang