Longsheng Hot Springs National Forest Park is situated in the multi-ethnic county of Longsheng, covering an area of about 260 hectares. The park boasts dense primeval forests as well as the famous hot springs. With an average temperature of around 17 ℃, the weather there is very pleasant providing a nice escape from the tiring work. This resort is centered on hot springs which are natural and healthy, including other main landscapes like Monkey Hill, Five Sword Hill, Feiyun Cave, Longyingtan Waterfall, etc. To the surprised, the forest here is also the home to macaque, deer, civets, giant salamanders and other rare animals. The perfect combination of the original ecology of nature and the original modality of national culture is the biggest feature of Longsheng Hot Spring National Forest Resort.
Facts
- In Chinese: 龙胜温泉国家森林公园
- Location: Longsheng Hot Spring National Forest Park, Jiangdi Village, Longsheng County, Guilin
- Opening time: 08:00 – 23:00
- Best time to visit: all year round
- Entrance fee: RMB20; RMB128 for hot springs (half price for kids between 1 to 1.4 meters)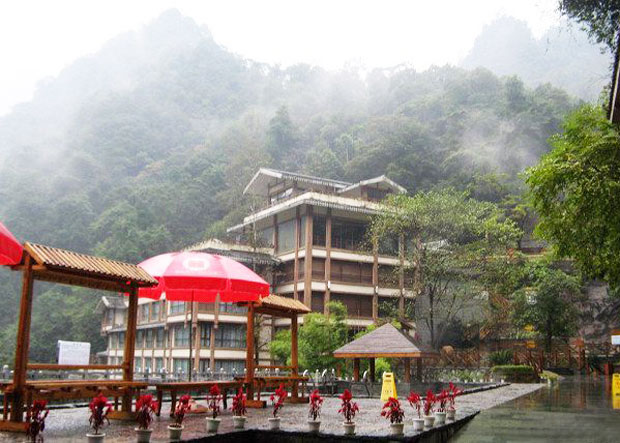 What to Do?
1. Enjoy the fresh air in the forest. Surrounded by mountains, there are thick and tall trees in the park. Forest stream and waterfall quickly pour from high to low producing very high air humidity, also making the park anion content high, the content of negative oxygen ion per cubic centimeter up to 9000 units, so it is called natural oxygen bar.
2. Steep in the leisure time. The park is tranquil and far from the city; there are different levels of hotels offering comfortable accommodation and nice service. You can stay here for a couple of days, just reading, walking around or having spa. It'll be a relaxing short break in Guilin. There are also venues nearby where you can host barbecues and taste local dishes.
3. Soak in hot springs and stay healthy. The best-known attraction in the park is certainly its 16 hot springs. These springs, with water temperatures ranging from 45 ℃ to 58℃, spout over 1,200 meters from underground. According to scientific researches, the water contains mineral elements including zinc, lithium, manganese, strontium and iron that are good for the health. Take a bath in the springs can not only be relaxing and beneficial, but can also alleviate diseases like rheumatism as well as skin problems.
The Advantages of Longsheng Hot Spring
1. The common hot spring water, with a heavy smell of sulfur, is not drinkable. The uniqueness of Longsheng hot springs is that it has no smell, it's not only good natural drinking mineral water and medical mineral water, but also tastes very good.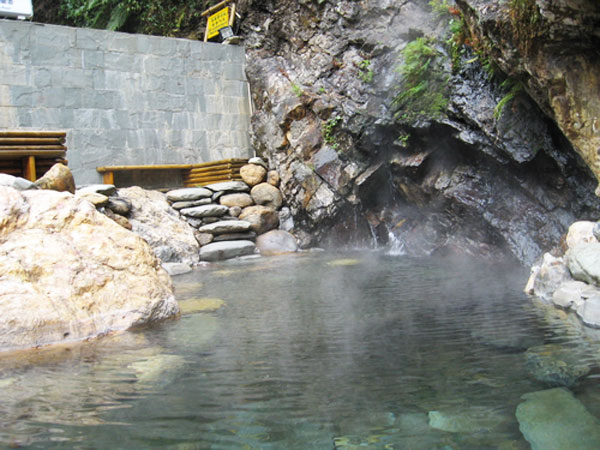 2. Setting up an oriental hot spring in the forest is not a Japanese prerogative. Longsheng hot spring also allows you to experience the romance of nature while relaxing in the spa. Half blue sky and half green forest are over your head; soaking in the hot spring water, you still can hear the birds in the forest.
3. The hot water itself is good for our body; in addition, Longsheng hot spring water bubble out from 1200 meters deep underground rock formation, the water contains lithium, strontium, iron, zinc, copper and more than a dozen kinds of beneficial trace elements which are helpful for our bodies; hence, the water here has advantages of anti-aging, softening blood vessels, anti-cancer and other effects. Drinking or bathing this spring water frequently can adjust the nerve and restore the balance; it has the good curative effects to the neuralgia, the arthritis, the rheumatism pain, the diabetes and prevents alopecia.
Popular Spa Pools
1. Medicated pool. Medicinal bath is one of the essential treatments in traditional Chinese medicine. These mineral-rich waters are filled with specially prepared packets of Chinese medicine, which, along with the heat, enter the skin to improve people's health in small, comfortable ways. It does not increase the burden on the liver, so it is known as the "green treatment" by the medical community, getting more and more attention.
2. Spa fish pool. The resort takes specially bred fish doctors to provide funny services to visitors. When you enter the pool, they gather around you and suck on your whole body, pecking at dead skin and bacteria and microbes that only a microscope can see. When these small fish peck at the skin, people not only do not feel the slightest pain, but also a very pleasant feeling.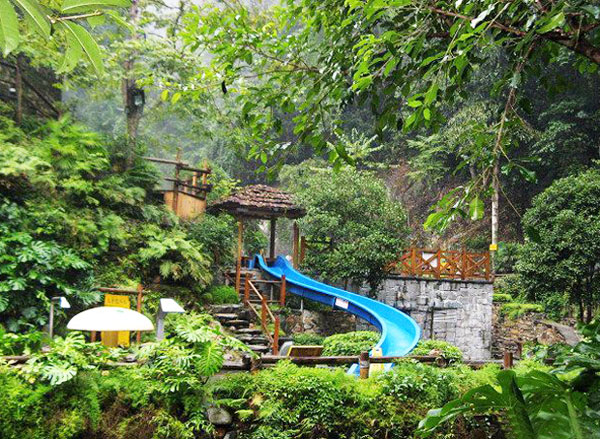 3. Children's pool. This is a mild place with lower height, comfortable temperature and slides for kids and parents to experience. Children will be safe and satisfied and have fun here.
How to Go There?
More recommend to book transfer service to get there. If you prefer to visit Longsheng Hot Spring National Forest Park by public transport from Guilin, you can take a coach at Guilin Qintan Bus Station and get off at Longsheng Bus Station. And then, change a special line to the resort.
More Attractions in Guilin
Recommended China Tours Including Longsheng Hotspring National Forest Park Guilin