Located at the foot of a mountain with a beautiful river zig zagging around, Huangluo Yao Village is a typical Yao ethnic village inside Longji Rice Terraces scenic area. The villagers are hospitable and fond of singing and dancing. Yao girls extend warm welcome to tourists by wearing their ethnic costumes, singing and dancing. The major highlights of the village is not for the nature or history scenery, but real life and traditions of the ancient minority group.
One of the local traditions is to keep long hair. All the villagers, totaling just over 400, are Yao ethnic minority. Huangluo Yao Village is reputed as the top long-hair village in the world because there are more than 80 people with more than 1.4 meters of hair among over 120 women, and the longest hair can reach 2.1 m. In 2002, the village earned a certificate from the Guinness World Records for mass hair.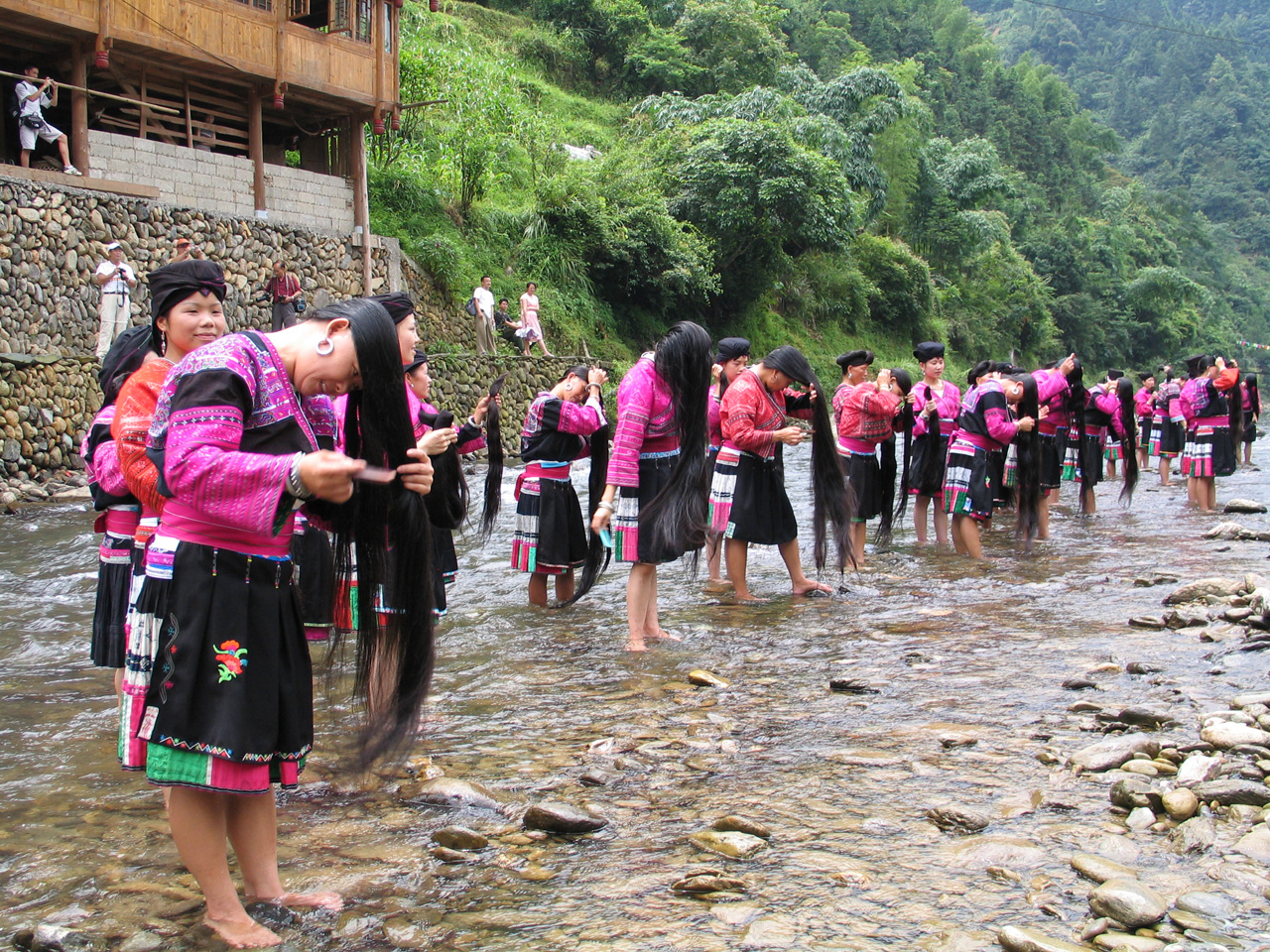 Facts
- In Chinese: 黄洛瑶寨
- Location: Longji Rice Terraces Scenic Area, Longsheng County, Guilin
- Opening time: all day
- Best time to visit: all year round
- Entrance fee: free (included in Longji Rice Terraces)
Long Hair Customs
This Red Yao village (a branch of Yao nation) are one of the few ethnic groups to maintain the traditions of matriarchal society, that means the mother has the highest status in each family. Long hair is also a symbol of this.
On the other hand, in ancient times, there was a concept of "body hair and skin, parents", not cutting hair also showed a filial piety. The Yao people have carried on this tradition to this day, which shows their respect for the Confucian culture and their respect for their ancestors.
Long hair has a good meaning as well, their hair is a with for long life and wealth, a wish for prosperity and good luck. The Red Yao girls value their hair very much, and have passed down the custom of growing and dressing hair and the secret recipe of hair care from generation to generation. It's said that they have had their hair cut only twice in their lives, once on their 100th day and the second time on their 18th birthday. But instead of being discarded, the hair is combed and curled up on the head like a hat.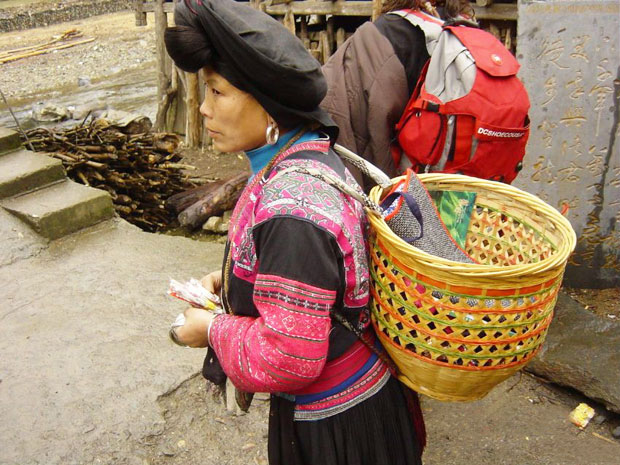 In the past, local women's long hair was not supposed to be seen by others, even by their husband or children. Therefore, Yao women used a long cloth to twist and hide their hair into a knot. Nowadays, you can easily see Yao women wash and comb their hair in the river. During summer and autumn, Yao women would get down to the river to wash and comb their hair with women friends.
One of the amazing things is that you can see a lot of people in the village who are over 60 and their hair is still black and shiny. Why is that? The secret is that their shampoo or serum is made from rice water and mountain herbs. The rice water is not simple, they usually store the water in a clay pot, on the side of the fireplace to bake, after a period of fermentation, the material inside produced more nutrition. Savor up herbs into it to make hair formula.
Long Hair Show
The locals arrange performances to show visitors their traditional customs. Before the show, the girls will sing folk songs to welcome the visitors. The stage was very simple, with artificial sets and wooden benches. Still, it's their most sincere performance. The first part is to show their daily life with songs and dances; the second part is to show the Yao people's marriage customs with interaction with the audience; and the third part is to show the care and braiding of women's long hair. During the show, there will be women holding homemade rice wine and inviting guests to taste it. If you don't want to try, you can politely refuse. If you want to taste it, remember to put some tips on the plate.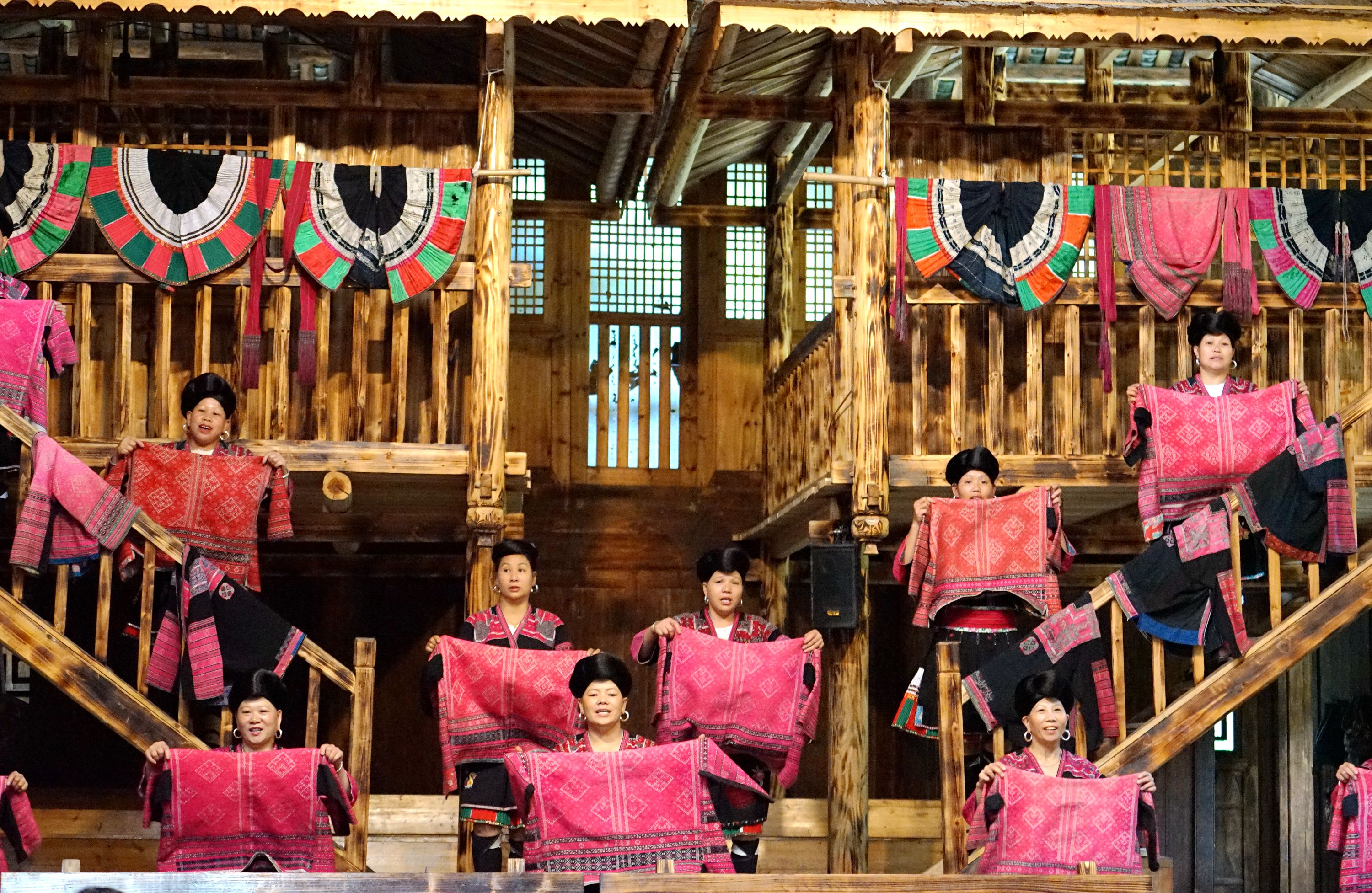 How to Get to Huangluo Yao Village?
First, you can book a vehicle or take a coach from Guilin Bus Station to Longji Rice Terraces Scenic Area.
After enter the gate, go through a hanging iron bridge, and then you can see the wooden houses of the village.
More Attractions in Guilin
Recommended China Tours Including Huangluo Yao Village Guilin