As a river cave with a great portal at the Li River, Crown Cave is located in Caoping Hui Nationality village about 29 km from Guilin city. It gets its name because of the crown-shaped hill above. It is a labyrinth like cave system with an underground stream running out of a remarkable gate of Mount Haiyang and straight into the Li River. The first visitor of the cave is Xu Xiake, a famous Chinese traveler, geographer who explored Crown Cave in 1637. The visiting of Xu Xiake has made it known for centuries and has attracted and inspired countless poets, scholars and nobles.
Crown Cave Scenic Area is made up of Crown Cave and the hills, villages, rivers from Zhujiang (bamboo) River in the north to Yangdi Village in the south, with Crown Cave being most famous. The cave runs a distance of 12 km, with only a stretch of 3 km have been properly explored. Inside the cave it is divided into four caves connecting with each other. Stalagmite and stalactite protruding from the top of the outer cave are illuminated by an interior lighting system, presenting a spacious and bright appearance. Grotesque and imposing stalactites, stalagmites, stone pillars inside will capture your imagination, leading you into a fairyland.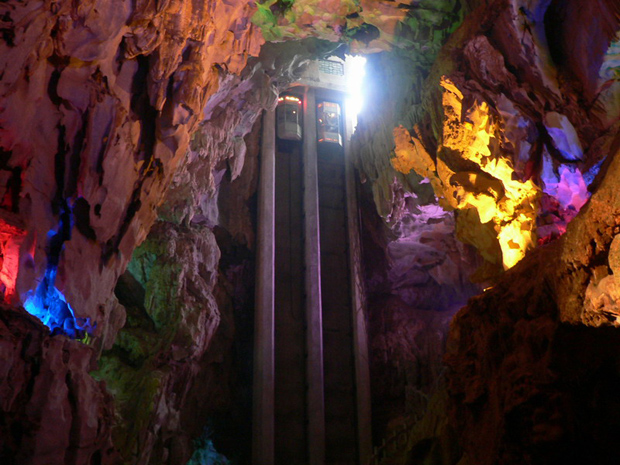 Facts
- In Chinese: 冠岩
- Location: Li River Crown Cave Scenic Spot, Caoing Village, Yanshan District, Guilin
- Opening time: 08:00 – 17:30
- Best time to visit: afternoon
- Entrance fee: RMB80 (half price for kids between 1.2 m to 1.5 m; free for kids under 1.2 m)
Highlights of the Crown Cave
As one of the top 4 Karst caves in Guilin, the Crown Cave is well preserved, visitors can appreciate the natural but unbelievable grotesque and imposing stalactites, stalagmites, stone pillars in different ways, which makes here a distinctive site with visiting by water, land and air.
Underground Waterway Landscape Area
The Guanyan Cave is a winding path through the hills. There are major three portals and five caves inside the hill, portals overlapped each other, caves adjacent with each other, and an underground waterway connecting them with amazing scenery.
The waterway pours on the lower portal with the length of 700 meters. Visitors can take a sightseeing boat floating through the cave and you can get closer and touch the stalagmites, stone pillars on the way.
As the major attraction of Crown Cave, this area offers 5 ways to visit: enjoy the splendid wonders on foot for 1000 meters inside the hill, appreciating it slowly and carefully; you can take the electric slide from the outside to inside, if you come here in summer, the slide trip will bring you a fantasy experience from a rural land to a mysterious karst world; take the 36-meter-high glass left to see the landscape from the foot to the top; visit the caves by 500-meter train ride is also a good choice for a leisure trip; when you visit the top waterfall inside the hill in the world here, walking through the floating bridge is what you're going to experience.
A variety of modern tourist facilities and the cave interior color complement savor up each other, so that the Crown Cave into a unique and lasting taste of the Karst cave.
Xiangba Isle
Traditional, modern, avant-garde works of art and the natural landscape are in harmony with each other, reflecting the multi-faceted charm; this is the only island paradise on Li River, the Xiangba Isle landscape art park.
Following the Crown Cave down about 500 meters, the isle covers an area of more than 500 acre, with a forest coverage rate of more than 80%. In spring and summer, trees and flowers bloom on the island; in autumn and winter, full trees of red leaves, the whole island can be dyed red.
Xiao He Li
Xiao He Li is a natural small basin with a length of 1000 meters and a width of 500 meters. A peak viewing platform, cable car are set up, straight up to the top to see the distant view, a group of karst mountains, Li RIver, rural cottage panoramic view can be seized by your eyes, so that visitors can feel like be placed between heaven and earth, floating in the clouds. You can also spend your leisure time boating and fishing here.
How to Get to Crown Cave?
You can easily take the special line of Guilin-Crown Cave at Guilin Bus Station; it'll take about 40 minutes to reach there. The first bus runs at 07:30, and the last returning bus runs at 18:30.
It's very close to the Gudong Waterfall, you can change a taxi on your Gudong Waterfall trip.
More Attractions in Guilin
Recommended China Tours Including Crown Cave Guilin