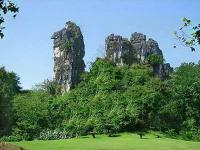 Located on the east bank of the Li River, the Seven Star Park is about 1.5 kilometers away from the city proper. Encompassing more than 100 acres, the park was built after 1949.
Points of interest include the Plough, Purple Mist Over the Camel Hump, Osmanthus trees and the Forest of the Steles. The park shares all such beauties as 'the strangeness of hills', 'the clearness of waters', and '"the marvels of caves' in Guilin. The Plough is a major attraction in Guilin and the park is named after it. The Plough board is formed by the four peaks of the Putuo Hill, which are called Tian shu, Tianxuan, Tianji and Tianquan, while the Plough tail consists of the following three peaks - Yuheng, Kaiyang and Yaoguang. They are known as the Crescent Hill. The Camel Hill is just shaped like a camel squatting on the ground.
The two limpid waters - the Xiaodong River and the Lingjian Stream flowing through the park, join together under the old flower bridge (first built in the Song Dynasty) and then wind southward by the hill. Reflections of the green peak and the bridge in the water form a fascinating picture. Nestling in the hills and connected by windings paths are arbors and pavilions with red pillars and green tiles. Arched gates, flights of stone steps and thickly shaded walks, all seen to be very tranquil and pleasant. When the autumn wind begins to blow the entire park is filled with the perfume of golden cassia flowers.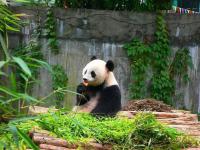 There are caves in the hills inside the park. The most illustrious one is the Seven Star Cave.
Seven-Star Cave
The Seven Star Cave, also called Xixia Cave or Bixu Cave, is the most fascinating of the caves at the foot of Seven-star rocks (to be distinguished from the rock formation of the same name in neighboring Guangdong Province) in Guilin. Centuries ago Seven Star Cave used to be an underground river channel, which with the movement of the earth's crust rose above the surface to become a cavern. It became a popular travelers' attraction as early as 1,300 years ago, and over the centuries many poems and other inscriptions have been left behind on its walls by visitors. The 1,000-meter-long tunnel is also a gallery of stalactites such names as 'Monkey Picking Peaches', 'Frog Leaping into a Pond', 'Two Dragons Entering a Cave', and 'Two Dragons playing a Ball'. Sometimes the formations resemble forests; at other times they remind the visitor of waterfalls.
For the details of the Seven Star Cave, please visit the webpage of Seven Star Cave.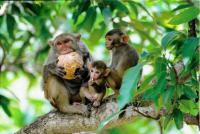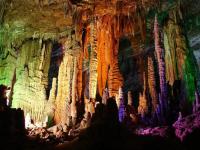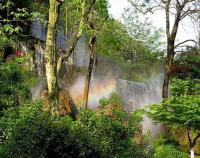 More Attractions in Guilin
Recommended China Tours Including Seven Star Park Guilin