Zhangjiajie Yellow Dragon Cave also known as Huanglongdong in Chinese, it is a typical Karst Cave that located near the Wulingyuan Scenic and Historic Interest Area. The area of Huanglong Cave is very large, the tour route inside the cave is about 3,200 meters and the vertical height is more than 100 meters. During the visit, you can see a large number of stalactites, stone columns, stalagmites and stone flowers. You can enjoy about 2 to 3 hours tour in the cave that including a boat ride and a hike with steps.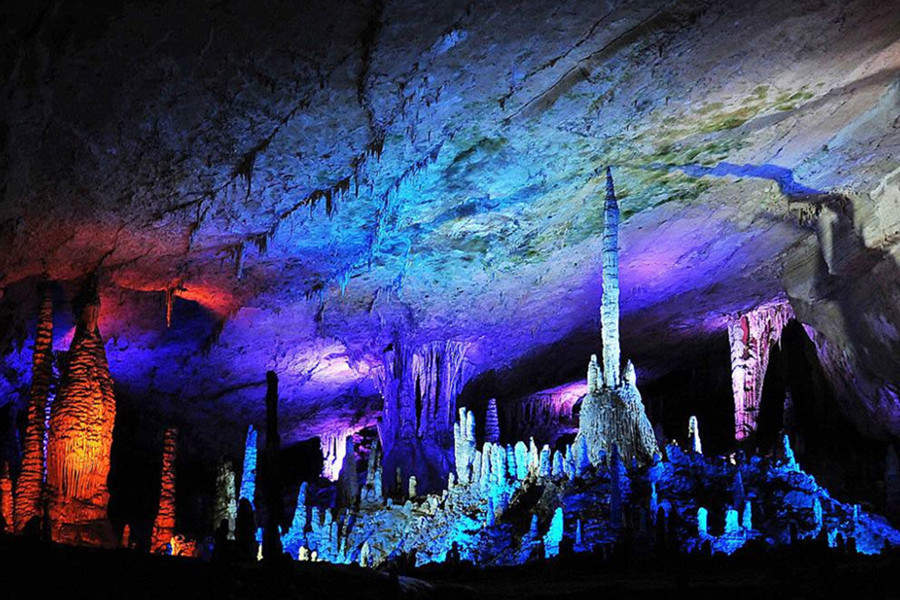 Yellow Dragon Cave Facts
-Chinese name:黄龙洞风景区
-Location: In Wulingyuan scenic area, Zhangjiajie city, Hunan province
-Total Area: 48 hectares
-Time needed: 2 to 3 hours
-Entrance fee: CNY100
Best Time to Visit Yellow Dragon Cave
The area of Huanglong Cave has sufficient light and heat, abundant rainfall, the annual average temperature is about 16.6℃, that makes Huanglong Cave is suitable for visiting in all seasons. The best visiting time is from March to November every year. Since the temperature inside Yellow Dragon Cave is lower than outside, it is not recommended to go in very cold season.
What to see at Yellow Dragon Cave
Yellow Dragon Cave is located in Wulingyuan scenic area, the core scenic area of Zhangjiajie city, Hunan Province. It was voted "the most beautiful tourist cave in China"in 2005. The Yellow Dragon Cave has a total area of 10,000 square meters, with a total length of 7.5 kilometers and a vertical height of 140 meters. Huanglongdong has four levels that containing a reservoir, two underground rivers, three underground waterfalls, four pools, thirteen chambers, ninety-six entryways, as well as an underground lake. Inside the cave, visitors can see large scale and rich varieties of stalactites, stone columns, stalagmites and stone flowers.
Huanglong cave is also known as Wumen cave and Feilong cave. It is said that a monk named Huikai built a temple there. One day, lightning flashed and thunder thundered suddenly. There was a clear spring coming out the stone, and a yellow dragon came for Huikai, hence the name Yellow Dragon Cave.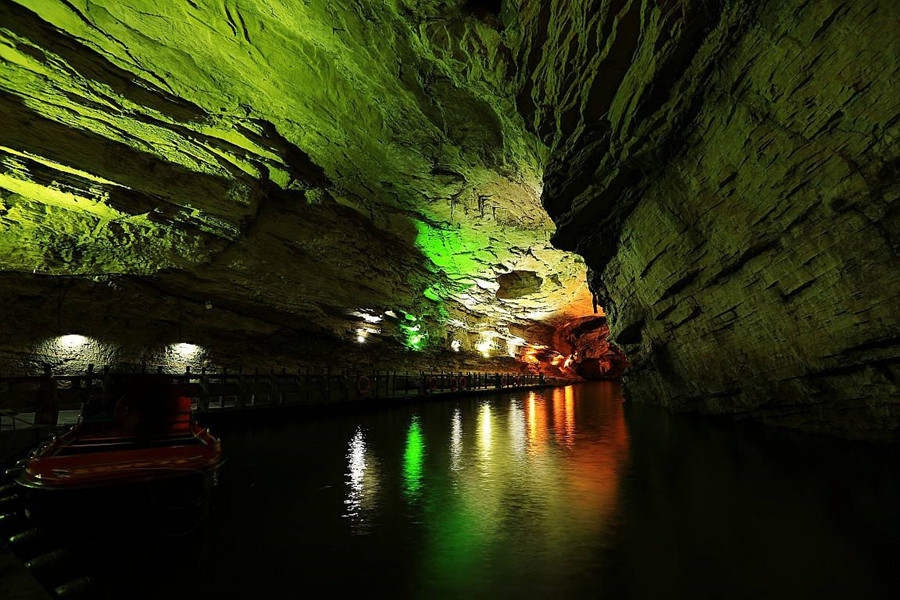 Major Yellow Dragon Cave Attractions
Dragon Palace
The Dragon Palace is the largest one of the 13 halls in Huanglong Cave, as well as the one of the most beautiful scenic spots. More than 2000 stalagmites sprung up in various forms. In the Dragon Palace, there is a high and thin stalagmite grows on the collapsed slope and is the highest stalagmite in Huanglong cave which we called "Magic cudgel". It is estimated that takes at least 200,000 years for this stalagmite to grow to such a high level. As a landmark scenic spot of the Cave, Huanglong Cave Scenic Spot has bought 100 million yuan insurance for the "Magic cudgel".
Xiangshui River
Xiangshui River is an underground river in 2nd floor of Yellow Dragon Cave. The total length of the river is 2,820 meters, visitors can visit 800 meters of this underground river by boat at present. Xiangshui River has an average water depth of 6 meters and a maximum depth of 12 meters. The water temperature can be maintained around 16℃ which is a ideal living environment for the rare animal giant salamander in China.
Tianxian Waterfall
The hall of Tianxian Waterfall is also very large. Tianxian Waterfall was formed by three larges springs which comes from a 30-meter-high honeycomb shaped grotto on the top of the cave. The waterfall flows endless all the year around, it drops more than 27 meters.
Maze
The Maze is the essence of Yellow Dragon Cave. It is located in the bottom of the cave and filled with many types of stalactites and stalagmites. The length of the maze is 138 meters, with average height of 3 meters and a width of about 10 meters, the total area is around 800 square meters.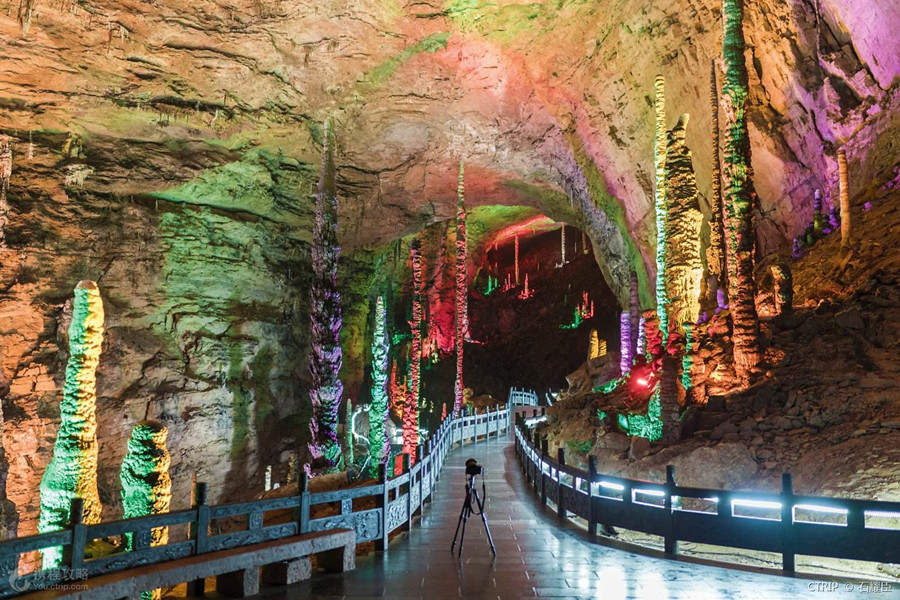 How to Get to Yellow Dragon Cave
1. Take bus to Wulingyuan Scenic Area at Zhangjiajie Central Bus Station. Upon arrival, change to the sightseeing bus to get there.
2. Take public bus 1 at Wulingyuan Bus Station to get there.
3. Take taxi from your hotel
Travel Tips:
1. The entrance fee of Yellow Dragon Cave has includes the round trip boat tour, so you can just line up to take the boat when you walk to the wharf. While please pay extra RMB15 per person if you would like to visit the Maze.
2. After entering Yellow Dragon Cave, the signals of all mobile phones are gone, and there are no WIFI facilities in the cave. Please take care of your important things before entering the cave.
3. The Yellow Dragon Cave is very big, and the tour route is long and some steps are steep. Please wear non-slip sports shoes.
More Attractions in Zhangjiajie
Recommended China Tours Including Yellow Dragon Cave Zhangjiajie