About 125 km south of Chengdu, the 71m-high Giant Buddha sits in a cliff overlooking the confluence of Min, Dadu and Qingyi River. A local saying goes: "The Mountain is a Buddha, and the Buddha is a mountain". Legend has it that an eminent monk Hai Tong of the Tang Dynasty (618-907) often saw boats capsize in the turbulent river. Shipwrecks were a common place. Wishing to protect passing boats and calm down the rough river currents, the monk vowed to build a Maitreya Buddha. He made great efforts to collect the funds for the construction.
Leshan Giant Buddha is qualified as the largest stone-carved Buddha in the world, while the original second largest Buddha Bamiyan in Afghanistan was only 53m in height, which has been destroyed by Taliban regime in 2002. According to historical records, the project of Giant Buddha was begun in the in the first year of the reign of the Tang Emperor Tang Xuanzong (713 AD), and completed in the 19th year of Emperor Dezong (803 AD), a total of 90 years. The statue is not Sakyamuni, the founder of Buddhism, but the Future Buddha called Maitreya according to Buddhist sutras.
The maintenance project for the Buddha has begun since the site was listed by UNESCO as a world cultural and natural heritage in 1996. The local administration of cultural relics employs experts and technicians skilled in up-to-date technology involving sound, light, and electronics to keep a constant check on the Buddha and treat all problems.
A high-tech monitoring system has been installed to guard the world's tallest statue of Buddha in Leshan. The system has not only prevented disastrous fires and floods, but also helped visitors in order and stopped damage to the statue from outside forces.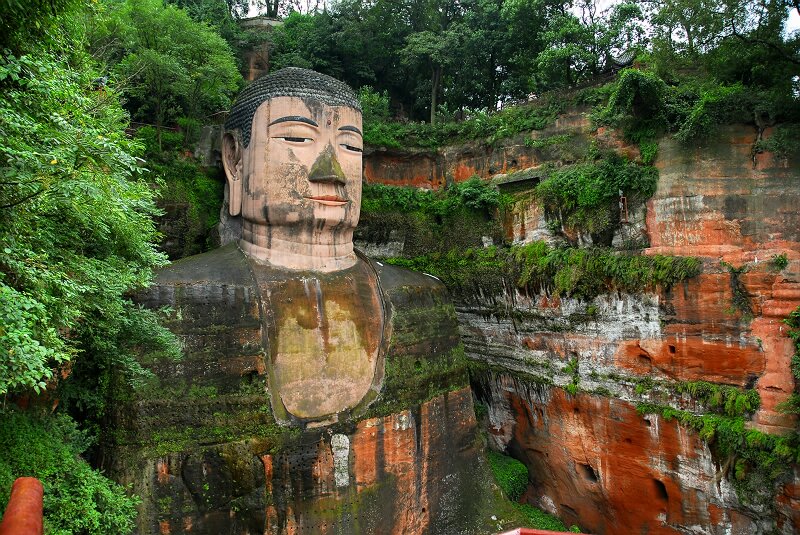 Leshan Giant Buddha Facts
-Chinese name: 乐山大佛
-Location: No. 2435, Mid Section of Lingyun Rd., Leshan City, Sichuan Province
-Opening Hours: 07:30 – 18:30
-Time needed: 3 - 4 hours
-Entrance fee: CNY80
Best Time to Visit Leshan Giant Buddha
Leshan has a mild climate, abundant rainfall and four distinct seasons. The annual average temperature is around 16.5 ℃. It is a good place to go when you travel in Chengdu. Spring and autumn are the best seasons to visit Leshan, which is from April to June and September to November. It should be noted that please try to avoid holidays, since it will be very crowded at that time. And for your better tour experience, please arrive at the scenic spot early in the morning.
What to See at Leshan Giant Buddha
Leshan Giant Buddha is about 71 meters high and 24 meters wide. The head is 14.7 meters high and 10 meters wide with 1,051 buns of hair on it. It is around 28 meters from knee to instep. The instep is 8.5 meters wide which can accommodate 100 people. The toe is big enough to accommodate a dining table.
The whole scenic area includes Leshan Giant Buddha, Lingyun Mountain, Wuyou Mountain, Giant Sleeping Buddha and other scenic spots. The Giant Buddha is a seated Maitreya Buddha, which took three generations of artisans 90 years to complete in Tang Dynasty, it is the largest cliff carved stone statues in China. On cliffs of both sides of the Giant Buddha, there are two stone carvings of dharma king more than 16 meters high, forming a pattern of one Buddha and two kings. The Lingyun plank road on the left side is nearly 500 meters, and the Jiuqu plank road on the right side is the Buddha worship passage that left from Tang Dynasty.
Leshan Giant Buddha has always been a Buddhist holy land, there are endless stream of pilgrims in Lingyun Temple who come to worship the gods and pray. It is good choice to experience the Buddhist culture here. Leshan Giant Buddha is a must see place for your Chengdu tour, in addition to climbing the mountain to admire the Buddha closely, you can also choose to take a boat to view the Buddha from distance to get a panoramic view.
Other Attractions in Scenic Area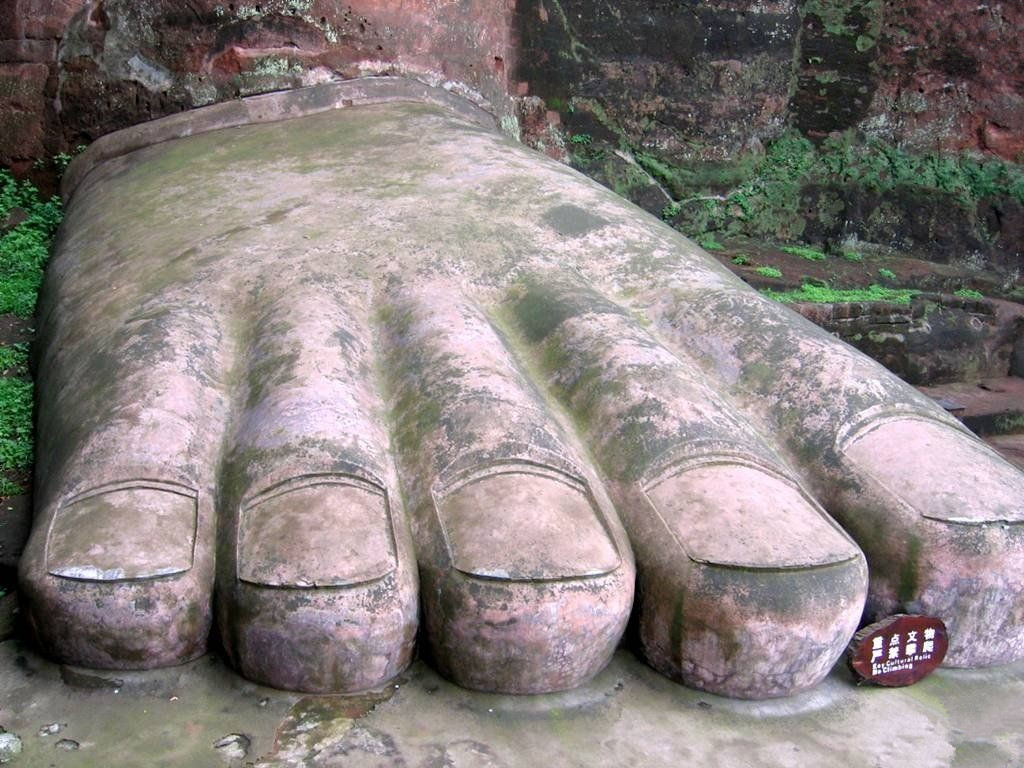 Giant Sleeping Buddha
Giant Sleeping Buddha is located at the confluence of the three rivers and composed of several mountains with a total length of more than 4000 meters. Leshan Giant Buddha just sits on the chest of the Giant Sleeping Buddha. The head, body and foot of the Buddha are composed of Wuyou Mountain, Lingyun Mountain and Guicheng Mountain, it is a rare landscape. The best way to observe the sleeping Buddha is taking a trip on a sightseeing boat.
Lingyun Temple
Lingyun Temple is located on Lingyun mountain and is also called the Giant Buddha Temple. Lingyun Temple is a quadrangle courtyard that composed of Tianwang Hall, Daxiong Hall and Deposity of Buddhist Sutras. You can see the head of the Buddha when you crossing through Lingyun Temple.
Nine Bends Plank Road
Nine Bends Plank Road is located on the right side of Leshan Giant Buddha, which was excavated at the same time with the Giant Buddha. The widest part of the plank road is 1.45 meters, and the narrowest part is 0.6 meters, there are 217 stone steps in total. You can walk down the steps to reach the foot of the Buddha.
How to Get to Leshan Giant Buddha from Chengdu
1. Train: You can take intercity high-speed train from Chengdu East Rail Station to Leshan which will takes 1 hour, and then change to bus 3 to reach Leshan Giant Buddha.
2. Bus: Take a long-distance bus from Chengdu Xinanmen Bus Station to Leshan Xiaoba Bus Station, and then change to city bus 13 to reach Leshan Giant Buddha. The bus ticket is cheap, but it will take about 2.5 hours to reach Leshan.
3. Private car: Easy Tour China can arrange private car journey which will be more comfortable and convenient.
More Attractions in Chengdu
Recommended China Tours Including Leshan Giant Buddha Chengdu