Next to Chengdu lies Mount Qingcheng (Qingchengshan), one of the birthplaces of Taoism (Daoism), China's only indigenous religion. It is still a religious center sprinkle with caves and shrines venerated by Taoist. Founded in AD 143 in Qingcheng Mountain,Taoism has developed into an important religion in Southeast Asia, exerting tremendous influence there. Adding the Mt. Qingcheng in your Chengdu tour, will make your trip more colorful.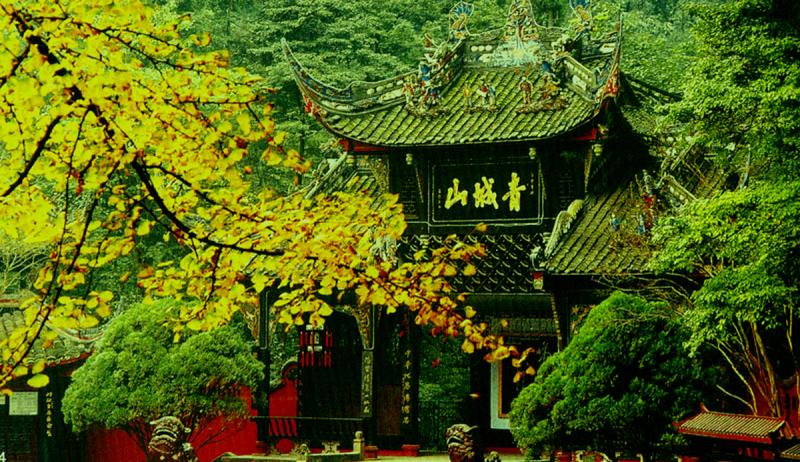 Mount Qingcheng is located in the southwest of Dujiangyan City, Chengdu City, Sichuan Province, 68 kilometers east of Chengdu downtown, and 10 kilometers southwest of the Dujiangyan Water Conservancy Project. The scenic area covers an area of 200 square kilometers. The highest peak, Laojun Pavilion, is 1,260 meters above sea level. Qingcheng Mountain is divided into front mountains and back mountains, and we usually visit the front mountains where include main attractive spots. A hike in the Qingcheng Mountain is also very enjoyable. The route can start from Jianfu Palace up to the highest point - Laojun Pavilion, and then down the hill. Surrounded by undulating peaks and verdant trees, it enjoys the reputation of "the most tranquil place under heaven ". Reaching the mountain on an early spring or summer morning, the tourist will find it shrouded in mist, which moistens stone steps rising up towards the summit. Forests of pine, Chinese fir, cypress and all kinds of fragrant undergrowth make up a deep green world.
The only sounds the tourist hears are birds, waterfalls and the tourists' footsteps. Chinese hermits and men of letters have long cherished the perfect sense of peace in Mountain Qingcheng. There are four famous Taoist mountains such as Mount Qingcheng in Sichuan Province, Mount Wudang in Hubei Province and Mount Laoshan in Shangdong Province. UNESCO inscribed the Mountain Qingcheng-Dujiangyan Irrigation Project on the World Heritage List in 2000. According to Kung Fu Panda 3, Mount Qingcheng is where the secret panda village locates. Now it attracts more and more tourists, who may want to meet Kong Fu panda "Po".
Mt. Qingcheng Facts
Chinese Name: 青城山
Location: Dujiangyan City, Chengdu City, Sichuan Province, China. 四川省成都市都江堰市
Entrance Fee/ticket of the Mt. Qingcheng: RMB90.
Opening Time:
2nd Mar – 30th Nov: 8.00-17.001st
Dec – 1st Mar: 8.00-18.00
Feature: One of the birthplaces of Taoism
Airport: Chengdu Shuangliu Airport
What to see at Mt. Qingchengshan
Jianfu Palace
Jianfu Palace (Jianfu Temple) is located under Zhangren Peak. It's the first temple you will encounter in Qingcheng Mountain. It was firstly built in the eighteenth year of Kaiyuan in Tang Dynasty (730AD), and it has been restored many times after generations. Now there are only some existing buildings including two halls and three courtyards. They were rebuilt during the Guangxu period of the Qing Dynasty (1888). The 394-character couplet on the pillars in the hall is praised as "a treasure in Mt. Qingcheng". On the left one kilometer westward, you will reach the "natural picture" with a towering rock and clouds, which is another attraction in Mt. Qingcheng.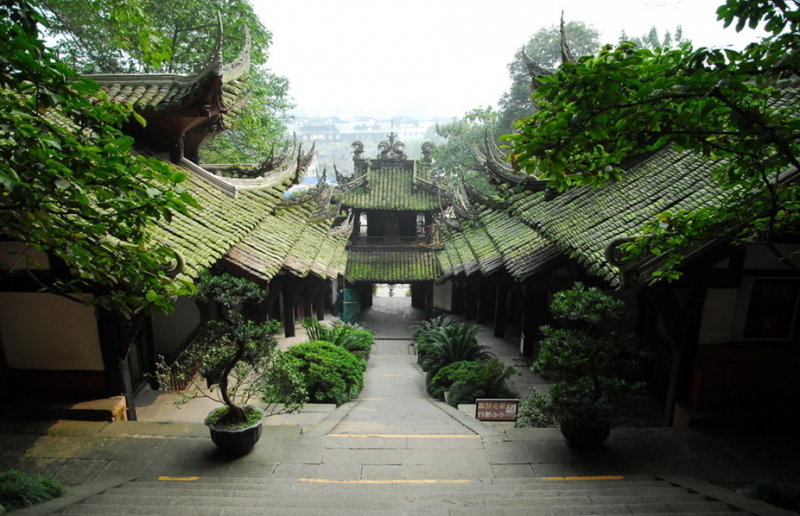 Laojun Pavilion
Laojun Pavilion is located at the highest peak of Mt. Qingcheng, with an altitude of 1,260 meters. The previous pavilion was destroyed in the earthquake in year 2008. The current reconstructed pavilion is 33 meters high and has nine floors. The bottom is round and each floor is in octagonal shape, which the Taiji Eight Diagrams. Inside the pavilion, there is a majestic statue of Taishang Laojun sitting on a lotus. The statue is 7.3 meters high. Taishang Laojun is one of the Taoist sacred gods, who is supreme, precedes the heaven and earth, and transcends life and death.
Tianshi Cave
Two kilometers north of Jianfu Palace is the main palace of Qingcheng, Tianshi Cave(Tianshi Temple). In the Tianshi Cave, there are statues of Zhang Daoling (Zhang Tianshi), the "Tianshi" and his 30th generation grandson "Xujing Tianshi". Tianshi means Taoist master. Tianshi Cave was built during the Sui Dynasty's Daye Period (605-618). It is surrounded by mountains with towering ancient trees on three sides and a stream. The existing temple was built in the late Qing Dynasty, with a magnificent scale, fine carvings. There is an ancient ginkgo tree in front of the cave, which is about 50 meters high and has a diameter of 2.24 meters. It is said that it was planted by Zhang Tianshi, and the tree is more than 1800 years old.
Baizhang Bridge
Baizhang Bridge is located between Cuiying Lake and Baiyun Ancient Village. The curved bridge is paved with wooden planks and goes up along the creek. It is about a hundred meters long and matches the background very well. Walking on the bridge brings you fun when you are visiting Mt. Qingcheng.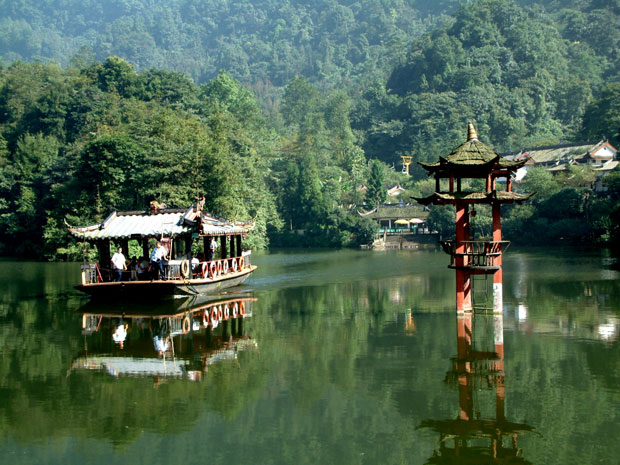 How to get to Mt. Qingcheng from Chengdu
From Chengdu airport: There's a waiting room setting in Dujiangyan City, where you can print the boarding pass of in advance, and there are regular shuttle buses between the Chengdu Shuangliu International Airport and the waiting room in Dujiangyan City. Take bus No.101 to the the Qingcheng shan stop (青城山景区站) followed by a 1.7km walk.
From Chengdu railway stations: Take high speed train from Chengdu Railway Station or Xipu Railway Station to Qingchengshan Railway Station, and then take bus No.101 to the Qingcheng shan stop (青城山景区站) followed by a 1.7km walk.
From Chengdu Bus station: Take bus from Chengdu Chadianzi Bus Station to Dujiangyan Bus Station, and then take bus No.102 to Qingchengshan Kuaitie stop (青城山快铁站), transfer for bus No.101 to the Qingcheng shan stop (青城山景区站) followed by a 1.7km walk.
Travel Tips
The Mt. Qingcheng Scenic Area offers optional cable cars and boat ride so that you can save energy when visiting the place. When you are doing a Chengdu tour, it's nice to combine Mt. Qingcheng and Dujiangyan Irrigation Project together for one day trip.
More Attractions in Chengdu
Recommended China Tours Including Mt.Qingcheng - One of the Four Holy Taoist Mountains in China Chengdu