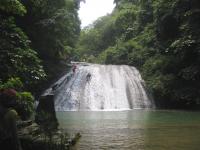 Lying to the west of the Li River, north of Guilin, south of Yangshuo, east of Haiyang Mountain, 26 km from Guilin city, Gudong Waterfall Scenic Area enjoys a good location and a moderate climate. It is famous as the only waterfall in the world that can be climbed by people with six different sizes of waterfall scattering on the slope of mountains. The ancient forest area around a series of waterfalls and cascades covers about 1000 acres and features primitive forest.
It is no doubt that waterfall climbing is the highlight of the Gudong Waterfall Scenic Area tour. Nothing is more exciting than getting wet in the waterfall. At the registration area near entrance, you need to buy a pair of rice-leaf-weaving shoes and rent a helmet which you can return at the end of the journey. Safety precautions must be ensured as climbing cliff is not so easy thing.
However, once starting your climbing on the waterfall, you will find it not as dangerous as you imaged before. Despite of the slippery surface of the rocks, iron rails and strains on the cliff are in touch of your hands, man-made holes as steps help you to climb up. There are even man-modified tiers supporting footholds. Well, if you do not like to get wet or too timid, there are side path to go all the way to the mountain top, which is less exciting and enjoyable. At the end of the water climbing, a high hanging bridge offers you a perfect view of the green valley below. Besides the water climbing, if you visit in the deep autumn, the burning maple trees will make you lost in the poetic ocean of beautiful red leaves.
More Attractions in Guilin
Recommended China Tours Including Li River Gudong Scenic Area Guilin