Zhoucheng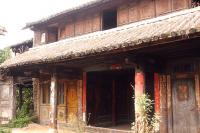 Situated at the foot of Cangshan Mountain, Zhoucheng village lies in 30km north of Butterfly Spring, Dali. The Yunnan-Tibetan highway also stretches across the village. It is the largest Bai Minority village in Yunnan and the largest northern village of Dali City. 7,571 inhabitants from 1,470 families living harmoniously in the square shape town with row upon row of houses. These houses are well preserved with blue-tile roves and grey-coated walls row in lines orderly like a comb. Zhoucheng village has long been enjoying the fame as 'Hometown of Tie-dyeing Art', which originated from the central plains area in ancient China over 1,000 years ago.
The process of tie-dyeing is quite sophisticated and time-consuming. Firstly, soak the knots into clear water; secondly, immerse them in the dye vat for some time; thirdly, take them out to dry. Finally, put the dry knot back again in the dye vat and repeat the process until a satisfactory color is achieved. Witnessing the process of this historical craftsmanship is a must of visiting Zhoucheng village. Contribute to its complexity, the hand-made tie-dyed cloth in Zhoucheng village is both of fastness and pureness. Clothes and handicrafts of this material are well received by tourists from home and abroad. Every year Torchlight Festival of the minority peoples also attracted faraway tourists by their distinctive national features, magnificent scope and vivid atmosphere. A tour bus from the North Bus Station in Dali brings you here (6 RMB).
More Attractions in Dali
Recommended China Tours Including Zhoucheng Dali
Take this 9-day tour in China in a leisurely and easy way. The trip starts from the beautiful city – Dalian, then fly ...

This 26-day privately escorted adventure tour of China will leave you great memory, featuring the famous modern and an ...

You can feel the great difference between the two cities. One is the beautiful coastal city, and claimed as one of the ...
Google Search
Find something useful to you at Easy Tour China website.
Dali Attractions