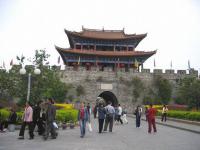 Lying between Erhai Lake and Cangshan Mountain range, the charming small town of Dali still retains a historical atmosphere, which served as the capital of Nanzhao and Dali Kingdoms from 8th to 13th century. During the period, Dali has been the political, economic and cultural center of Yunnan. It was also a very important gateway for promoting cultural and trade relations between China and Southeast Asian countries.
Dali is famous for the many types of marble it produces, which are used primarily in construction and for decorative objects. In fact, Dali is so famous for the stone that the name of marble in Chinese is literally "Dali Stone".
350 northwest of Kunming city, Dali is a major tourist destination of Yunnan Province. The real charm of Dali lies at the old town, the new city is 13 km south of it called Xiaguan. Dali is home to Bai people, The Bai people have long-established roots in the Erhai Lake region, being thought to have settled the area some 3000 years ago.
Bai's architecture is characterized with its simple and classic elegance as well as delicate carvings. Most houses have courtyards with natural running water and bonsai (potted landscape) on display. The Bai women dress themselves in colorful and well-matched costumes.
Dali is a nice stopover for tourists to head for Lijiang. The enchanting attractions here include Mount Cangshan (cable car), Erhai Lake, ancient architectures and colorful cultural heritage of Bai people like the Three Pagodas, Bai's batik and well-preserved courtyard houses.