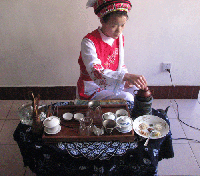 In Dali old town, you will see many nice restaurants, which are mainly located at Huguo Road and Remin Road, serving both Chinese, Western food as well as local Bai's cuisine. Bai people enjoy spicy, sour and fresh dishes. For the new comers, even a little bit local spice may make your tongue burn. In history, Chinese Han culture and Buddhism had an important impact on the development of Bai cuisine.
The most popular drink of Bai people is tea.
The Three-course Tea
is a very interesting tea ceremony, including the three courses of tea with different tastes: bitterness, sweetness and a mixed aftertaste. This can imply a life philosophy: Hardness and bitterness come first, followed by sweetness, finally the life is a mixture of different tastes.