Dali was the political, economical and cultural center for 500 years dated back to the Tang and Song Dynasties. The picturesque scenery, varied traditions and the culture of minority nationalities make Dali a well-known place of interest. There are fascinating way for exploring Dali - walk around the town walls; go hiking or bike riding in Cangshan Mountain above Erhai Lake. There are some tips for your Dali tour to enjoy a worry-free and pleasant experience.
Best time to Dali
1. The best time to visit Dali is from March to June when spring is in full swing with its sunshine and fresh air. Besides, many festivals and celebrations are held by the Bai people in spring time. Tourists can take this opportunity to touch the strong ethnic flavor of Dali.
2. Without freezing winter and hot summer, Dali is a good destination and can be visited in all seasons. For the great difference in temperature between day and night, travelers should pack some warm clothes for cooler evenings.
Body health & Safety
1. Yunnan is in the area of Yunnan - Guizhou Plateau with extensive ultraviolet rays outsides. Please pay much attention to protect your skin.
2. More than half of China's ethnic minority groups reside in Dali. Please conform to folk customs of national minority here.
3. If you are planning to hike up the Cangshan Mountain, travel in a group both to protect yourself from robbery and as back up in case of accident.
4. Watch your belongings carefully to protect from pickpockets and theft, though perhaps the major risk you take if staying in cheap accommodation is theft by other foreign travelers.
5. A major annoyance is touts offering "something to smoke". Just say no, so be warned.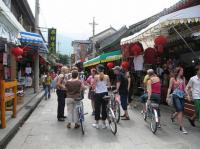 Shopping
1. Dali has its local specialties that cannot be found elsewhere, like Dali snow pear, Tu Cha, tie-dyed cloth, Bai brocade, marble products, wood carving, and gold/ silver/copper Ornaments, etc.
2. Foreigner Street in Dali Ancient City is an ideal place to pick up souvenirs, with many local specialties and handicrafts.
3. Dali is famous for its marble blue-and-white batik printed on cotton and silk. Most shopkeepers along Huguo Lu make clothes tailored to your size for a bargain.
4. Most of the so called "silver" jewelry sold in Dali is actually brass. The same goes for jade - though sold in abundance, it's generally low quality, so buyers beware.
5. For those roving sales ladies badgering you incessantly, don't feel bad to pay one-fifth of their asking price – that's what locals advise; for marble from street sellers, 40% to 50% is fair; in shops, two-thirds of the price is average.