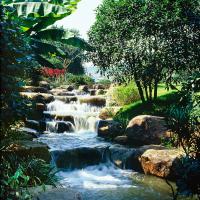 Glowing rays shone over rounding ranges of hills, fragrance of tea leaves permeated, and fresh springs wound through valleys. Here is China National Tea Museum, a retreat from the hurly-burly of metropolitans. The China National Tea Museum is the only national tea museum in China that. It is located in Longjing Village, west of charming West Lake, and covers an area of 22,000 square meters with a 3500 square meter construction area.
This modern museum is the exhibition center of Chinese tea culture, a professional place to collect tea cultural relics and tea materials and an important base to go on with tea research and tea culture activities. It covers a lot of parts, including culture revelation, science publicity, science research, academic communication, tea tasting, leisure, etc. The stone path, called "Double Fragrance Alley", leads to the northwest corner of the museum where a waterway system forms the landscape axis of the museum.The system perfectly manifests the theme of"water is the mother of tea"and the integrated relationship between tea and water. The water system, built against the slope of the hill and stretching from the northwest to the southeast of the museum, uses running water from Qiantang River as well as streams and brooks within the mountain
The interesting displays here are the samples of from over two hundred years ago. They are composed of six sections including Tea History, Tea Types, Tea Information, Tea-things, Tea Customs and Tea Stories. There visitors can make Tibetan butter tea by themselves, baked tea of Dai people from Yunnan Province is boiled in bamboo pots under a large artificiaI tea tree, and stove fire in a tea house at the river is burning vigorously.The museum also boasts a tea tree garden open to visitors where hundreds of kinds of tea trees are planted including not only shrub species but also arbor species.
China National Tea Museum, with the tea taste and fragrance, makes friends all over world. Visiting the tea museum is a leisurely experience.
More Attractions in Hangzhou
Recommended China Tours Including National Tea Museum Hangzhou