Covering an area of 12,700 square meters, Ancient City of Dunhuang Movie Set locates about 25 kilometers (15.5 miles) southwest of Dunhuang City,It was known as modeled Shazhou town of Song Dynasty with the layout and construction on a part of the famous scroll painting Qingming Shanghe Tu (The Outing at Bian River on Qingming Festival). It was originally built in preparation for Sino-Japan's co-filming of Dunhuang, now ranking as a historical interest and famous movie set in Dunhuang.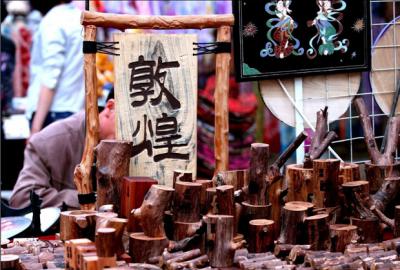 On entering the town, you will be brought back to the ancient times with its majestic appearance in the vast Gobi bearing a rich flavor of the west regions of China. This Square town has three gates respectively erected on the east, south and west sides, and five main streets Gaochang, Dunhuang, Ganzhou, Xingqing and Bianliang Street which are crisscrossed with each other inside the town. Along the streets scatter various constructions with distinct characteristics of the Song Dynasty, such as housing arcades, temples, hockshops, warehouses, pothouses, restaurants, dwelling houses and so on.
Benefiting from its uniqueness for making movies with a military theme, Ancient City of Dunhuang Movie Set has become the biggest set for shooting movies in northwest China. More than 20 films and TV plays have been produced in the Ancient City of Dunhuang Movie Set, including the most famous ones Dunhuang and Fengshenbang. So be prepared for the unexpected as you might come across the familiar scenes from one of your favorite movies when you are strolling around the town. How exciting!
More Attractions in Dunhuang
Recommended China Tours Including Ancient City of Dunhuang Movie Set Dunhuang