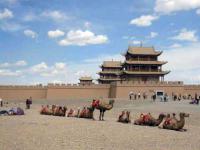 Dunhuang is an ancient desert staging post on the Silk Road, rich in culture, relics and natural scenery. Some typical attractions include Mogao Caves, Singing Sand Mountains and Crescent Moon Lake. The following tips would be useful for your Datong tour.
Best time to Dunhuang
1. The best time to visit Dunhuang and the ancient Silk Road is from May through October. So be sure to plan your trip during these months.
2. Sandstorms are frequenters of Dunhuang in March and April. It can be a problem in the Dunhuang, with the wind sometimes reaching speeds of 3m/sec.
Body Health & Safety
1. A warm and wind-proof jacket will help when you visit Dunhuang during anytime in the year. Other essentials include sunglasses, caps and sun-blocks due to the strong sunshine.
2. The air is extremely dry in most of the time, so lip balm is highly recommended. It is improtant to have enough water and fruits every day here.
Transportation
1. There are no taxi stands in Dunhuang city. People are used to hailing a taxi anywhere they feel safe and convenient.
2. Taxis in Dunhuang are mostly without fare meters, fares are depending on sorts of cars and how far they go. Just Bargain with the cab driver.
3. City-bus drivers know Dunhuang City quite well. You would get correct information by asking them on your way.
Shopping & Recreation
1. Hand-made carpets, many containing patterns reminiscent of the Magao Grotto frescos, are Dunhuang's most valuable product.
2. Downtown Dunhuang is a small area without crowded commercial place, so you can walk and see the whole area during daytime, and visit the Shazhou Night Market at night where you may sample the exotic snacks.
3. If are shopping in the market, you need to compare the prices due to the fact that the large price difference between stalls that selling the same article.
Recommended Dunhuang Tours