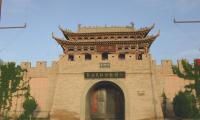 Dunhuang Museum is a three storey museum locating at Yangguan East Road in Dunhuang City. It was set up in 1979 and the construction covers an area of 2400 square meters. As a comprehensive local museum, Dunhuang Museum exhibits the historical relics, folk arts local human and geographic features, and natural resources.
Housing over 4000 pieces of precious cultural and historical relics, the museum is divided into three sections. The first section displays the written sutras from the No.17 cave of the Mogao Caves in Dunhuang, which is one of the four most famous archaeological finds in 20th century. It is the vivid evidence of Buddhist activities in Chinese history.
The second section mainly displays artifacts unearthed from graves dating back to the Han, Jin, Sui, and Tang Dynasties, including a stone pagoda, a pottery box, a stone figure of a beast, lotus and kylin bricks. Kylin is a mythical unicorn in Chinese legends and Kylin brick features a kind of high-relief containing an incised inscription. The third section of the display holds a number of exhibits which shows Dunhuang's flourishing culture as an important trade center on the Silk Road, including some exquisite silk floret brocade and bamboo slips used for writing. The museum also contains two historical relics exhibition rooms, displaying relics excavated from the local area, such as paper, coins, a model of the Great Wall and a torch from one of its beacon towers.
The opening time of Dunhuang Museum is from 08:00-18:00.
More Attractions in Dunhuang
Recommended China Tours Including Dunhuang Museum Dunhuang