East or West, Guilin is the best. Since the spreading of the saying, Guilin's picturesque landscape has become world-renowned. Guilin city is built among plentiful rivers and lakes that are connected and linked together; the essence of it is the Two Rivers and Four Lakes. Two Rivers and Four Lakes is a continuous waterway through the center of Guilin City which includes the Li River, the Peach Blossom River (Taohua River), Chinese Fir Lake (Shan Lake), Banyan Lake (Rong Lake), Osmanthus Lake (Gui Lake) and Wooden Dragon Lake (Mulong Lake).
A complete moat river system was formed in Guilin over 1,000 years ago, when water recreation and tourism had been highly fashionable at that time. The Two Rivers and Four Lakes came into form at the turn of the 20th century. As the most important component of the mountains and waters in Guilin, Li River winds and turns among the mountains like a Chinese ink painting. Taohua River was a branch of Li River and they benefit from each other's beauty. Cruise boats to view Guilin's tranquil mountain and water scenery around the route run daytime and evening; it will be an enjoyable experience.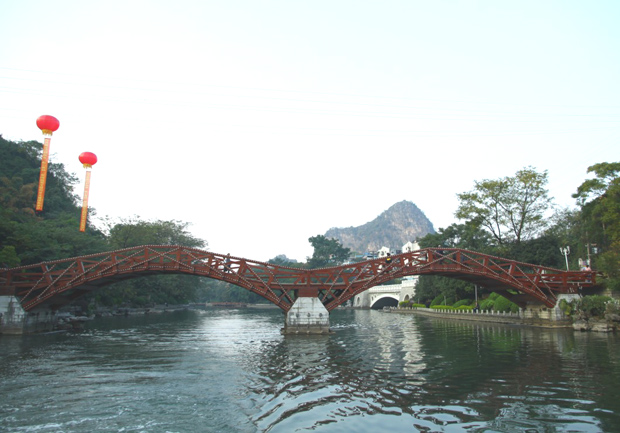 Facts
- In Chinese: 两江四湖
- Location: Two Rivers and Four Lakes Scenic Area, North Shanhu Road, Xiangshan District, Guilin
- Opening time: full day
- Best time to visit: summer & autumn
- Entrance fee: free
- Cruise ticket price: (half price for kids between 1.2 and 1.4m; free for kids under 1.2m)
Night cruise: RMB220 (deluxe boat); RMB215 (comfortable boat); RMB210 (standard boat);
Day cruise: RMB90 (deluxe boat); RMB85 (comfortable boat); RMB80 (standard boat)
What to See?
Four Lakes system can be divided into three areas which embody three different themes: Rong-Shan Lake Area, Gui Lake Area and Mulong Lake Area. The recommended way of visiting Two Rivers and Four Lakes is strolling along the lakeshore line or take a cruise boat. A boat cruise is will be a feast to your eyes as in the evening as the lakes and rivers are beautifully lit up by colorful lights.
Rong-Shan Lake Scenic Area
Rong-Shan Lake Scenic Area locates in the center of Guilin downtown, bordering the Central Square in the north and facing Li River in the south. As an open leisure walking park in Guilin, it represents the perfect combination of Guilin city and its landscapes. Yangqiao bridge is the boundary departing Shan Lake in the east and Rong Lake in the west. The two lake was named for its beautiful Banyan trees and fir trees along the bank. Chi Shan Luo Xia (sunset of Shan Lake) and Rong Hu Chun Xiao (spring in Rong Lake), that's the summaries of the essence of these two lakes from ancient visitors.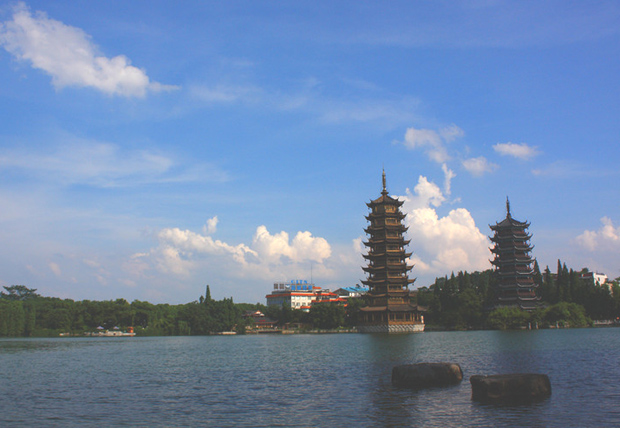 The Sun Pagoda and Moon Pagoda are the symbol and highlights of Shan Lake area, you can't miss taking some pictures of them, especially at sunset. It's not only a wonderful site for photography, but also a great place to appreciate Shan Lake. The Sun Pagoda is an exquisite copper pagoda with designed and mural decorations. It is 41 meters high with 9 floors, breaking three records in the world: the tallest copper building, the tallest copper pagoda and the tallest pagoda on water. The Moon Pagoda is a glazed pagoda, 35 meters high with 7 floors. They are like a couple from ancient times, guarding and witnessing the lake.(RMB35 for entrance fee)
As a hot attraction in Rong Lake area, Ancient South Gate is a key cultural relic in Guilin. Located on the north bank of Rong Lake, it's also called Banyan Gate. According to the records, it was built in 621 after the famous general Li Jing of Tang dynasty won the war in the south. When defending the city of Guilin, it acted the role of the southern gate of Guilin more than 1300 years ago.
Gui Lake
Measuring over 1,700 meters (1 mile) from north to south and about 110 meters (120 yards) wide, Gui Lake was originally the city moat of the western Guilin City in Song Dynasty (960-1279). A large number of precious arbors and flowers are planted in the Gui Lake Area, including banyan tree garden, gingko garden, white pines garden, redwood garden, magnolia garden and palm garden. With the outlet dam of Peach Blossom as the main attraction, Gui Lake Spot is featured by natural sceneries and has become an exhibition park of flowers, trees, pavilions and bridges. Walking along the lake, watching the water and enjoying the scenery, embodies the perfect conception of "harmony between man and nature" in Chinese tradition.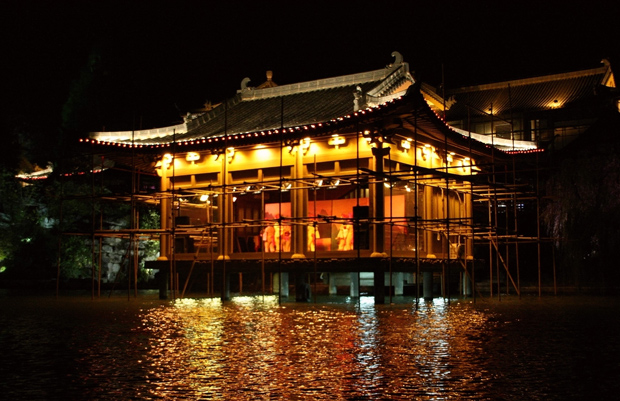 Mulong Lake
Mulong Lake area features the integration of historical culture into the nature, highlighting the cultural continuities of the city. A large scale of building complex is scattered around including Song-style shopping street, ancient-style Baojishan Mountain Park and 45-meter-high Mulong Pagoda, featuring the characteristics of Song dynasty.
How to Get There?
Take Bus 2 or 23 to Xiangshan Park Station, walk for 10 minutes to reach Shan Lake, you can start your walking trip from here and see the Elephant Trunk Hill nearby.
Take Bus 2, 3, 10, 11, 99, or 100 to Yangqiao Bridge Station, start your walking trip from Shan Lake.
Take Bus 2, 16 or 23 to Wenchang Bridge Station, you can take cruise at Wenchang Bridge Dock.
Take Bus 10, 11, 14, 18 or 31 to Jiefang Bridge Station, you can get to Six Horses Dock to take cruise.
More Attractions in Guilin
Recommended China Tours Including Guilin Two Rivers and Four Lakes Guilin